Maybelline Color Tattoo 24HR Cream Gel Shadows –now in Singapore!
While I was out and about last weekend in Singapore, I spotted Maybelline's Color Tattoo 24HR Cream Gel Shadows – finally, the wait is over! There have been rave reviews about these online, so it's nice to know they've finally hit the sunny little island (translated – within easy reach!)
There are a total of 8 colours available – Bad to the Bronze, Fierce & Tangy, Painted Purple, Tough as Taupe, Tenacious Teal, Edgy Emerald, Bold Gold and Audacious Asphalt.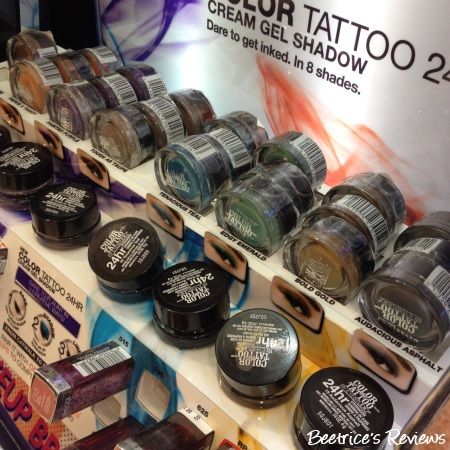 I was messing about with the testers at BHG, and so far Bad to the Bronze seems to be my favourite out of the lot, with Audacious Asphalt coming in a close second. I've seen them available at BHG, Guardian and Swanston so far, so they shouldn't be difficult to hunt down. They're going for SG$15.90 each if I remember correctly, although you can get them for SG$12.95 at Swanston.
PS: A very belated Merry Christmas and Happy New Year! Can't believe we're already into the second week of January, and I'm still editing photos from November (super fail, this one). First and foremost resolution for 2013 – get back to some semblance of regular posting! :)
Labels: eyeshadow, maybelline, shopping, singapore, tips n news