Montigo Resorts, Batam - you know you want to!…
Over the weekend, I paid a visit to the
'not yet officially open'
Montigo Resorts
in Batam on a company trip, and just had to do a quick post on the place before I forget – the place is simply amazing even though they're not fully open yet!
Just check out the welcoming view from the lobby…the resort is made up of three types of villas with subtle differences – Hill Side Villa, Hill Top Pool Villa and Spa Villa (I reckon you can more or less tell what the differences are from the names!)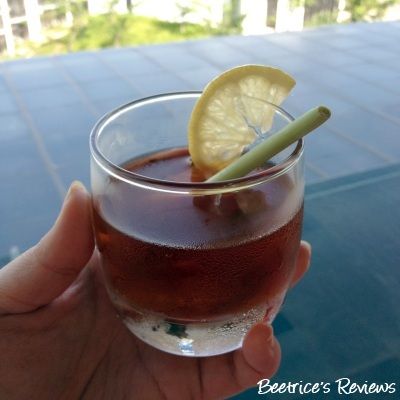 There was a cold towel and welcome lemongrass drink to enjoy while we were checking in…even if you don't speak Bahasa Indonesia, no worries as the staff are decently proficient in English. The standard of service is almost equal to that of Club Med in Bintan, which is really saying something.
The resort is set into a hillside, so a fair amount of walking is required – extended exploration of the resort is not recommended for old folk or those with young children, although travel can easily be taken care of by the numerous buggies servicing the resort.
We opted for the Hill Top Pool Villas, which were 3-floor, 2-bedroom villas with their own private plunge pool…and had trouble making it to our training sessions as we didn't want to leave the villas! :D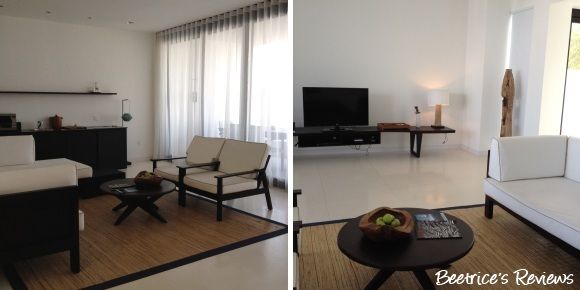 The ground floor consisted of a spacious living room complete with kitchen facilities and even a Wii…the day beds were so comfy, some of my colleagues even fell asleep there!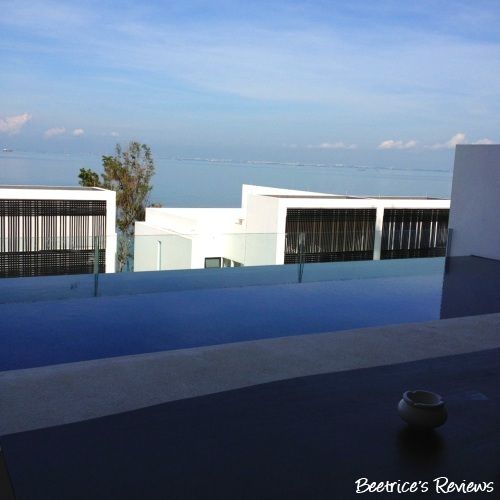 And oh, the villa pool…it's not huge, but most enjoyable – you only have to open the living room sliding doors, take 2 steps and climb straight into the pool. We made full use of it, that's for sure… :P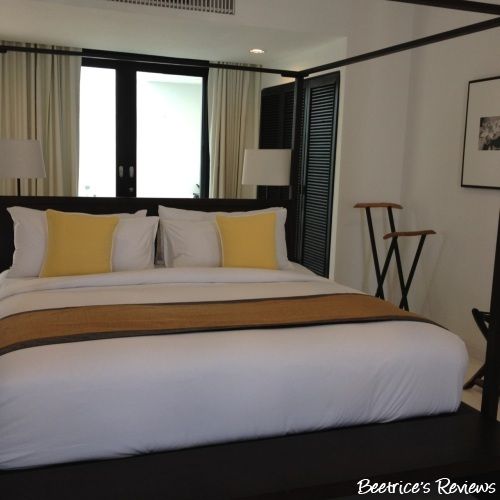 The second floor was made up of the two bedrooms with attached bathrooms – the master room (which I got) has a four poster bed, while the second room has two single beds…take my word for it, once you sink into the bed and the pillows, you won't want to budge! (explains why I was late for breakfast too…oops…)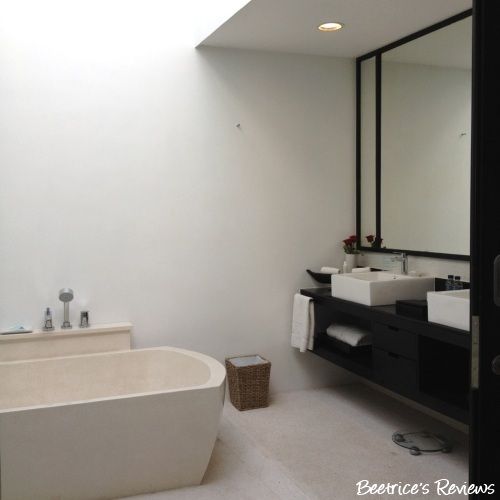 Can I PLEASE bring this bathroom back with me?! The stone bath tub is right under a skylight, and came with a nice packet of bath salts…too bad I didn't have time to soak in there! There's also a separately partitioned shower stall and toilet if you have to share the bathroom with someone.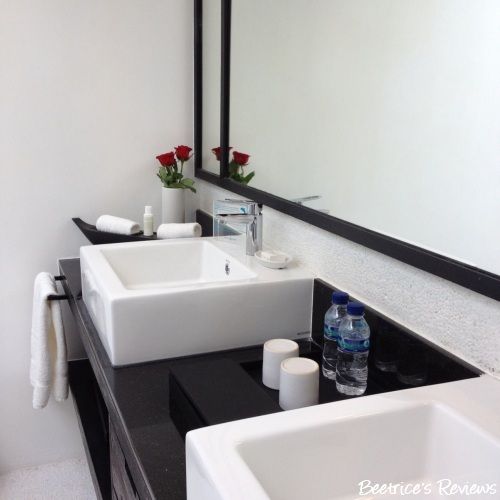 Another awesome touch – double sinks! No need to queue or fight for sink space in the morning…big plus point for me :D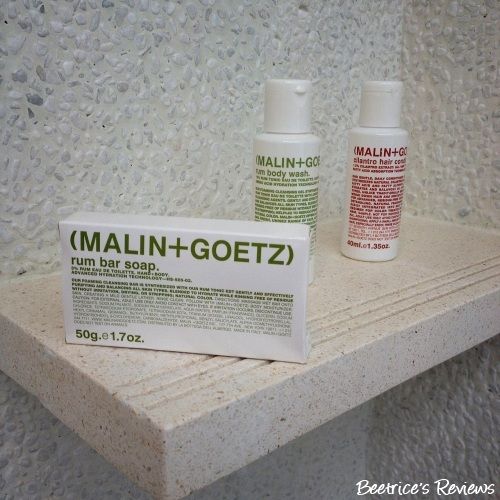 I hadn't heard about
Malin + Goetz
before this, but after a quick Google search (doncha just love instant info at your fingertips?) I found out they're an apothecary based in New York. They have the most amazing smelling toiletries – rum soap, cilantro body wash, peppermint shampoo…you can just imagine those lovely scents, can't you? ;)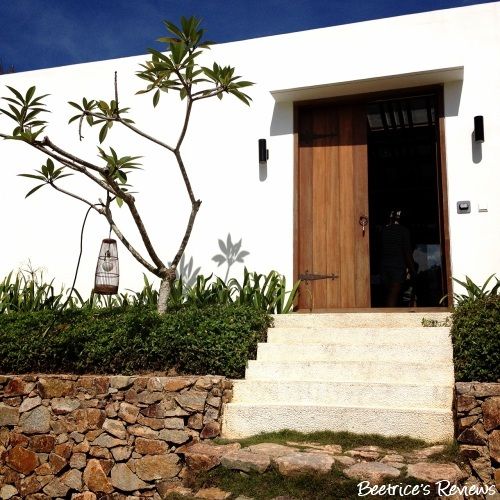 Of course, the purpose of the trip was for training, so we did have to get some work done…but damn, even the entrance to the conference room was so pretty, we didn't mind (too much!) having to go for training…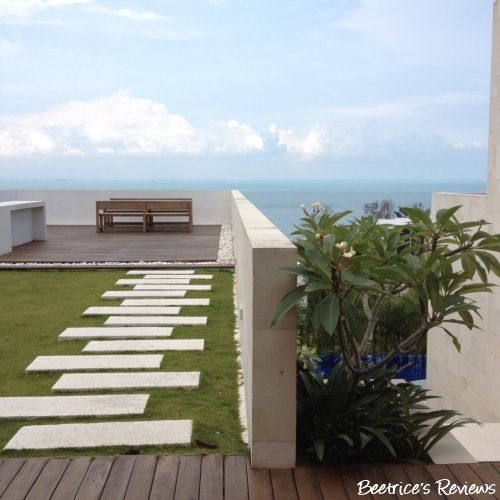 This end of Batam is just half an hour's ferry ride from Singapore, but what a difference in view! I discovered that if I stood at the end of the balcony in the picture above, I could actually see Marina Bay Sands in the distance – a gorgeous sight at night, to be sure…but alas, rather difficult to catch on camera.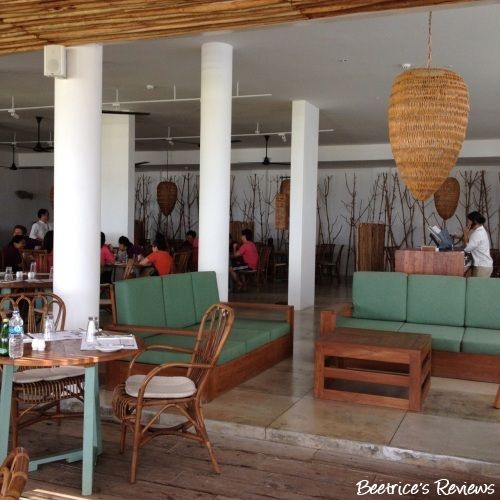 The restaurant is the only bit that looked more reminiscent of Indonesian design, but somehow I liked it – a little bit rustic with modern elements weaved in.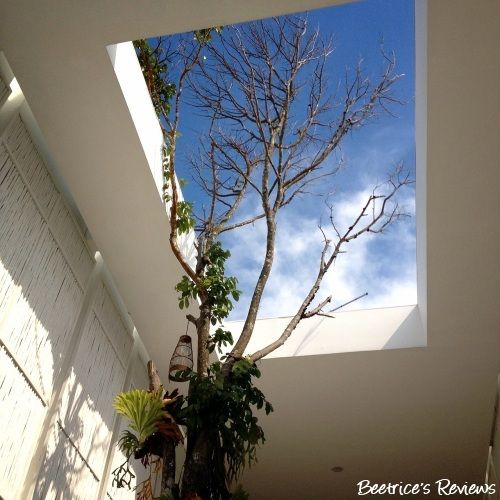 Look up! I had to give two thumbs up to the resort's consideration for nature…instead of demolishing the entire area, they made concessions around some of the trees which I thought was a small step in the right direction.
From an eco-friendly perspective, the resort also made the effort to conserve as much energy as possible – the common areas of the resort are mostly white with airy ceilings and fans, while at the villas only the necessary areas such as bedrooms and living room are air conditioned (the staircase up to each floor is ventilated from the outside).

For those who cannot completely disconnect from the internet but yet don't want to pay hefty roaming fees, you'll be most delighted to know that Montigo Resorts has free Wifi throughout the entire resort (personally tested, they have awesomely fast speeds and steady signal!) - are you jumping for joy yet? ;)
Did I mention how gorgeous the view from the bedroom is? Well…now you know!
Since the resort has only done a soft launch, they're offering a 25% discount on their rates until the official launch in March 2013. Prices range from SGD$273.75 (2 pax) to SGD$413.75 (5 pax) for the Hill Side Villas – obviously you get a better deal with more people as each villa can fit up to 5 pax. Time to start planning! :D
Jalan Hang Lekir Nongsa
Batam, Indonesia
Tel: +62 778 776 8888
PS: Am being spoilt travel-wise these couple of weeks – as if Indonesia wasn't enough, I'm off to Bangkok on Thursday for a post-birthday holiday with the fiancé. Can't wait! :D
Labels: batam, hotel, indonesia, malin + goetz, montigo resorts, promos, travel