Bored? Not in Cameron Highlands...
Gosh, is it already the final part of my
Strawberry Park Resort
series? Darn…but for those looking for things to do while they're in Cameron Highlands (which by the way, can be easily arranged with the friendly staff at the resort)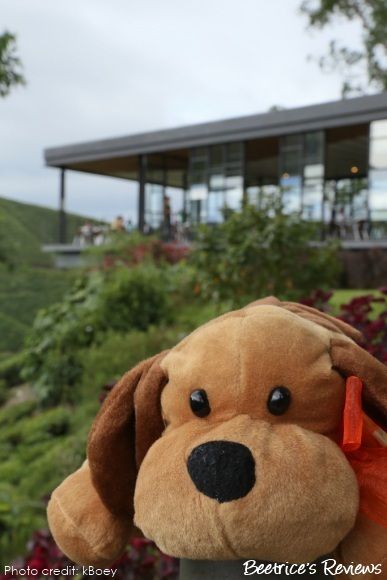 Yes, it's Bailey! He was enjoying a bit of fresh air at the Sungai Palas Boh Tea Plantation where you can take a tour as well as have tea there (mind you, personally I found the tea and scones at the resort a lot nicer than that at the tea plantation).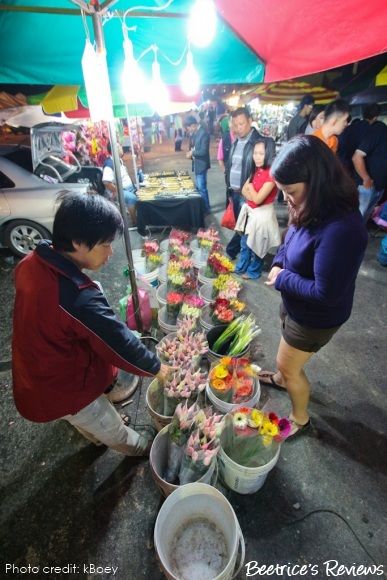 The Brinchang night market is another place to lose yourself in…besides awesomely fresh vegetables and fruits (strawberry lovers will go nuts as they're sold by the boxes, and CHEAP!), my fave part would be the fresh flowers…all types, all colours, and sold for a fraction of the price you'd get from KL florists!
We were also shown around an Orang Asli settlement by our tour guide Mr Maniam, which involved a rather bumpy hour's ride down the mountainside to see…it was worth the trip though, since a lot of the Orang Asli have moved to new housing, and have abandoned their settlements in favour of jobs in the city or neighbouring towns.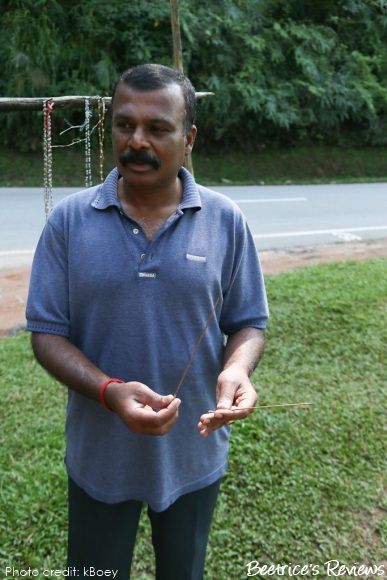 At the small Orang Asli settlement, Maniam showed off the darts they use to hunt small animals for their food – one is poisoned, one is not. Can you tell which is which?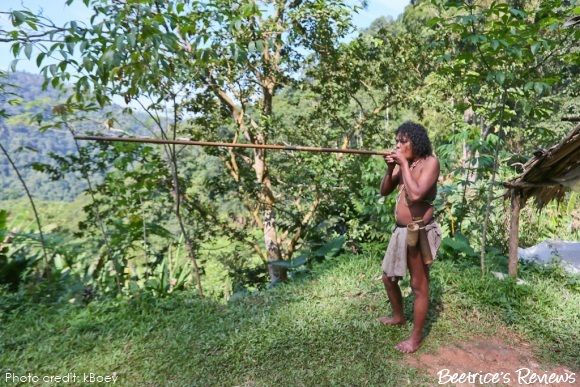 Say hello to Michael Jackson, Orang Asli! I'm not kidding, he really introduced himself that way…quite amusing, and we were told he's actually quite the local celebrity, having been featured in a travel guide to Malaysia (can't remember which one though). He gave us a show of his hunting prowess, shooting darts into a target set about 50-odd metres away.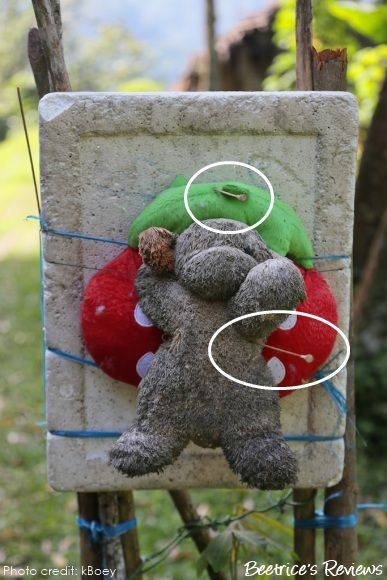 You wouldn't want to get in the way of those darts – even from that distance, those darts were right on target and went right through to the Styrofoam backing!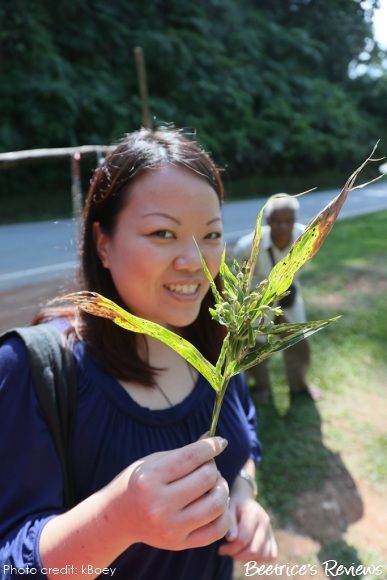 Besides weaving and selling produce harvested from the jungle, the Orang Asli also make a fair amount of jewellery and adornments. The interesting part is what they use to make these items…see that plant I'm holding? They have hard pods that can be dried and threaded to make jewellery!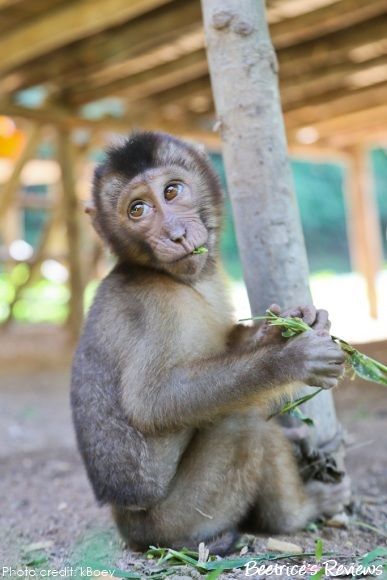 While we were there, we saw a little monkey tied up to one of the huts. He was a naughty little thing, putting everything in his mouth, not to mention grabbed an Indian lady's iPhone when she went a little too close to take a photo. It's not without a sad tale though…this little monkey's mother was shot by a dart for food since they didn't see the little fellow. Rather than have him starve to death or get attacked by the other animals, they decided to keep him as a pet instead.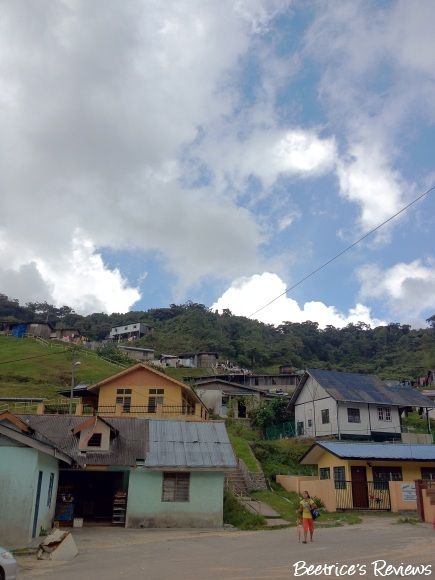 Above is one of the modern Orang Asli villages in Cameron Highlands. Although they're a long way off from the urban developments we're probably more used to, they have community halls, schools and a hostel for families that choose to stay in the jungle but want their children to have an education. During the week, the children stay at this hostel so they can get to school, and trek back to their families on weekends.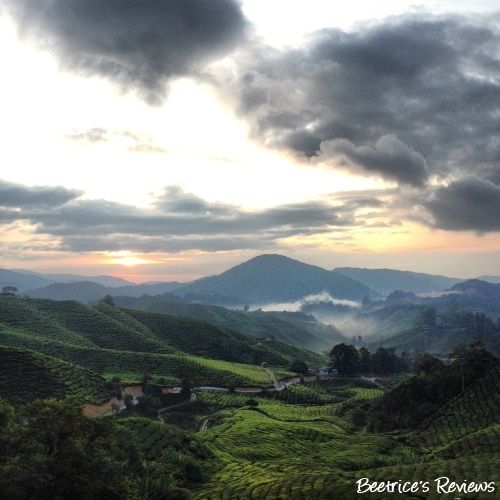 And the best part of my trip to Camerons? The sunrise tour…since Cameron Highlands is err, in the highlands (duh!) there's a GORGEOUS view of the sunrise. Our tour guide took us to Sungai Palas, where the scenery is just lovely as the sun rises over the tea plantation. Photography buffs will be in seventh heaven…we saw several carloads of people perched at various locations over the tea plantation with their tripods and DSLRs to catch the perfect shot. Just think - if my iPhone can take the shot above, how much better could a shot using a DSLR be?
And there you have it – from a gorgeous small resort to delicious food, the Strawberry Park Resort ticks all my boxes for a great holiday. If you're looking for a local holiday destination in Malaysia, this would be among the top of my list. The staff there are second to none (I can't rave about them enough!) and if you want the best of service and yet take a trip down memory lane, this is THE place to be.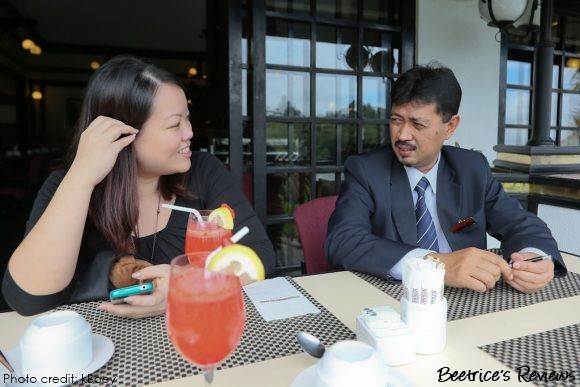 Mr Zamri, the F&B manager –he's been there for over 17 years!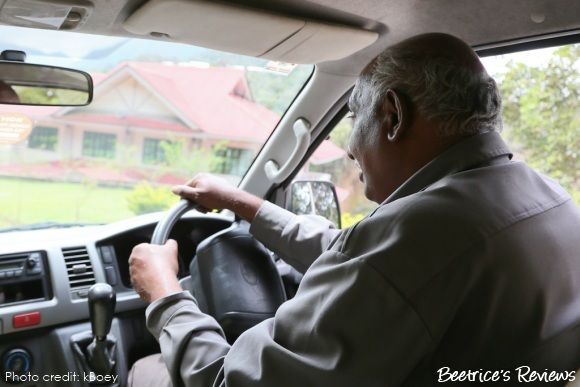 Mr Mohan, one of the resort's drivers – if I remember correctly he's been working for the resort almost 19 years.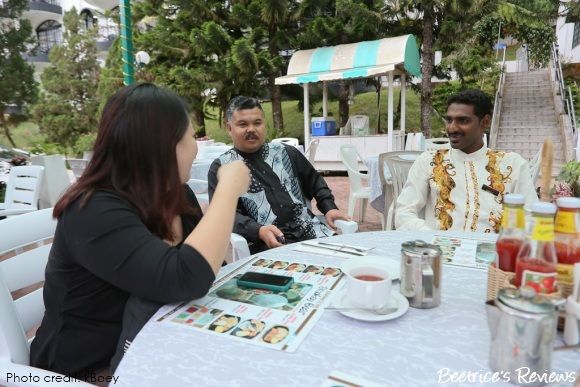 Mr Ismail and Saraj – both lovely fellows and super chatty. Ismail has been with the resort over 20 years, while Saraj is the lightweight at just over 11 years.
There were so many people that helped make our trip a lovely one, I'm just sorry I can't list them all here. We had many a happy time asking the staff about their backgrounds, and they've been more than happy to oblige, regaling us with rather funny tales too! It won't be long before I'm back there again, that's for sure. Who wants to come with this time? :D
Have a happy week ahead, folks!
Labels: strawberry park resort, travel