August Bellabox – Happy Birthday, Singapore…
Ah, has it been a month already since my last
Bellabox
? Apparently so! August is a pretty special month for both Malaysia and Singapore since they both celebrate their 'birthdays' then, though Singapore pips Malaysia by a couple of weeks. But I digress…let's get stuck into my August box, shall we?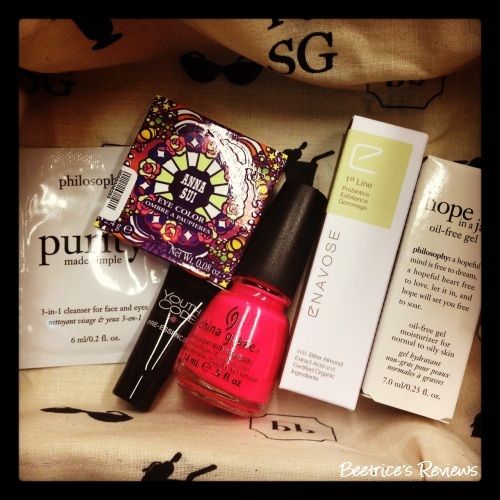 As always, Bellabox doesn't disappoint…this month instead of a box, my items came in a cute "I *heart* SG" cotton bag (no doubt to commemorate Singapore's birthday!!) which can be reused at the beach or whatever other reason you can think of. As for the contents…oh my…
Enavose Probiotics Exfoliance Gommage (15ml)
Philosophy Hope in a Jar Oil Free Gel Moisturiser (7ml)
L'Oreal Paris Dermo-Expertise Youth Code Boosting Essence (5ml) – I've actually been using this for quite some time already, so this just supplements my existing supply and makes a good travel buddy. I have a couple of uses for this, which I'll explain in a separate post!
China Glaze Nail Polish in Pool Party (full size) – Holy cow, it's a matte neon pink! I just tried this on a couple of fingers when I got it, and I swear, I'm now visible at 50 metres on a dark night. :O Awesome shade!
Anna Sui Eye Color in #201 (full size) – Love, love, LOVE!!
Philosophy Purity Made Simple 3-in-1 Cleanser for Face and Eyes (6ml sachet) – this is the only sachet in this month's box (or rather, bag!), but that's fine since it wasn't listed in the number of items in the box anyway. A nice bonus, as it were.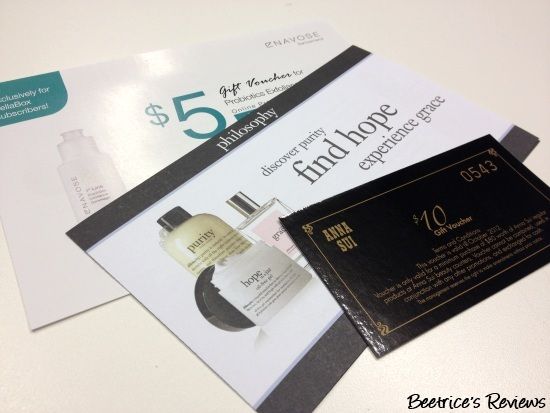 Vouchers included in this month included Philosophy, Anna Sui and Enavose. A couple of the deals are quite good, so let's see if I succumb to picking up anything this month or not! :P
This would have to be my favourite out of this month's box – the Anna Sui Eye Color in #201. Thanks to the gorgeous packaging with the mother-of-pearl cover and the purple hue (I swear, Bellabox wins me over more and more with their spot-on selections!), I can't wait to try this out!
And there you have it, a quick look at my August box…and I'm as pleased as punch with it! What's your favourite pick out of this month's box, and if you got something different in your August Bellabox, I'd love to hear about it too. :D
Labels: anna sui, bellabox, china glaze, enavose, loreal, philosophy, sample subscription boxes