Tea time treats @ Covelli Italian Bistro & Wine Bar…
A couple of weeks back, I was extended an invitation to sample the tea time treats at
Covelli
, which is located in the basement of Orchard Central. I'd been to the place once before for dinner, but had never tried the teatime selections given that I don't quite like coming into town on the weekends unless there's a good reason for me to do so! But I digress…
For Covelli's tea time treats, you get a set of 4 different pastries or cake with your choice of tea or coffee at SG$9.90++ per person. We were told the selection of dishes served for the tea set change from time to time, so do check out at the entrance for the day's choices. There's also a decent selection of teas to choose from – I counted fifteen different types on the menu. Now, I'm no tea connoisseur, but there should be something to suit most palates. :D
Since the bf was also down that weekend, he came along as my *ahem* photographer (hey, that's the point of bringing him, right?) and we tried two teas between us – the first one above is Uji Genmaicha, which is a sencha green tea with roasted rice and matcha. The roasted rice flavour came out above the green tea but surprisingly wasn't overpowering, which was nice.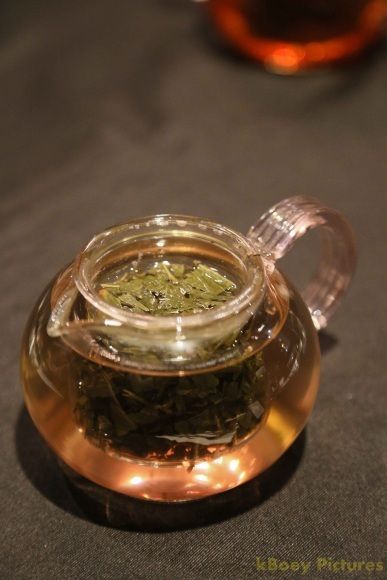 The second tea was a blend called Grandma's Garden – a sencha green tea with strawberry, mango and pear flavouring mixed with dried fruit pieces. To be honest, there wasn't a lot of dried fruit pieces in there but the end result was still quite pleasant to taste. Oh, and the pots of tea are refillable - a good thing since each pot only yields about 2 cups of tea.
Let's move on to the food, shall we? We sampled a selection of several cakes and savouries which I was told are included as part of the high tea menu rotation.
The top layer of the tray had smoked duck bruschetta (foreground) and tomato bruschetta with pesto (background) – out of the two, I liked the smoked duck one more as it went very well with the balsamic vinegar dressing (and I like my meat! *ahem*)
The bottom layer had a selection of cakes, and what you see here is the Chocolate Ganache (left) and Pistachio Cremeaux (right). The Chocolate Ganache had a good solid texture to it while the Pistachio Cremeaux was very nutty. While both were delicious, I'd hesitate in putting these two together as they're quite heavy on the stomach if you have a slice of each!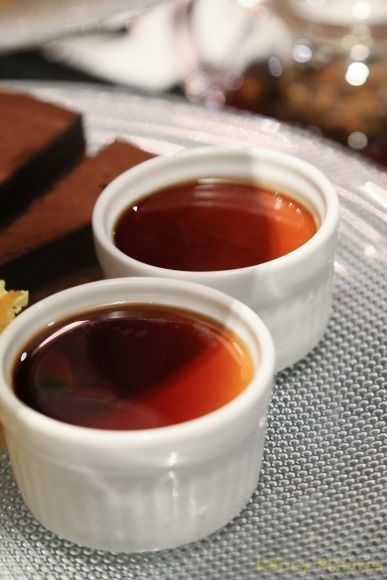 This was my absolute favourite and the clear highlight of the afternoon – Kahlua Pannacotta! Creamy, smooth pannacotta covered with a layer of Kahlua glaze…absolute heaven! :D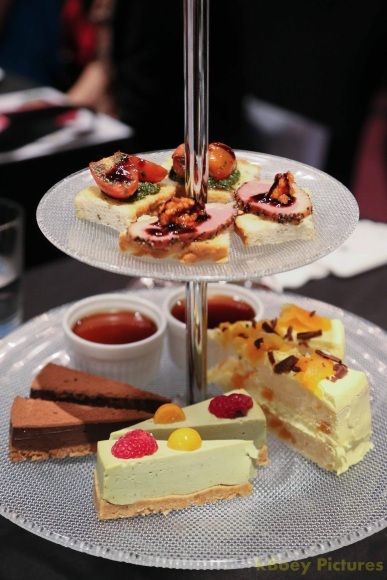 And there you have it – a decent high tea set selection for SG$9.90++ per person. The shot above also includes the Apricot Cake which I didn't mention earlier – the light and fluffy sponge was delicious, and I liked that they were quite generous with the chunks of apricot in it. So if you're wandering in Orchard during the weekend and are looking for a quiet place to rest your feet and have some tea, do check out Covelli.
Covelli Italian Bistro & Wine Bar
181 Orchard Road
#B2-13/22
Orchard Central
Singapore 238896.
Tel: +65 6238 6400
Tea Time: 3-6pm Mon to Fri, 12-6pm Sat and Sun
www.covelli.com.sg