Fabulous Finds – Malaysia's first beauty box that will have you looking AND feeling good…
In the past year, I've probably written a fair bit about beauty boxes since I subscribed to
Bella Box
and had that fun group post about
what I'd put into my beauty box
. The sentiment among most were lamenting the lack of a beauty box service in Malaysia, but today I'm happy to let you know
Fabulous Finds
has launched Malaysia's first beauty box service!
For RM35 a month, you'll get a pretty box containing 4 – 5 deluxe beauty samples from high-end and niche brands delivered to your doorstep. Items in the box are varied and can range from skincare, bodycare, nailcare, fragrances, cosmetics to haircare.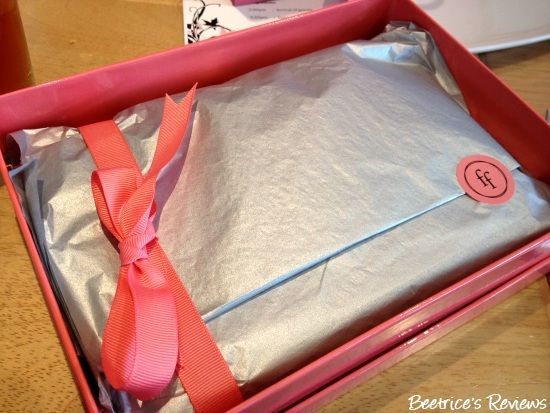 A couple of weeks back, a group of us were invited to a preview of the first box, which will be sent out in July. The contents of each melon-pink box is wrapped with silver paper, a ribbon and sticker – very pretty, and I'd love getting it as a gift. The box is also great for storing other knickknacks, although I'm not sure what I'd do when they start piling up! (get more stuff to fill them? oops…)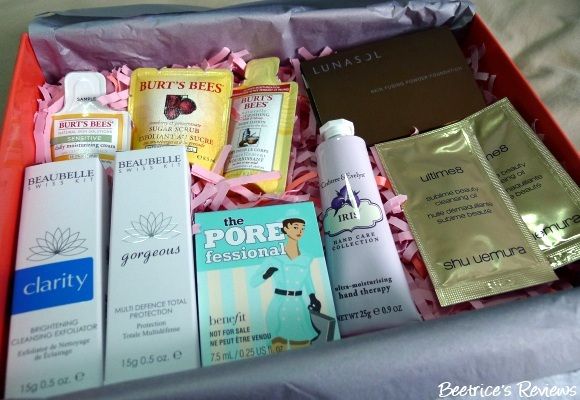 Here's a peek into what you can expect for the July box:
Beaubelle CLARITY Brightening Cleansing Exfoliator
Beaubelle GORGEOUS Multi Defence Protection Cream
Burt's Bees Cranberry & Pomegranate Scrub
Burt's Bees Milk & Honey Body Lotion
Burt's Bees Sensitive Daily Moisturising Cream
Benefit Cosmetics The POREfessional
Crabtree & Evelyn Iris Ultra-moisturising Hand Therapy
Lunasol Skin Fusing Powder Foundation
Shu Uemura Ultime8 Sublime Beauty Cleansing Oil
On the whole, I'd say it's not bad for a first box – the full-size Crabtree & Evelyn Hand Therapy is a firm favourite of mine, and I'm looking forward to trying the Lunasol foundation. :D
The feel good part? Beyond just enjoying the products in the box, Fabulous Finds is also giving back to the community with their boxes. Each box is packed by women who come from disadvantaged backgrounds (single mothers, widows) which help to supplement their often meagre incomes. This is a big plus in my book as I think it's a nice gesture.
The Fabulous Finds boxes are now available for subscription from www.fabulousfinds.com.my and can be purchased up to 14 July 2012, as the boxes will be shipped out to subscribers on 15 July. There are a total of 180 boxes available for July, and subsequently 200 boxes per month on a first come, first served basis.
There are 2 options for subscription:
Monthly – RM35 per month recurring payment
Annual – RM420 one-time payment (you'll get a free box ie. 13 in total, and it's transferable)
You can also opt to gift a friend or family member a Fabulous Finds subscription in denominations of three, six or twelve months.
What are your thoughts about Malaysia's first beauty box service?
Labels: beaubelle, benefit cosmetics, burt's bees, crabtree n evelyn, fabulous finds, lunasol, sample subscription boxes, shu uemura