Happy Easter, and a little dotty fun…
I know it's already Easter Monday, but never too late to wish you all a very Happy Easter right? *winks* If you're wondering, the little chocolate chicks in the pic above were a gift to the office…cute right?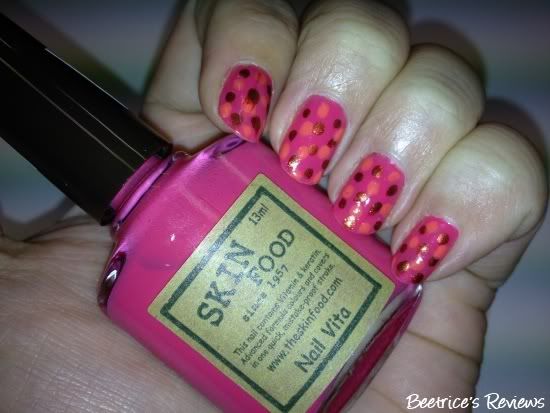 Since I had a slight break back in KL over the Easter weekend, I decided to try a 'Easter' look with my nails – I was originally going for a dotty "Easter eggs" effect, but apparently my colleague now tells me they remind her of strawberries…what do you think? :P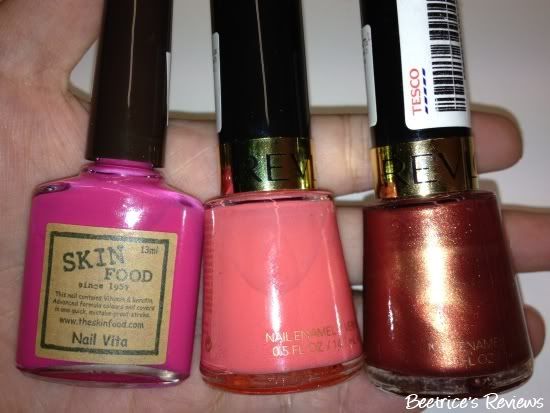 The polishes I used (L-R) – Skin Food Nail Vita in PK202 (I really wish they'd give their polishes names instead of just code numbers!), Revlon Nail Enamels in Tropical Temptation and Amber Ablaze.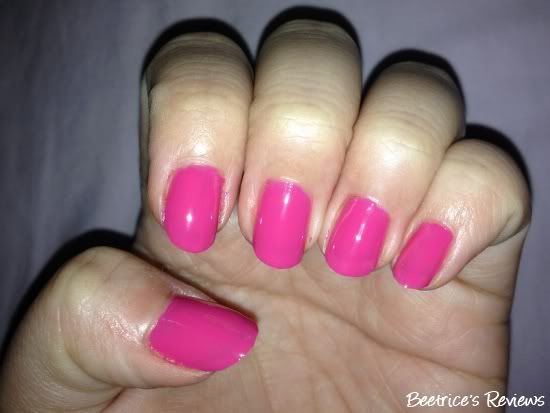 After my usual base coat, I applied one coat of Skin Food PK202 – one coat gave me the opacity you see above, you can faintly make out the nail line on my fourth and fifth fingers, but I didn't bother with a second coat since I was going to add dots to them.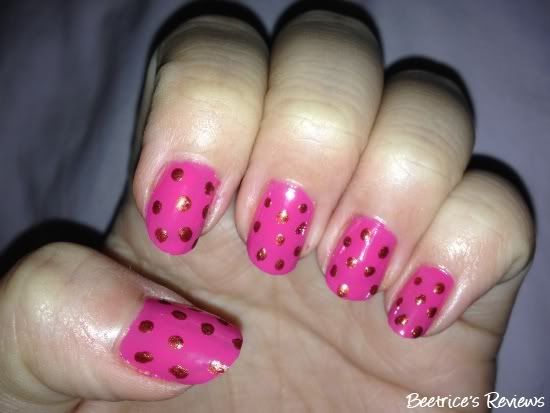 Next, with a round tipped hairpin (I didn't have any dotting tools with me, hence had to improvise!) I started dotting my nails with Revlon Amber Ablaze. Tried to make them as random as possible, but they kind of ended up in rows…I wonder why?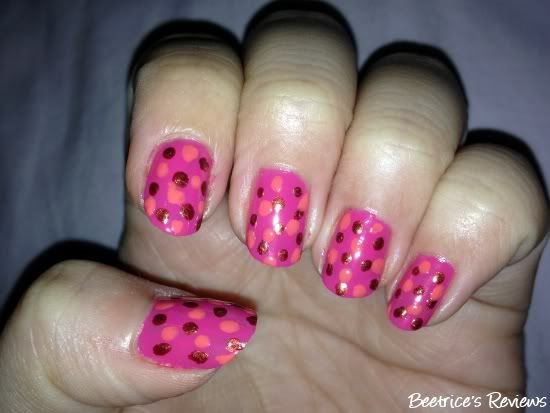 After Amber Ablaze, it was time to add Tropical Temptation dots – I quite love this combo of cheerful colours, and they're all glossy finish save for the Amber Ablaze (which I had to add in simply for colour contrast and because I love my sparkle!)
I added a coat of
Seche Vite
after waiting for them to try about 5 minutes, but alas, you can see from the top pic that my index finger got a bit smudged in the process. The rest are still holding fine though. :D My nails are pretty simple since I'm a klutz when it comes to nail art, but if you want more advanced designs I'd suggest you check out
Pretty Beautiful's Easter nail art tutorial
. :D
Oohh, and if you have the chance to (I know some friends in Australia have gone bonkers over these), you have to try these Cadbury Easter eggs. They come in a cute egg carton of 4 pieces, and are super fun to eat! Only downside is they cost a bomb, but now that it's Easter Monday I'm hoping they'll be on sale…let me know if anyone else has managed to find them in Malaysia?