Fun Dupe for the Ciate Caviar Manicure…
Remember I wrote about the
Ciate Caviar manicure
about 2 weeks ago? Well, after seeing some shots of it in action (you can read the
Brit Blogger's review here
) I was hankering to try it, but after seeing the GBP18 price tag (approximately SGD$36 or RM90!) and knowing it would take a long time to make it to Asia (if at all) I gave up on wanting to get them – it's not something I'd spend THAT much on just for novelty's sake!
I couldn't quite get past wanting to try it though, so when some sites suggested it could be duped using ordinary nail polish and microbeads, I decided to give it a try.
Ta-daahh!! Hehe…looks quite convincing, no? At least, I think so… :P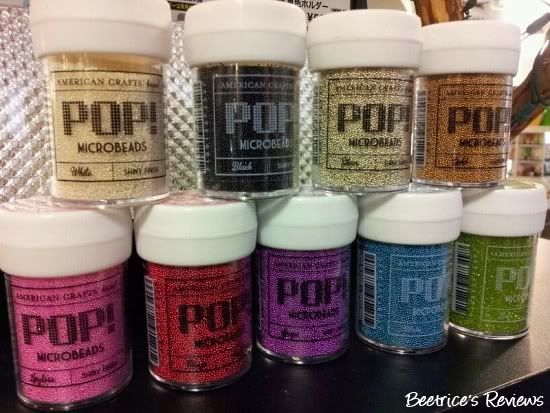 I used
POP! shiny finish microbeads from American Crafts
(pic above is courtesy of
Rinnah
who found the motherload!) which can be found at any well-stocked craft store – they come in a variety of colours as you can see above, but I stuck with black since it felt like the easiest to work with.
Getting them on was simple enough – start off with your regular base coat and two coats of your choice colour of nail polish. In my case, I was trying different shades to see the effect, hence ended up with green, red, purple and blue from my index to pinkie. :D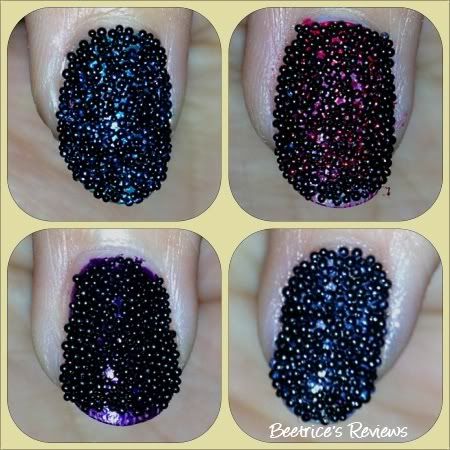 After this was the bead-sprinkling bit, which I cheated on. It was a bit difficult to get them to stick onto the polish even working one nail at a time, so I tried a few methods and found one that works. Apologies for the poor photo quality, it's not easy trying to manoeuvre a camera with wet nails...*grimace*
If you're interested in trying it, this is what worked for me:
First, apply base coat and two moderate coats of coloured nail polish on your nails. I recommend using bright, shimmery colours as this will stand out more compared to sedate ones. Let dry for about a minute.
Next, working one nail at a time apply a coat of Seche Vite to your nail, wait 5 seconds and then dunk your entire nail into the bottle of microbeads. This is a lot easier than sprinkling them onto a dish and having to clean up afterwards!
Once the beads have stuck to your nail, gently (and quickly!) brush off the excess and press the beads into your nail. Don't worry if they roll around a bit as this will help it adhere faster, plus your beads may just get coated in some of the coloured nail polish for an added effect like what happened in my case. Do make sure you coat them all the way to the tip though, mine looked a bit bare at the tips because I didn't get to them fast enough!
Repeat with the rest of your nails, then sit back and let them dry. Because I used Seche Vite, my nails dried in less than 15 minutes and were sturdy enough to last an evening without dropping off.
PS: If you want to try the original way, the instructions are in my previous post on the Caviar Manicure here.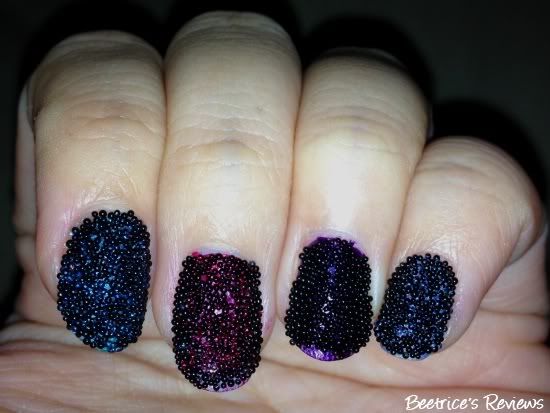 Did I like them? Yes. They're unusual enough to try for a fun night out, and definitely something different. To get the multi-colour bead effect, you can always buy a couple of colours and mix the beads but since this was just a trial run, I stuck to rolling the beads around in the polish to get the colour to shine through.

A point to note though, is that removing the caviar manicure or microbeads can be a pain but I found a way around that too (all for the sake of being thorough!) and people with itchy fingers will love this.
If you try to use nail polish remover directly on the beads, be warned that the colour will leech from the beads onto your nails and skin – in this case, it'll turn them a dirty black. So save your skin, and instead pick off the beads first. Once you've picked off a small area, it's easy (not to mention a bit addictive) to pick off the rest. And after you're done with the beads (please do it over a container or dustbin, you don't want them going everywhere!), you can use nail polish remover for the base polish as per normal. Easy peasy!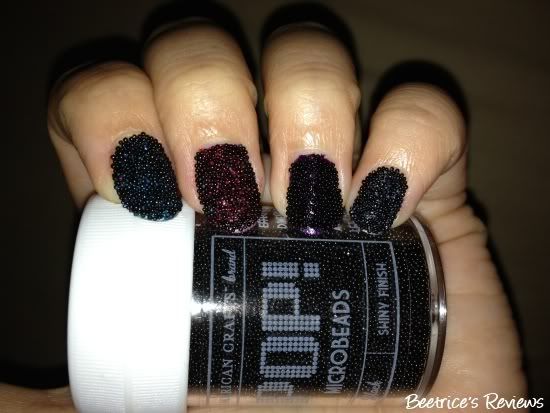 And there you have it, a dupe for the Ciate Caviar Manicure. Anyone else want to give this a go? *wink*