The Sleek Original i-Divine Palette is oh so divine!...
When it comes to wearing eyeshadow, I'm usually the finickiest person around – anything too gritty, too powdery, too difficult to apply, etc gets relegated to the back of the drawer almost immediately. However, enter the Sleek Original i-Divine palette which I got as a Christmas present from some loverly ladies *wink* – and despite initial reservations, I'm quite in love with this baby!
Description:
The
Original i-Divine palette
contains a variety of highly-pigmented colours, ranging from green to purple, allowing you to create endless looks fit for day or night. The velvet-touch consistency gives full and shimmering coverage to the eye lid for maximum effect. Each of the 12 shades can be applied alone for a dramatic effect or mixed to create a personalised look.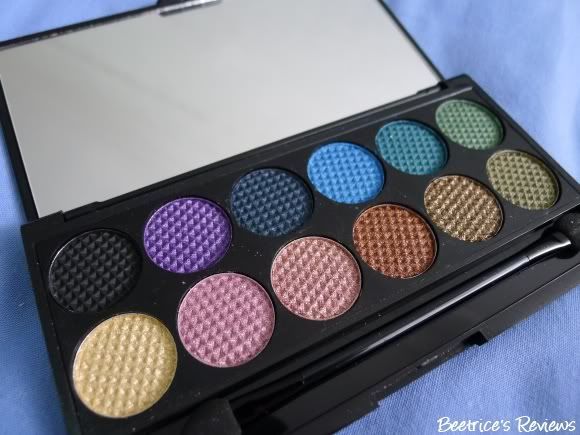 When I first opened it up, the colours were breathtaking – this palette doesn't pull any punches when it comes to colour! I was a bit alarmed by the powdery flecks scattered throughout the palette but I reckon it was just due to shifting during transport/ shipping.
And here come the swatches: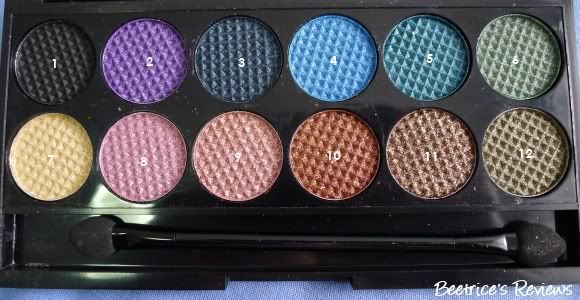 Gorgeous colours, aren't they? With the exception of the flat black shade (top left shade or #1) which feels a bit gritty and is the only matte shade in this palette, the rest have great colour payoff and texture. Personally, I do like my colours a bit on the shimmery side so this is right up my alley.
My initial hesitation was not with the texture of the eyeshadow, but rather the hues – knowing me, I'm more of a brown/ nudes/ neutrals sort of person with a strong hue added in (think deep jewel colours like emerald and amethyst) and only ever use multiple bright colours for special occasions, so I was initially hesitant to try a lot of the shades (hel-lo, bright blue? Uh oh…).
However, I've found that using my fingers to apply this gives me a more muted look and makes the bright hues easier to blend (although the instructions say the eyeshadow is best applied with the enclosed dual-ended sponge applicator), so now I've gotten quite used to it and (god forbid!) am even starting to use brighter colours overall.
Incidentally, the i-Divines have been given a makeover – the outer packaging has been updated and they're now pressed flat instead of the waffle print you see in these pictures. A bit of a shame really, since I kind of like the waffle print. :D
Ingredients for those interested
Overall, this is a great palette for those wanting to experiment with colour and want shades that are easy to blend. It's certainly gotten me out of my neutrals comfort zone and who knows, you just might see me with a lot of brighter colours soon?
And on that note, Happy Friday and have a lovely weekend!! :D
The Sleek Original i-Divine palette retails at £6.49 and is available from the Sleek Makeup website. International shipping is available (except to African countries).
Rating: 4 / 5
Value: $$$