Coming up smelling roses with Enavose FloraComfort Micellar Cleansing Water…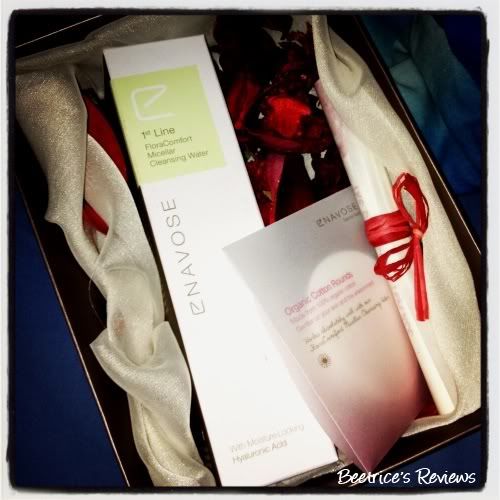 Early last week, this box landed on my table – beautifully wrapped as usual, this time containing another product, rose-scented potpourri and some organic cotton rounds from Swiss brand
Enavose
. Did I like it as much as I did the
Black Tea Quench Mask
? You'll have to read on to find out. :D
Description:
The
Enavose FloraComfort Micellar Cleansing Water
with Micellar technology captures and removes debris, makeup and residue in one simple step while hydrating and softening skin to prevent any feeling of tightness or discomfort. Cornflower extract and hyaluronic acid work to add radiance and hydration to skin for enhanced nourishment. Perfect for on-the-go cleansing, freshen your skin with long-lasting water reserves and elevated suppleness.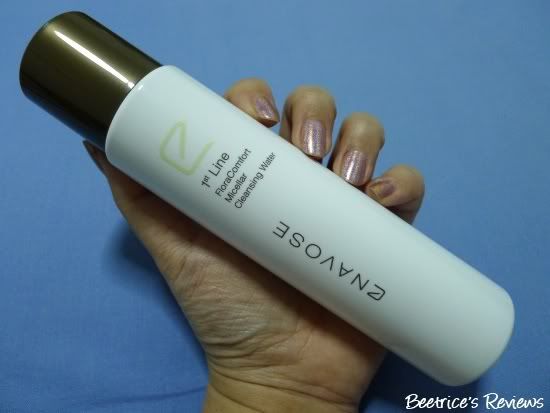 Similar to other Enavose products, the FloraComfort Micellar Cleansing Water (which shall hereafter be referred to as just Cleansing Water!) comes in a sturdy plastic case or in this instance, bottle.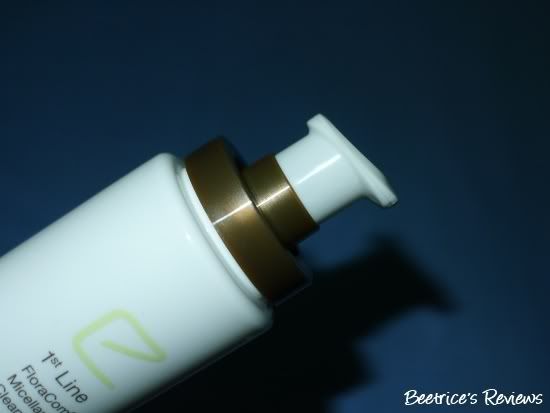 The pump is one of the best I've come across – doesn't dispense too much, easy to use and the whole thing is sealed up so the product inside remains sterile…very hygienic! Product wise, the Cleansing Water has a very mild scent with just a hint of rose – perfect for those with sensitive noses.
Instructions are super simple – just pump out the Cleansing Water onto a cotton pad, sweep over your face to remove makeup and repeat until your makeup is gone. For me, the most notable result was taking off my foundation, just check out the before and after below: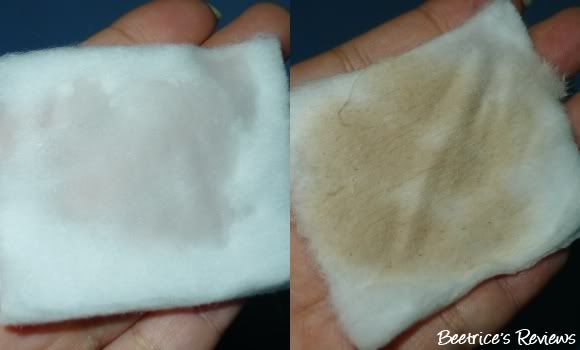 Not bad, it does a decent job removing foundation and blush. :)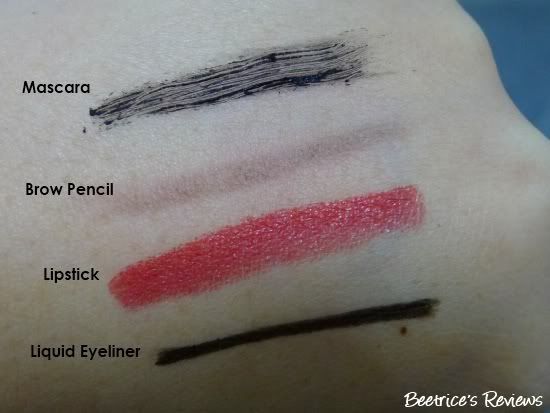 For makeup, I decided to make the test more obvious and drew on myself (oh the things we do to test products!) so what you see above is waterproof mascara, eyebrow pencil, lipstick and liquid eyeliner.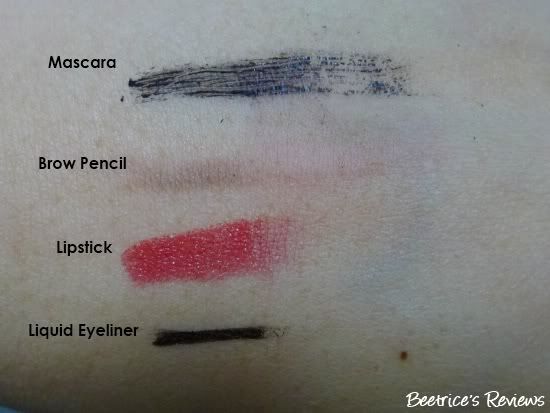 This was after soaking a cotton pad and leaving it on to saturate the area before wiping off in one swipe – you can see it did a good job with all the other items except the mascara. To be fair, the mascara was waterproof (hel-lo Maybelline!) but I generally use a separate eye makeup remover so this didn't bother me too much.
I was told that this is a no-rinse formula which means you don't have to wash your face again after using the Cleansing Water, but personally I felt my skin was a bit sticky after using this (particularly along the T-Zone area). The feeling dissipates after a while, but I don't like the sensation so I prefer to splash water on my face afterwards. A point to note is that I have a really oily T-Zone, so chances are it's only me having this problem.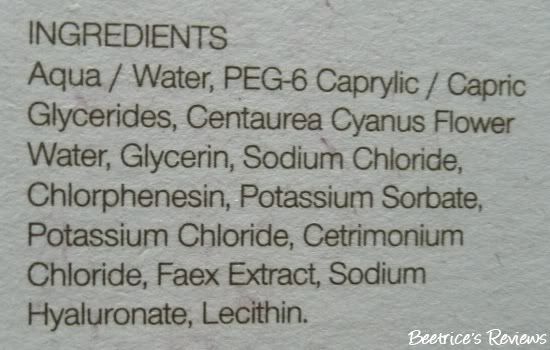 Ingredient list for those interested
All in, this is a decent cleanser that does the job for me (only caveat would be the waterproof mascara) – Enavose is having a promotional price for the FloraComfort Micellar Cleansing Water at the moment for just SG$29 (Usual Price: SG$45). If you purchase more than SG$100 on either the Enavose online store or
Facebook e-shop
, you'll get a free Mineral Concentrate Refresh Mist worth SG$32.
1. Share on Facebook when you would most love to use this versatile cleanser
2. The three entries with the most number of likes wins
3. Winners get an Enavose hamper worth SG$145 consisting of the Glo Enzyme Powder Wash, Alpine Edelweiss Dew and Nutritive Hydrator.
** Please refer to the FB page for further details, terms & conditions.
Rating: 4 / 5
Value: $$