Pretty360 @ Singapore Shopping Centre – Lovely result, but I won't be going back…
Fresh from a manicure and pedicure from the Pretty360 salon, I just had to write about my experience I had with this salon before I forget the details. This is going to be a rather long wordy post, so consider yourself warned should you want to proceed!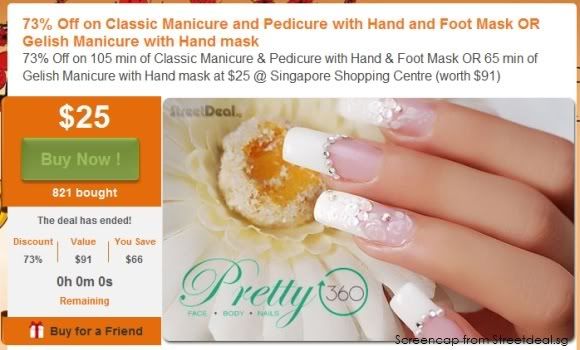 I had bought a voucher for a classic manicure and pedicure with hand and foot mask back in June last year off
Streetdeal.sg
, which I thought was a pretty good deal at SG$25. The transaction went through smoothly, but what ensued after though, was anything but smooth.
The fiasco started when I called to make an appointment in July – I'd bought the voucher in June and the expiry was in October, so there shouldn't have been a problem finding an available slot, right?
WRONG.
When I called up, I was told that the three options I wanted were not available. After a lot of going back and forth and being 'waitlisted' several times, I finally got so exasperated that I asked for 'any available slot on a Saturday (they're closed on Sundays) or any weekday after 6pm between July and October. And the answer was NO!
So I asked the owner what I was supposed to do if there's no available slots at all – she offered to extend my voucher expiry by a month to November, which was fine…until when I asked her the same question on availability and her answer was STILL no and suggested that I come over at 3pm on a working day
(hello, the reason you have slots at 3pm is because most people have to work!)
After getting most frustrated with her, I finally insisted she give me a slot on a weekday at 7pm, didn't matter when and extend my voucher to that date. She gave me a slot in January, only to call me three days before to 'reschedule' because she had overbooked.
FINALLY, I got a slot on 1st February (after almost 8 months!) and headed down to the place. To their credit, they sent me a reminder SMS the day before to confirm…but spelt my name wrong. Small matter.
After the standard registration where the staff insisted on speaking to me in Mandarin despite me addressing them in English, I sat down for my manicure and pedicure.
Straight off, the manicurist I had started pushing back my cuticles and trying to cut them. When I told her not to cut my cuticles (you should never ever cut your cuticles!), she shrugged and moved on to the next step.
To be fair, I did really like the manicure and pedicure service there – the manicurists were decent, they did a LOVELY job on my fingers and toes and they use Seche Vite as a top coat.
The part I didn't like however, was what happened with an Indian lady seated next to me who had used a JuzToday promotion similar to the one I had. She pointed out that the conditions stated there was a foot scrub included, to which the manicurist said she would have to check with her boss.
With the receptionist table right next to the mani/pedi area, I heard the boss' reply saying "tell her if she wants the scrub it's SG$10 extra" in Mandarin, despite the manicurist pointing out that it was written clearly on her voucher.
When she replied the lady, the response was
"Oh, there's a typo on the voucher, we don't actually offer a scrub but if you want the scrub you'll have to add SG$10. We already told the writer to change the error."
(err...isn't that statement contradictory in itself?)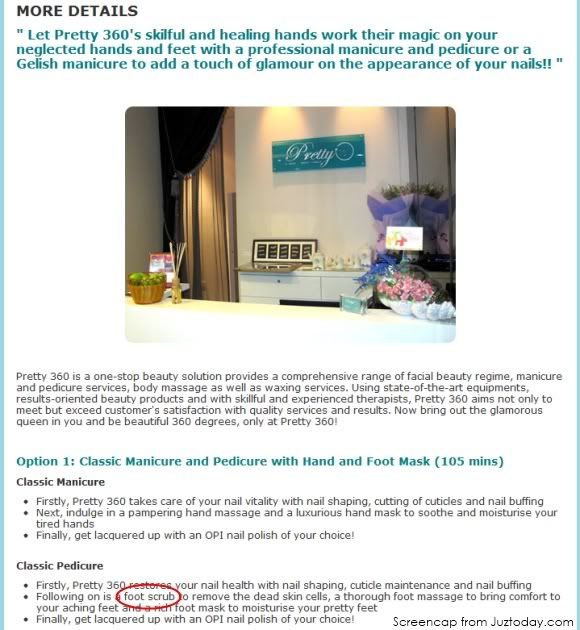 For one, it was clearly written in the description as you can see above. And secondly, even if there was a typo error in the copy, they still should have honoured the voucher terms instead of trying to make her pay extra for it.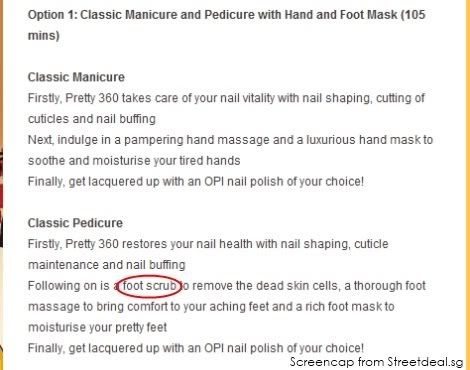 In my case, I had already given the voucher to them so I wasn't in a position to ask for the scrub. However, when I went back and checked last night, it turns out that mine ALSO had the scrub listed in it (above) – and this was from a
separate deal that was done in June 2011
, while hers was just posted up on
JuzToday
. So what cockamamie is "we already told the writer" when you clearly didn't?
The best part was, I noticed that there were only TWO chairs available for manicure/ pedicures. If you only have two slots available and are selling 105min manicure/ pedicure sessions, for goodness sake don't bite off more than you can chew! When the deal on Streetdeal ended (seen in the first pic), they had sold 821 vouchers, and the JuzToday one had sold 220 when I checked it just now.
I actually did the math (yes, all for the sake of calculations!) so just have a look below:
Duration per mani/pedi – 105mins
Total opening time of salon per week – 3,780mins
No. of vouchers sold (using the Streetdeal example since it's already completed) – 821
Duration of promotion – approximately 18 weeks
Therefore, assuming that they did ALL the mani/pedis in pairs, back to back NON-STOP for the duration of the promotion timeframe, they would still need roughly 11.5 weeks to fulfil all 821 of the vouchers.
When you consider the reality of it, there is NO WAY they could have honoured all the vouchers within the time frame. Yet, they not only oversold the vouchers, but have also started another one with JuzToday that is poised to be a repeat of the last deal.
Plus, they purposely jacked up the price of their services in the promotion to make it sound like a better deal than it really was. After my session was over, they tried to sell me a package of 8 mani/pedi or gelish manicures at SG$360, which works out to SG$45 per session and NOT SG$91 as listed in their price. While I do understand that the package deal will definitely be cheaper than buying an individual mani & pedi, I have a hard time believing that they can easily offer packages at more than 50% off the original price.
So no, I will NOT be going back to Pretty360 even though the mani/pedi itself was good. It's a pity, but I'd rather find a decent salon and pay a bit more than buy a package that I'm not sure when I'll be able to use up considering the management and limited slots.