Not quite sugar and spice, but everything nice with Lancôme Trésor Midnight Rose (plus sampling)…
Lancôme, Lancôme. It's a brand I've known since my childhood days since mum has been loyal user for as long as I can remember. I couldn't remember much about their skincare apart from Blanc Expert and Primordiale since those were the words I always heard when accompanying her. Now it's a different story of course, but I digress…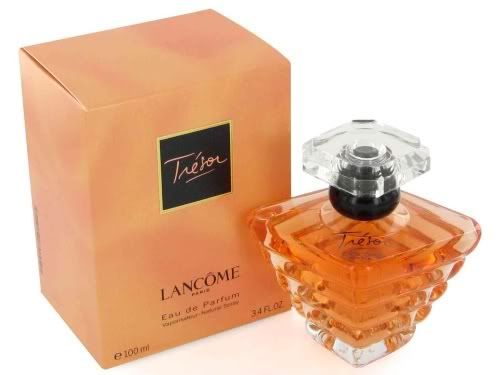 Lancôme fragrances – now that, I remember. My first encounter with the original Lancôme Trésor was some years ago when I was just hitting my teens – mum never wore perfume back then, and used to give me the miniatures that came with her purchases. The Lancôme Trésor miniature I ended up with looked exactly like the full sized one above, and I remember it being one of the first fragrances I came across. Mature scent or not, I still loved it to bits.
Fast forward almost 20 years later, I'm trying out Lancôme's fragrances once again with Trésor Midnight Rose. There's also some info at the end on how you can score a sample of the fragrance as well.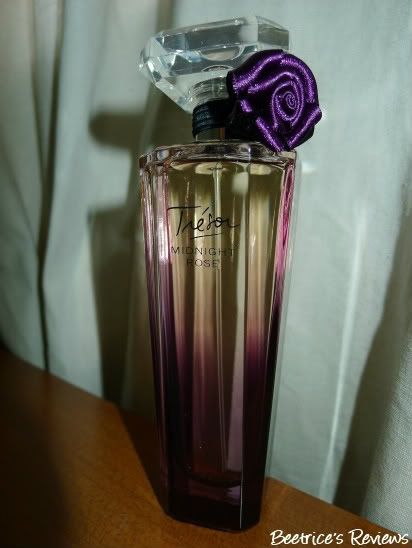 Yes, it's purple, and I shall try to refrain from becoming a giddy schoolgirl over my favourite colour. :D
For those who are familiar with fragrance notes, Trésor Midnight Rose has top notes of raspberry and blackcurrant; heart notes of jasmine, peony, blackcurrant bud absolute and intense pink pepper; and base notes of Virginia cedar essence, vanilla and musk.
Personally, I can't make head or tail of notes, and can only identify a few of them but I'll try my best!
When first spritzed on, the fragrance has an unmistakable fruity freshness to it and I can just make out the berries. On me however, the berry and rose notes in Midnight Rose give way almost immediately to the cedar and vanilla notes, leaving a faint but lingering fruity and vanilla scent that makes me crave ice cream (which I've since given in to twice!)
Think berries with vanilla cream, you'll get the idea. *wink*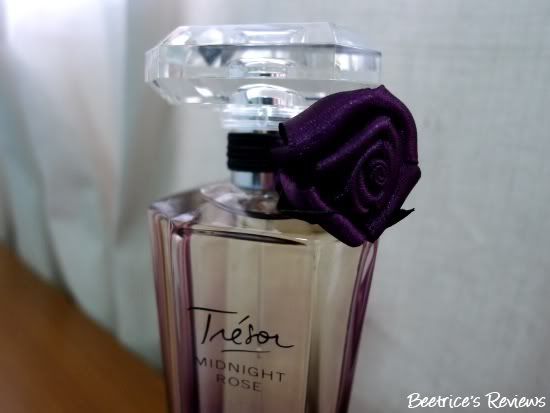 The bottle itself is lovely – Trésor Midnight Rose comes in a pink-to-purple gradiated bottle with a purple satin rose on the neck, similar to the black one seen on Trésor In Love.
For the Trésor Midnight Rose campaign, Lancôme picked Emma Watson as their frontline, and it's easy to see why – the fragrance is young, flirty and yet elegant all at the same time…much like Emma post-Harry Potter. She looks amazing in the fragrance ad below – okay, so I may be just a little more swayed considering the whole clip has shades of purple running through it, but the backdrop for the movie is gorgeous (especially the shots in the bookshop *love*)
Despite my natural gravitation towards bight, citrusy scents, Trésor Midnight Rose has grown on me, although I would opt to wear it in the evenings rather than during the day. Now if I could only get a chance to wear it in Paris... :P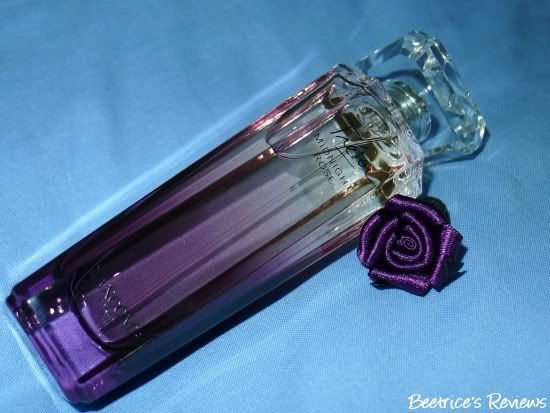 Lancôme Trésor Midnight Rose Sampling:
From now until 31 January 2012, readers in Malaysia can redeem a free sample of Lancôme Trésor Midnight Rose by registering on the
Lancôme Facebook page
. A SMS will be sent to you after registering, which can then be flashed at Lancome counter nationwide to redeem your sample.
Alternatively, you can drop by the Lancôme Trésor Midnight Rose roadshow at Midvalley Megamall (Lower Ground Centre Court) from 9-15 January to try the fragrance for yourself.
Lancôme Trésor Midnight Rose is now available at RM205 for a 50ml bottle and RM265 for the 75ml bottle.