Happy New Year, and I'm back! :D
How was everyone's Christmas and New Year celebrations? My time back in Malaysia over the past week has been nothing short of E.P.I.C. – plenty to see, plenty to do and plenty to eat!
There are still close to a thousand photos to sort through and edit over the 10 days I was back in Malaysia but 2012 definitely got off to a great start, especially with a get together with the usual culprits on New Year's Day.
It's the second time we've met up on New Year's Day, but this time with a little more pampering on the menu by popping over to
Khareyana Spa
for massages! :D (by the way, the foot scrub massage I had was SO good, I fell asleep!)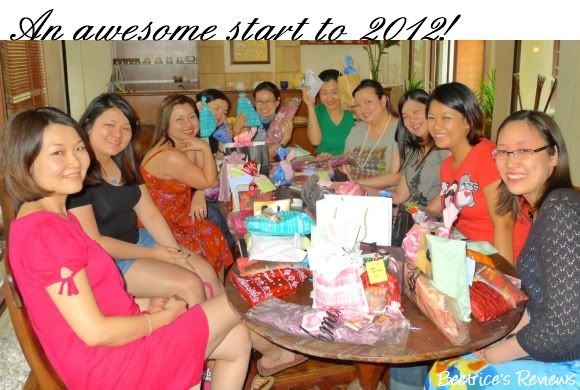 L-R:
Paris
,
Xin
,
Juan
,
Yani
,
Syen
,
Dom
,
Lyn
,
Plue
,
Connie
,
Rinnah
…and yours truly, who was behind the camera. Doesn't everyone look blissed out?
*grins*
In previous years, some of us used to exchange Christmas presents whenever we had the chance to meet up, but now that we could do it all together as a group the pile has gotten pretty shocking. Eleven mad beauty bloggers multiplied by individual presents from each individual end up creating…well, see for yourself:
For some reason, the wrapping
(or lack of, although I really couldn't tell whose was 'badly wrapped' to begin with since they all looked great)
was the hilarious discussion point for this session since we all had our own ways of presenting our gifts but heck, when it comes down to it we don't really mind right? :D Will be interesting to see what happens next year...
*hmmm*
Thanks for a lovely 2011 evurl ladies, and here's to a fantabulous 2012 ahead!! *hugz*
PS:
I'll be doing a more reflective post on 2011 and my resolutions once I've gotten myself back to the swing of things…and
*ugh*
work
(what's that?)
. Stay tuned!