Getting Maudrey nails with help from China Glaze and OPI…
Of late, thanks to the group of lovely (and completely bonkers) ladies I hang out with, I've been painting my nails more often…and accumulating a rather modest collection of nail polishes along the way.
I reckon my parents would protest that collecting 30 polishes in 2.5 months is bordering on madness, but you ladies understand me right? Right?? :P
The two that have my manicure covered this week are China Glaze for Audrey and OPI I Juggle Men. I had originally meant to just pick up the China Glaze for Audrey for a friend, but after seeing the shade in person, I ended up getting one too. As for the OPI, well, let's just say having a whole counter of OPI testers to play with is just as dangerous. LOL!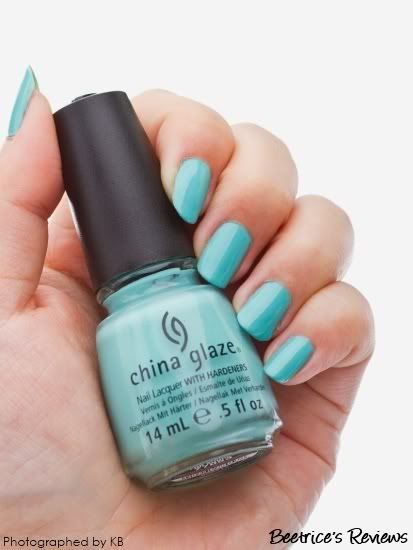 This is two coats of China Glaze for Audrey – it was during application of this that I realised I won't be buying many China Glaze polishes, because I detest using the brush. It's skinny, difficult to control and goes all over the place!
It's unfortunate, because I'm in love with the Tiffany blue-esque hue of this polish. The creamy finish and quick drying time of the polish isn't anything to sneeze at either.
I could have left it at that, but on a whim decided to layer OPI I Juggle Men over it, which is an iridescent shimmer. The effect turned out to be very subtle, but pretty nonetheless.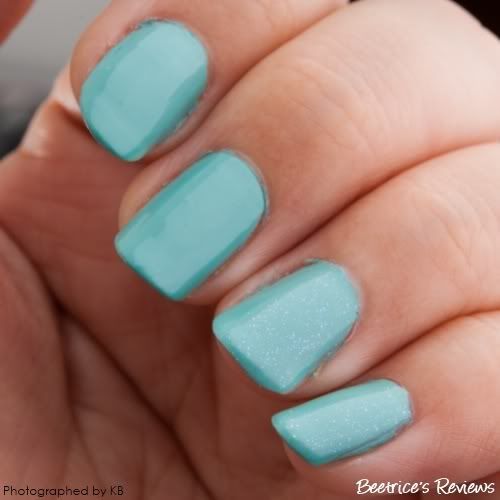 It was a b*tch trying to get the shimmer to show up in photos, and this was probably the best attempt – the two nails on the left are two coats of China Glaze only, while the two on the right are two coats of China Glaze with
THREE
layers of OPI I Juggle Men on top.
(Note: I enlisted the help of the bf to help take these shots, hence the difference in the pictures!)
You can see that OPI I Juggle Men is really very sheer and only works best layered on top of another shade. I've tried it with a few colours, and it seems to work well with strong red, blue and green hues (the purple didn't look too different, but maybe I just have to try a different shade).
But there you have it – the shimmer is very subtle, but pops in real life under sunlight. And while writing this, I just realised I have SEVEN coats of polish on my nails…base coat + 2 coats of China Glaze + 3 coats of OPI + Seche Vite!
The amazing part? I finished all seven coats in less than an hour (including drying time!), and haven't gotten any chips or smudges on them yet after 3 days. YAY!!
By the way, if you're still wondering what Maudrey means, it's Modern Audrey (Hepburn). *winks*
So, what do you all think? Can I carry off the colour, and is it a colour you'd pick for yourself? :)
Labels: china glaze, nail products, nails, OPI, tips n news