Wicked in Singapore!!
When we heard that Wicked was coming to Singapore, we simply had to go. Rinnah had offered to buy the tickets first, and not knowing exactly when they were opening, I agreed. As it turned out, she was kiasu enough to buy tickets for the day after it opened on 7 Dec. Go Rinnah!
Wicked
tells the untold story of the Witches of Oz. Long before Dorothy dropped in, two other girls meet in the Land of Oz. One, born with emerald green skin, is smart, fiery and misunderstood. The other is beautiful, ambitious and very popular. Wicked tells the story of how these two unlikely friends grow to become the Wicked Witch of the West and Glinda the Good.
(taken from the website)
We got Category D tickets which were up in the Grand Circle, but as we mutually agreed afterwards – next time we're paying a bit more and getting the seats closer to the stage! :P
This is the view of the stage from our seat – actually...even after watching the show, I'm still not sure why they had a dragon mounted up there…
But as for Wicked? To put it simply – I LOVED IT!!
It was hilarious how they managed to blend in all the different storylines and characters from the original Wizard of Oz, and yet show a completely different interpretation of the story. :D Epic moments had us giggling like mad in the theatre, especially the "toss toss" and "me too" – want to know what I'm talking about? Go watch and you'll see… :D
Oh, and did you know Bert Newton was among the cast as well? I remember watching his show in Perth during my student days...he carries a tune well enough, but there's was definitely more talking than actual singing for him.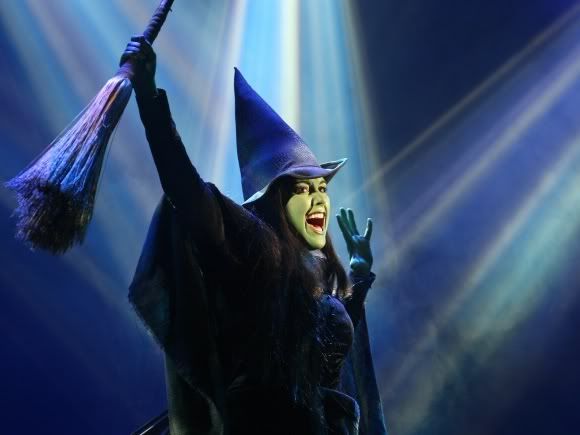 When I first came across Wicked, it was the song 'Defying Gravity' that did it for me – it's not an easy melody with a lot of jumps, but beautiful when done well. And Jemma Rix as Elphaba? Awesome. I had goosebumps when she sang!
What's a show without a programme? :D After watching Wicked, I think I'm going to have to go and watch it another time before it ends…and this time with better seats!
Have a happy weekend ladies! :D