Putting a purple twist on a French manicure…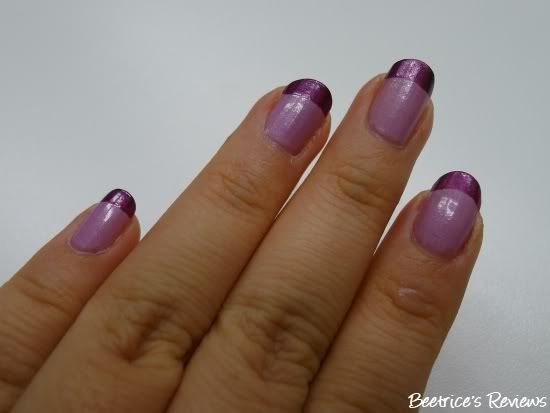 Say hello to my purple reverse French manicure! :P
If you've been following me for a while, you'd realise that I'm crazy for purple hues. Violet, magenta, amethyst, aubergine, lilac, lavender, fuschia, plum…shucks, name me any purple shade and I've probably got something in that colour!
So one evening when I was messing about with some polish shades in my room, I decided to try layering different hues of purple on my nails and after trying a number of combinations this was the final result!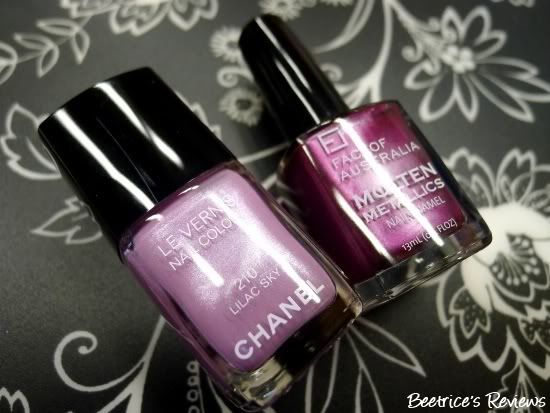 The two polishes I used – Chanel Le Vernis in #210 Lilac Sky and Face of Australia Molten Metallics Nail Enamel in Amethyst.
I realised though that these two polishes are really on the "Save & Splurge" ends of the price spectrum, but in terms of performance I have to admit liking the Face of Australia one more in terms of manageability and colour payoff.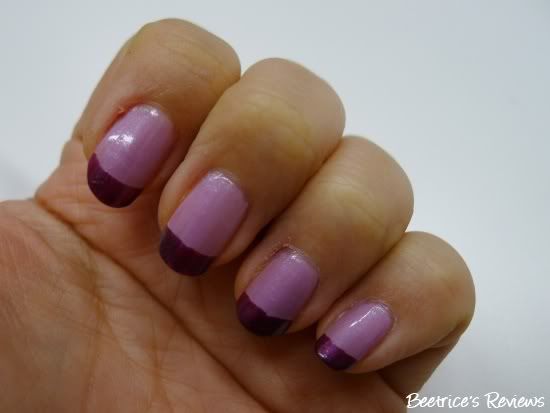 If you were wondering about the shaky lines, it's because I drew the tips in freehand – obviously I need a lot more practice! :P
Chanel Le Vernis retails at RM70 and is available at Chanel counters nationwide. Face of Australia Molten Metallics is a limited edition range and retails at AUD$4.95 each (not available in Malaysia or Singapore though).
Labels: chanel, face of australia, nail products, nails