Who's up for Violent Lips?
What a week…I spent Mon and Tues out on MC thanks to a fever, Wed was a public holiday in Singapore…and in the blink of an eye it's already Friday, and I'm a few hours from hopping on a plane back to KL to attend the
My Women Stuff Awards
tomorrow! :D
Since it's Friday, I thought I'd share something a bit more light-hearted that I spotted in Watsons earlier this week…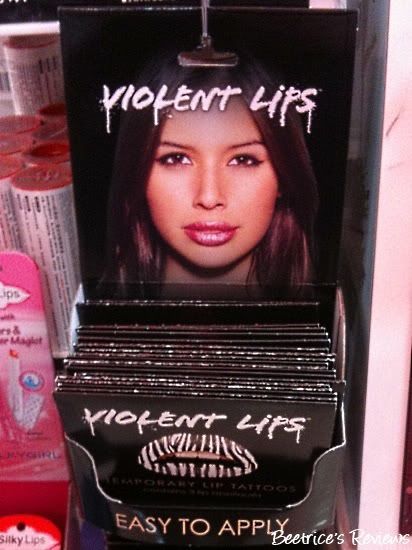 Can you guess what they are from just the name?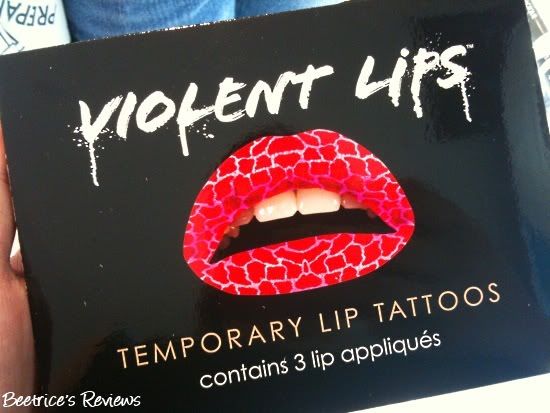 If you guessed some sort of lip plumper (like I did – think 'getting punched in the mouth' pouty lips? maybe? LOL…) you'd be wrong!
Violent Lips is actually a range of temporary lip tattoos that are supposed to create a statement. The creator is just 14 years old – Isabella Haddad. (Gee, and to think I was only starting to discover makeup for myself at fourteen…eeps!)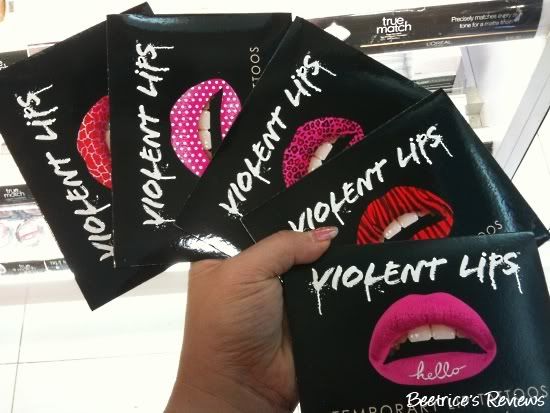 L-R: Pink Giraffe, Pink Polka, Pink Cheetah, Red Zebra and Pink Hello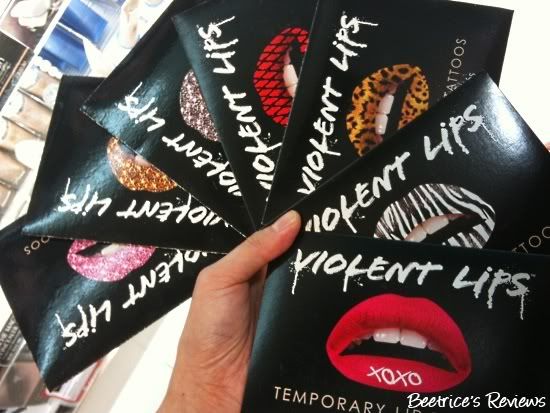 L-R: Pink Glitteratti, Gold Glitteratti, Silver Glitteratti, Red Fishnet, Leopard, Zebra and Pink XOXO
These are the options available in Singapore for now, but believe me, these are quite tame compared to their full range available
online
!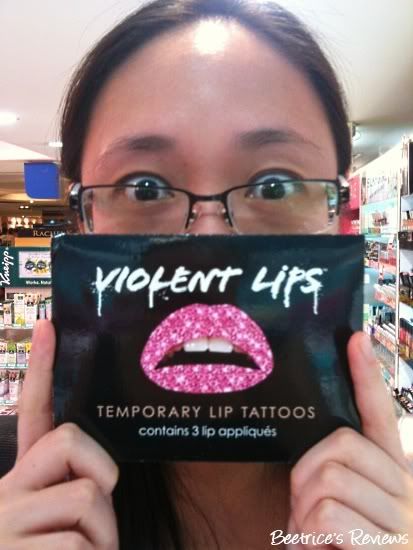 Can't imagine what it would look like on you? LOL…well, neither could my 'model' (who chose to remain nameless…)
There's even a step by step video to show you how to apply Violent Lips – from what I saw, it's actually similar to the temporary tattoos I used to like applying as a kid, where you 'sponge' them on to your hands and legs with water and clean off with baby oil. :D
Each pack contains 3 applications and can supposedly last up to 8 hours, but at SG$19.90 per pack, I reckon they came out just in time to ride on the Halloween novelty factor. Would you give it a go just for fun? I just might...
On that, have an awesome weekend ahead and Happy Halloween in advance! :D
Labels: bizarre, lipstick, violent lips