New: amethystory products (plus sampling)…
Anyone who knows me even remotely well will know I'm bonkers for the colour purple – lilac, aubergine, you name it, I probably have something in that hue…so when
amethystory
hit Singapore, I just had to give them a try. All in the name of being adventurous, right?
(Plus these looked pretty nice on my bathroom shelf too…hehehe...)
There's also an opportunity for you to try the amethystory Mineral Aqua Gel out for yourselves at the end of this post, so scroll on down…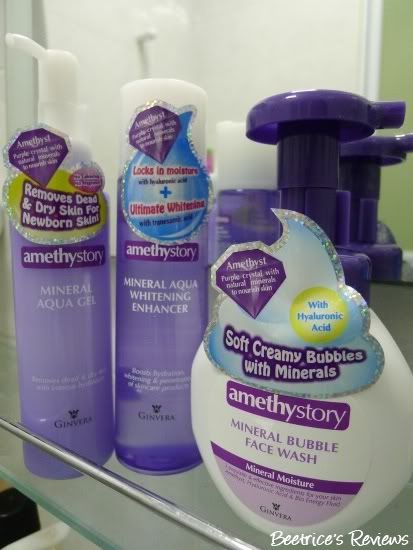 The three products that I tried out was the Mineral Aqua Gel (their star product), Mineral Bubble Face Wash and Mineral Aqua Whitening Enhancer. I've been using all three together for the past few weeks, so it only seems fitting that I review all of them at one go – warning that this is going to be a long post! :)
1. amethystory Mineral Aqua Gel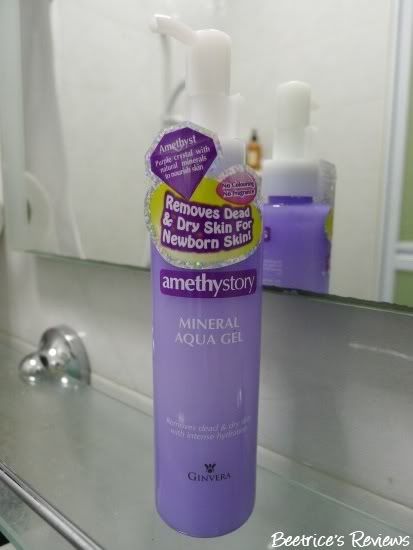 The amethystory Mineral Aqua Gel basically sloughs off dead skin – if you're familiar with Ginvera Marvel Gel, this is somewhat similar…no surprise since the amethystory brand comes from the Ginvera people as well.
Description:
The amethystory Mineral Aqua Gel formula is specially blended with Amethyst, Hyaluronic Acid and Bio Energy Fluid to help enhance the removal of dead, dry and rough skin while promoting skin rejuvenation, instantly leaving skin hydrated, clear, new and fair. After removing the dead skin layers, your skin is left in the optimum condition to completely absorb subsequent skincare nutrients.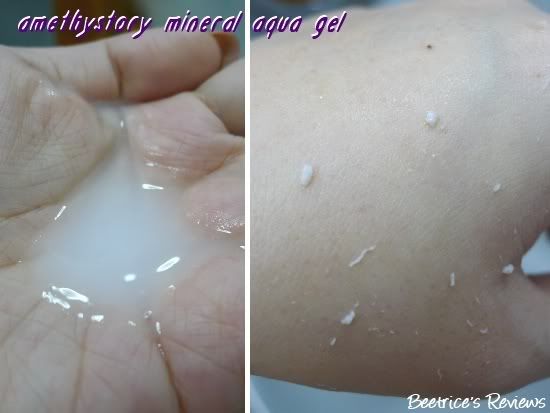 How you use this is to start out with a dry face and hands – pump a sufficient amount onto your palm (for me, two pumps is more than sufficient to cover my face and neck) and massage it onto your face in circular motions until you see little beads of dead skin (like that in the pic above) start to form, then rinse off with water.
The Aqua Gel is great for use on your face or body – and I'm loving it for the latter. They do say you can use it daily, but I've found that using it twice a week works best…otherwise you won't see much of an effect anyway.

2. amethystory Mineral Bubble Face Wash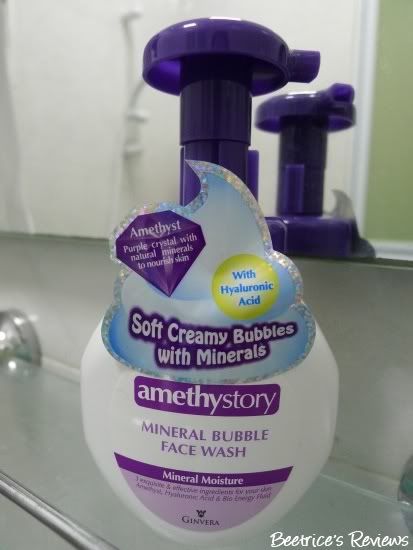 Look a little familiar? LOL…when I saw the Mineral Bubble Face Wash I couldn't help but think about a certain marshmallow face wash from another brand (you know the one I mean!).
Description:
The amethystory Mineral Bubble Facial Wash is a soft and creamy foam enriched with moisture factors and mineral nutrients to gently cleanse and remove impurities, dirt and oil from pores. After washing, it provides long lasting moisture to the skin. Regular use of the Mineral Bubble Face Wash will polish away old skin resulting in smoother, supple skin.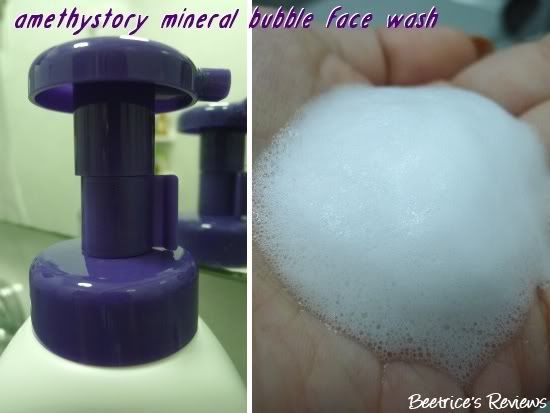 Similarities in packaging aside, I actually like the smell of this face wash – not too strong, just a gentle fragrance that makes washing my face quite pleasant and doesn't leave a tight feeling behind (not to mention the foam makes it quite fun!) I find that even one full pump dispenses quite a lot, so I generally try for half to two-thirds of a pump per use.
Both the Mineral Bubble Face Wash and Mineral Aqua Gel above contain Amethyst, Hyaluronic Acid and Bio Energy Fluid – the Amethyst is said to help improve skin complexion and skin tone and the Hyaluronic Acid provides intense hydration, while the Bio Energy Fluid helps balance oil secretion and provide mineral and trace mineral elements to nourish skin.

3. amethystory Mineral Aqua Whitening Enhancer
Last but not least is the Mineral Aqua Whitening Enhancer, which I would say is similar to a toner – I've been applying this after cleansing my face, and it smells similar to the face wash, which is pretty nice.
Description:
The Mineral Aqua Whitening Enhancer formula is blended with Amethyst, Tranexamic Acid and Hyaluronic Acid to boost hydration and whitening of skin, and enhance the penetration of skincare products for full absorption. Regular use of Mineral Aqua Whitening Enhancer will provide skin with minerals for better skin rejuvenation and at the same time lighten complexion evenly for a fairer, more radiant and youthful glow.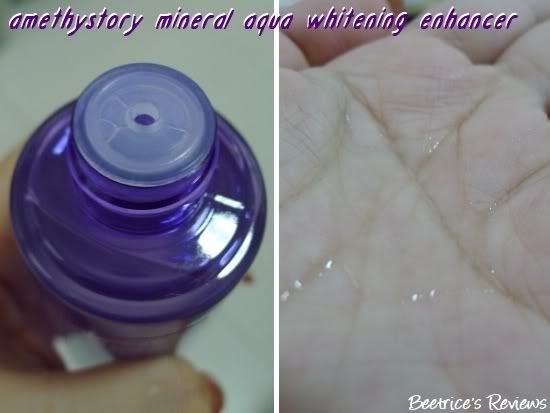 I must say I do like the way the Whitening Enhancer has been packaged – the bottle comes with a secure screw top and a small opening on top so I won't be accidentally tipping out too much of the liquid at one go. As far as usage goes, I usually tip out about 5-6 drops of this to pat onto my face which is absorbed quite quickly.
The Tranexamic Acid in the Whitening Enhancer is supposed to fight dark spots and help even out complexion, as well as contains an anti-inflammatory to help enhance the whitening effect, but after just a couple of weeks I wasn't expecting to see anything drastic. The Whitening Enhancer is a decent enough toner, but that's about it.

Overall, I'd say I really liked the Mineral Aqua Gel and the Mineral Bubble Face Wash, but would pass on the Whitening Enhancer. I can see why the Aqua Gel is their star product, considering it does a pretty awesome job at removing dead skin. :)
Sampling:If you'd like to try the amethystory Mineral Aqua Gel for yourself, please visit the amethystory Facebook page here to redeem a sample.
Labels: amethystory, facial wash, toner