My Women Stuff Readers' Choice Awards 2011 - EPIC! :D
Right, now that's sorted – I'd gone back to KL (yes, yet again!) over the weekend for the inaugural My Women Stuff Readers' Choice Awards on 29th October 2011…and boy, the only word I have for it is…EPIC!
When Paris had said she was thinking of organising this shindig a few months back, we were all massively excited. And now that it's actually over, we can't wait for the next round! But more about that later…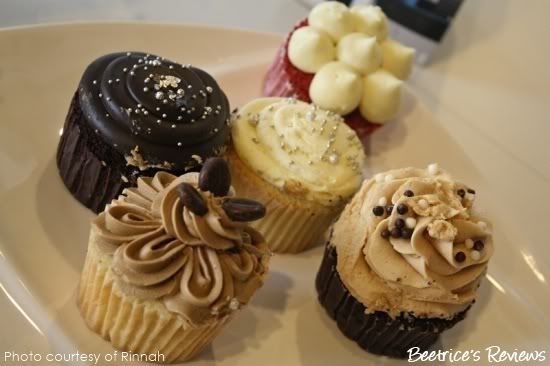 The morning got off to a great start with the committee arriving bright and early to help with the set up – although admittedly, we had to be bribed
(just a little bit!)
with cupcakes and coffee…we don't play play when there's
Just Heavenly
cupcakes served up! :D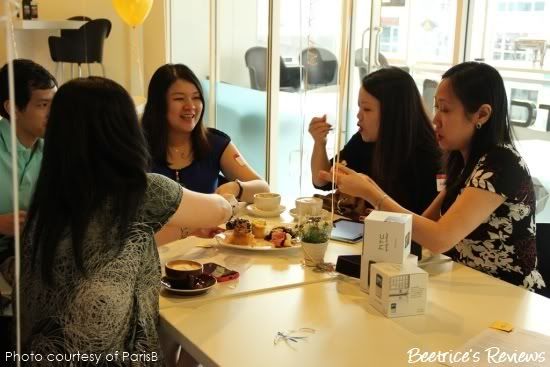 Set up didn't take quite as long as we had expected
(yay for awesome pre-planning!)
, so we had some time to sit down for a bit and chitchat.
In fact, we had enough time to dig out our stuff to swap! LOL…since our group is now rather international, every time we meet there's something to pass over!
The mastermind and queen Paris – now this is multitasking, people…talking on the phone, signing the board at the same time AND managing to look effortless while doing it!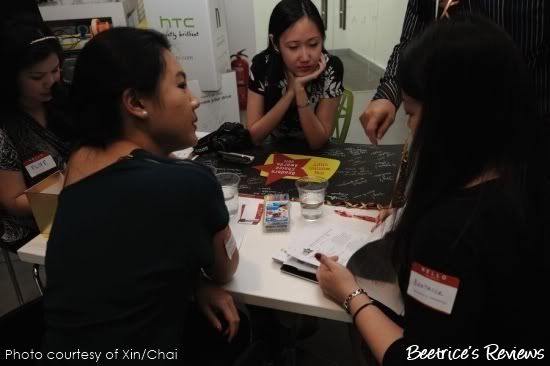 There were also forms given out for attendees to guess the winners – and I promise, no one bribed me for the answers! :P We had scores from 3 up to 16 out of a total of 25…interesting…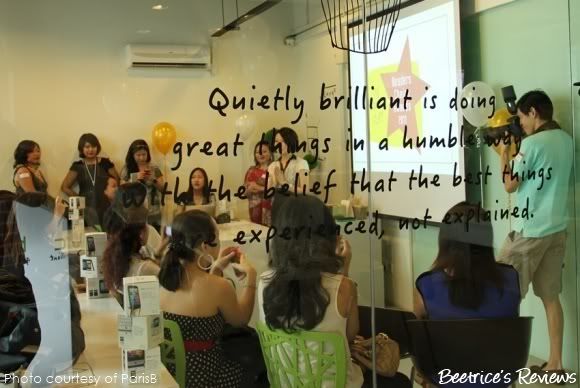 After food and plenty of squeals of "OMG, so YOU'RE **insert blogger/ online/ website name**" throughout the room, everyone was ushered into the room for the winners' announcement. By the way, I think the statement on the glass was most apt – "Quietly brilliant is doing great things in a humble way with the belief that the best things are experienced, not explained" I'm sure we all had a great experience there, right? :D
And for those of you who are curious as to who the winners are, the list is up on My Women Stuff
here
.
Once the winners had been announced, the top 4 scorers from the 'guess the winners' game were hauled up – and the winner
(who actually got the most answers right)
AND correctly answered the pop quiz question about My Women Stuff was…
Hsu Jen
! She walked away with a prize from
Estee Lauder
…lucky girl!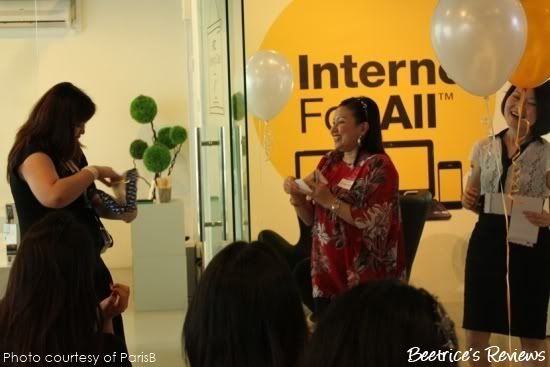 There was also a bonus prize for anyone who had an item from the winner's list with them that day – it was no surprise that
Lyn@BeautyCabby
won…just check out her beauty bag! :D
And then…it was on to the Lucky Draw with Paris and our lovely emcee
Juan@toughcookee
. There were some epic moments during the drawing for sure, but what happened next was most unexpected…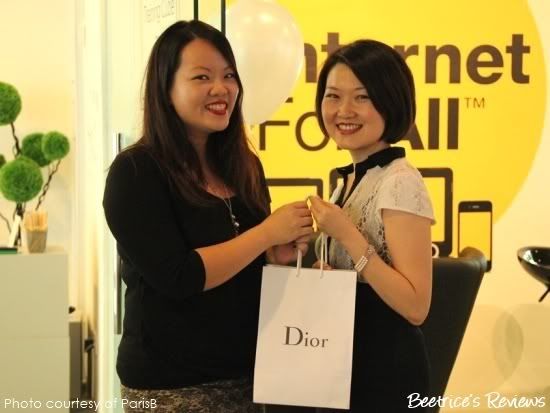 I picked up the Dior skincare and fragrance hamper worth RM750! Guess it was really lucky No.8 for me that day, since I was later told that was THE grand prize of the draw…*still in shock*
There were also 3 contenders up for Best Dressed –
Erin
,
Dom
and
Lee
...I love how their poses were so alike in this shot! :D The prize of a Clinique fragrance ended up going to Erin
(I like to think it was for the rocking boots she wore)
Just Heavenly
also sponsored a cake in the form of their Choc and Cheese cake, which was absolutely delicious…there was barely any left once we were done with it!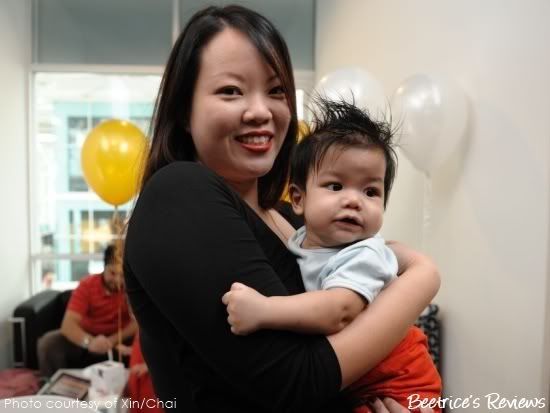 With the youngest
(and cutest!)
attendee of the awards…Jebat! :D He's none other than the son of our emcee Juan, and just check out that happening hairstyle!
Oh, and if you were wondering what was in my Dior prize… :D
(by the way #evurl girls, if you're reading this…some of this love is gonna come your way soon!)
And last but most definitely not least, the goodie bags! We knew they were going to be epic, but this was just…*jaw drops*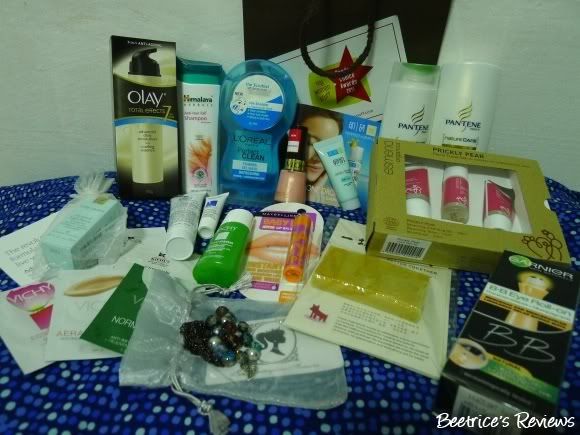 In no particular order, there were items in the bag sponsored by Pantene, Garnier, L'Oreal, Olay, Himalaya, Hada Labo, Revlon, Vichy, Kiehl's, Estee Lauder, Yuan Soap, Maybelline and Esmeria Organics.
Also included in the bag were vouchers from Apronbay, Lace Petals *ahem* and Poise Wellness.
My absolute highlight of the goodie bag? This gorgeous necklace sponsored by
Tine
of
Sweet Contemplation Accessories
. I may be biased since she's family, but heck, she deserves it! :D
There were three options for the necklace as seen *ahem* modelled by Rinnah, myself and Dom. We loves our SCA necklaces, yes we do! :D
And as the saying goes, that's it for now folks! My Women Stuff Readers' Choice Awards 2011 may have ended, but hey, there's no reason why we can't start looking forward to another one next year right?
(although Paris might need a bit more convincing…you know what to do!)
Want to read what some of the other bloggers said about the My Women Stuff Readers' Choice Awards 2011? :)
You can also read (and feel!) the excitement as the event unfurled on Saturday via Twitter with the
#mwsawards
hashtag.
Labels: awards, esmeria, estee lauder, events, garnier, hada labo, himalaya, just heavenly, kiehls, loreal, maybelline, olay, pantene, revlon, scaccessories, vichy, yuan soap