Gunk Begone! – Skin Food Egg White Pack…
Advance Warning: Gross pics ahead!
Still with me? Great! :D I've always had a problem getting gunk out of my pores, and my fascination with pore packs still holds strong after so many years. First it was the Biore pore packs, then the black pore packs (which looked great, but didn't do much more other than show up the gunk better!), and then…I was introduced to the Skin Food Egg White Pack by none other than the daughter of the fellow who brought Skin Food into Malaysia. (here's looking at you, K!)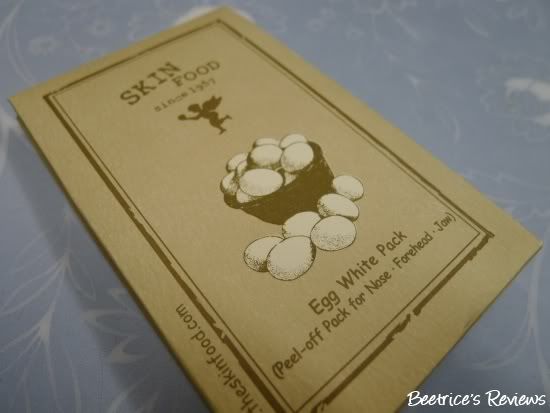 Description:
The Skin Food Egg White Pack (Peel-Off Pack for Nose, Forehead & Jaw) eliminates blackheads effectively for a flawless complexion. Contains egg white to help control sebum and refine pores.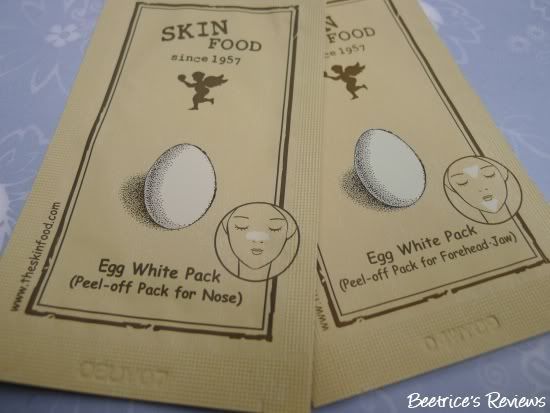 The pack contains 10 strips, 5 for the nose (left) and 5 for the forehead and jaw (right). Technically, it should be chin and not jaw, but oh well…
The Verdict:
First off, it's nice that they've created specific strips for the forehead and jaw (chin) area – I have to admit, I'd actually cut up the Biore pore packs before just to paste them onto my forehead and chin areas (you're not supposed to, but *shhh*!) But with dedicated packs, I can get my nose, forehead and chin area gunk free in one sitting without having to resort to scissors.
Using them is pretty much per standard instructions – make sure your face is clean and makeup free, then wet the nose/forehead/jaw area with water before pasting on the strip and waiting for it to dry. The instructions on the sheet say 10-15 minutes, however you'll know when it's time – the strip hardens into a crispy layer on your skin!
Peeling it off is the most fun – you start at the edges and work your way towards the centre (in the case of the nose pack, that would be the tip of your nose). Sometimes if you actually do that while looking in the mirror, you can see the blackheads being pulled out by the strip. It's pretty cool, but not advisable if you're easily grossed out. :D After that, you just rinse the residue off your skin.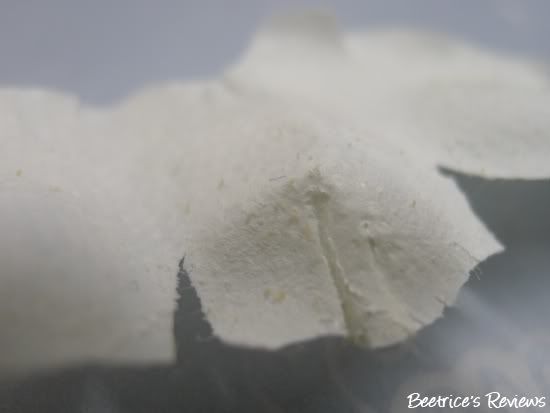 Nose strip – you can see the biggest blackheads are on the tip of my nose (eww!). The pore strip also takes off hair, so don't be surprised to see fine hairs stuck to the strip when you take it off!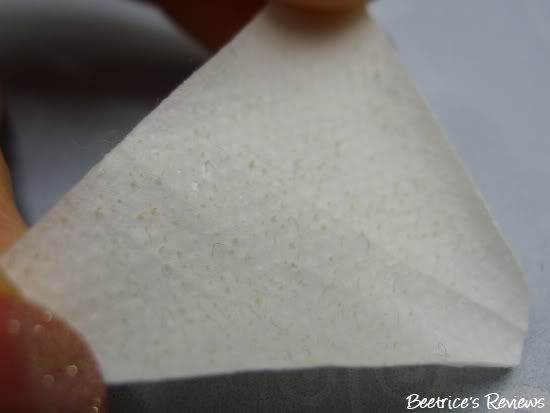 Forehead strip – even more remarkable, this pulls out EVERYTHING. Blackheads, fine hairs, stray eyebrow hairs…I'm always amazed by the amount of gunk that comes out with this one.
Chin-wise, I don't really have much to show you since my jaw area isn't congested to begin with, so I usually just plaster the remaining patch wherever my pores are feeling particularly congested. My skin always feels super smooth afterwards – the egg white at work I reckon. :D
Just one minor gripe though – the egg white formula tends to smell a little bit weird when it gets wet, not unlike raw egg. It soon dissipates though, so unless you're particularly sensitive it shouldn't bother you.
Price-wise, this is substantially more expensive than the Biore pore packs but I feel it's more effective at removing blackheads since I only need to use it once every couple of weeks.
I am so obsessed with this, I don't think I'll be using any other brand for some time to come! Xin is also just as taken with the Egg White Pack, you can read her take on it
here
.
The Skin Food Egg White Pack (Peel-Off Pack for Nose, Forehead & Jaw) is available from all Skin Food outlets nationwide, and retail at RM24.90 for a pack of 10 strips.
Rating: 5 / 5
Value: $$$