Give your boobies some TLC and *ahem* eye candy…
Yeaps, you read that right! :D
Just when I thought Breast Cancer Awareness month didn't have anything new, yesterday evening this popped into my inbox which I thought was just too awesome not to share.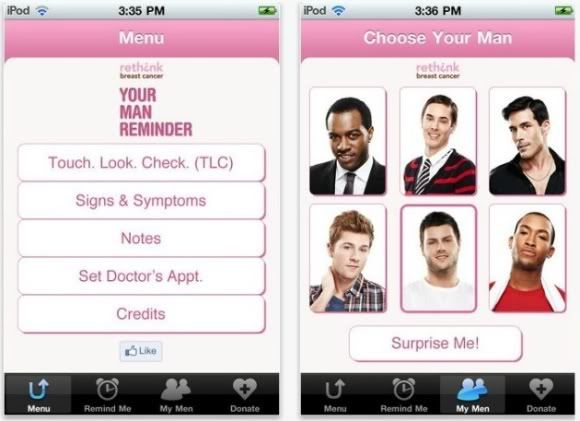 It's an awesome, light-hearted app that Rethink Breast Cancer has created for Breast Cancer Awareness month – it's called "Your Man Reminder", which basically has hot guys reminding you to do your self-examinations.
Oh, and in this case the TLC means 'Touch. Look. Check':
Touch – feel for any differences and understand how your breasts should feel like
Look – check yourself out for any differences in size, shape and surface texture (ie. dimpling)
Check – when in doubt, always get it checked out by a healthcare professional
Cool right? Actually, the coolest (and hottest) part is below. The video they've done on this is just jaw dropping for all the right (and *hawt* wrong reasons)…just have a look and decide for yourself! :D
Warning: A bit NSFW with the topless hawt guys – watch in office at your own risk!
Now how's that for reminding you to feel up your boobies? :D
Labels: awesome, breast cancer awareness, techie