Jumping on the D-I-Y nail wrap wagon – First Kiss New York Nail Dress…
After seeing all the buzz around Sally Hansen nail wraps recently, I was most intrigued and decided to try them for myself. Unfortunately, I had problems finding them initially and ended up picking this pack from Sasa just to try them out since they looked quite similar.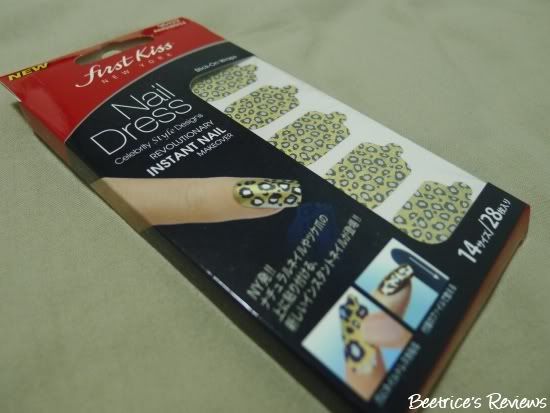 This is the First Kiss New York Nail Dress in leopard print. Oddly enough, I haven't been able to find much of this company online, and attempts to access the online site at www.kissusa.com also failed, which left me with some doubts as to the useability of the product.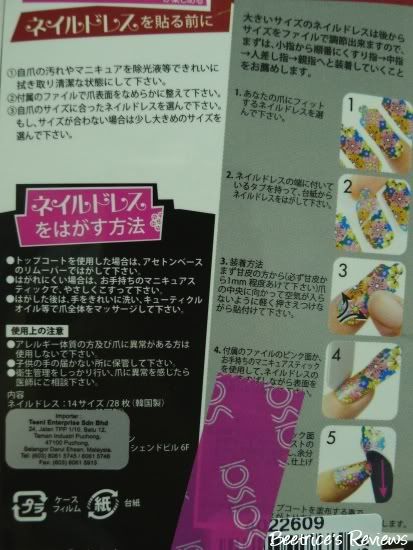 Even more curious, the instructions at the back are in Korean (I think), and says the product is made in Korea, although the main company is from New York. See what I mean by confusing?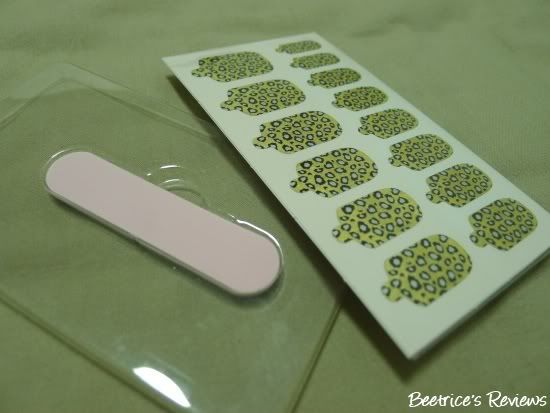 The contents were straightforward enough though – a pack of 28 strips, together with a nail buffer / emery board combo in the pack. Instructions were obviously difficult given the language barrier, but I just tried my luck following the pictures at the back.
I basically just applied a base coat
(Sally Hansen's Double Duty – love the stuff!)
and waited for it to dry a bit before applying the nail wrap. After using the pink (buffer) side to make sure the wrap adhered properly to the nail, the excess was then filed off using the black (emery) side.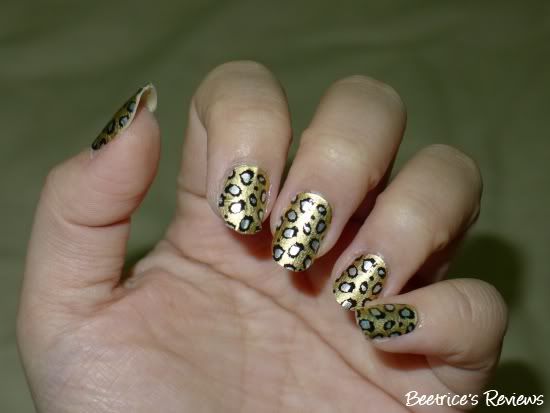 The whole process was relatively painless, except for my thumbs and forefingers which I'm guessing aren't the best shape to take these wraps. As a result, you can see my third to pinky fingers above look great, while the forefinger, not so great. >.<
As for how long they'll last, I have no idea – I guess I'll have to wait a bit and see how they fare (if I can resist the urge to rip them off thanks to the uneven application on my thumbs and forefingers!) Price wise, they're retailing at RM33.90 per pack for 28 pieces, which makes them a bit cheaper than the Sally Hansen wraps.
I will probably be able to give you a better idea once I've tested out the Sally Hansen wraps
(which I will get to after this set of wraps comes off!)
and let you know which one I prefer. However, for those who want fuss-free nails, no drying time and sturdier wraps to work with
(since I hear the Sally Hansen ones tear easily if you're not careful),
you may want to 'practise' with this one before moving on to the more expensive ones.
First Kiss New York Nail Dress Stick-On Wraps retail at RM33.90 per pack and is available at Sasa outlets in a number of patterns.
Rating: 2.5 / 5
Value: $
Labels: nail products, nail wraps, nails