The Body Shop Antibacterial Hand Sanitizer – Makes Scents…
Haha…apologies for the pun – I thought I'd grab your attention a bit since I've been gone for quite a while. Too many things have been happening, unfortunately. In early July, I found out I'd have to move apartments again
(it was the second time in less than 6 months!)
, so most of the month was spent hunting for rooms, viewing the places,
*shudder*
packing up
(a Herculean feat in itself!)
…and moving yet again.
Of course, through all that I did find a few gems here and there. Admittedly, I haven't been buying a lot in the past month – a conscious effort, since anything I bought would have added to the already humongous pile of boxes I had to pack!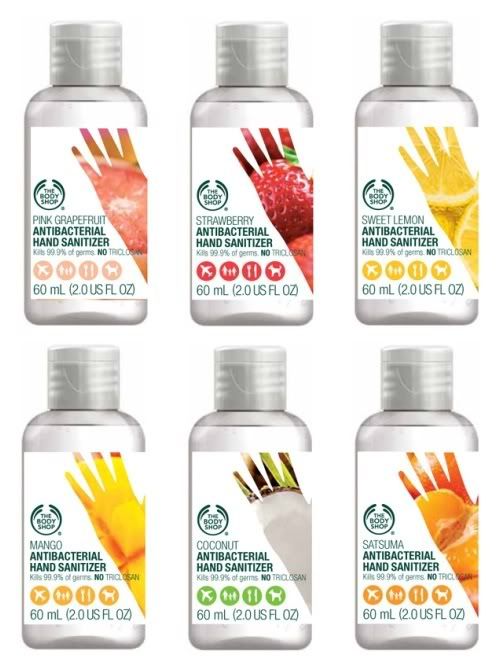 One of the little gems I stumbled upon was
The Body Shop Antibacterial Hand Sanitizer
though…if you like the scents of their body washes, this will be a treat to use because they smell exactly like their soapy counterparts! :)
There are a total of 6 variants available overseas – Coconut, Satsuma, Mango, Pink Grapefruit, Lemon and Strawberry. I also spotted an Aloe Vera version in the Singapore store, although I haven't seen it online. Sadly, this isn't available in Malaysia at the present time, so if you want it you'll have to make your way across the Causeway
(or bribe me to bring it back for you!)
.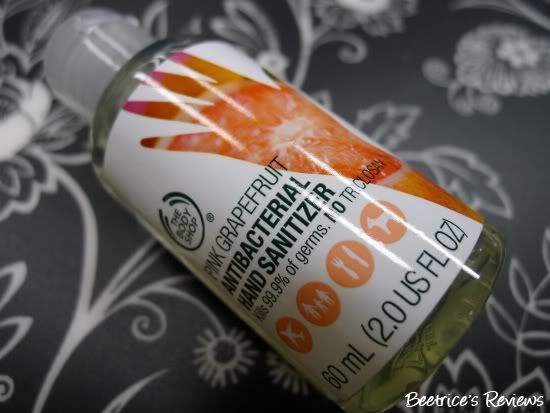 No surprise here that I picked the pink grapefruit variant for myself – it smells EXACTLY like the pink grapefruit range in The Body Shop...yummy!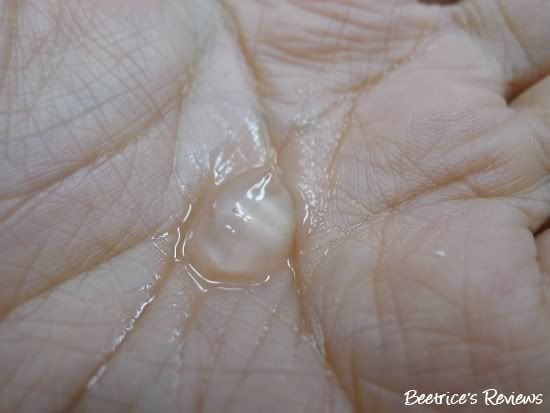 As far as hand sanitizers go, this gel is slightly less gloopier than most but melts pretty quickly once it comes into contact with your skin. This is great since I don't like having that 'wet' feeling on my hands after using it, plus it doesn't leave any sticky residue. The only problem I have is that I can't stop sniffing my hands for a good 5 minutes afterwards thanks to the delicious scent!
*oops*
Ingredients:
Alcohol Denat. (Solvent/Diluent), Water (Solvent/Diluent), Betaine (Hair Conditioning Agent), Glycerin (Humectant), Acrylates/C10-30 Alkyl Acrylate Crosspolymer (Stabiliser/Viscosity Modifier), PEG-40 Hydrogenated Castor Oil (Emulsifier), Aminomethyl Propanol (pH Adjuster), Fragrance (Fragrance), Limonene (Fragrance Ingredient), Linalool (Fragrance Ingredient), Citrus Grandis (Grapefruit) Fruit Extract (Skin-Conditioning Agent), Hexyl Cinnamal (Fragrance Ingredient), Disodium EDTA (Chelating Agent), Citral (Fragrance Ingredient), Anthemis Nobilis Flower Extract (Natural Additive).
You can get more information on the other variants
here
. I'm not sure why they listed it under their bath products, but oh well…
The Body Shop Antibacterial Hand Sanitizer retails in a 2.0 fl oz bottle for SGD$6.90 (or you can purchase 2 at SGD$10.90) and is available at all The Body Shop outlets in Singapore.
Rating: 5 / 5
Value: 4.5 / 5
PS: If you're interested, I've actually moved into a room with my own attached bathroom...which means I have the space all to myself instead of sharing it with other people!
*does a happy jig*
I foresee more bath products in my future…
Labels: hand sanitizer, handcare, singapore