Keeping those dangly earrings in check – part 2!
Since coming to Singapore, my dangling earring collection has expanded by leaps and bounds – thanks to tweaks in my dressing style as well as erm, more compelling reasons to dress up when I'm here, my collection here has grown to rival the one I have back in KL! :D
However, storing them here brought up the usual storage problems I'd faced back in KL. Where in KL I'd used a
simple DIY method
to hang them up, but this time staying in a rented room, I couldn't very well hang tape and stuff on the walls that would take off the paint.
(yes, the challenges of renting a room…sigh…)
Well, yesterday while out with ah boy, we were strolling in
Muji
when I came across the perfect storage solution!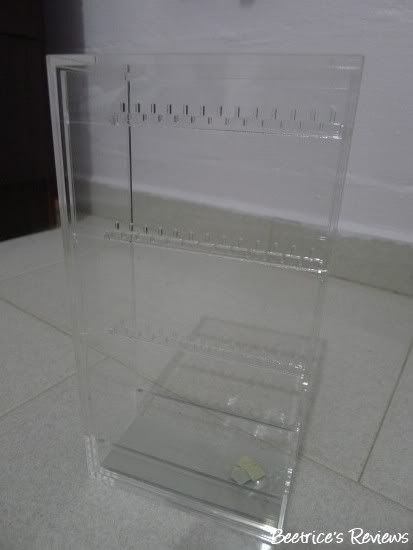 Made of clear plastic, it has enough slots to hold 18 pairs of earrings. What's more, the side slide out mechanism makes it easy to store and remove earrings. Why did it take me so long to discover this??
Suffice to say, I immediately snapped one up since they weren't too expensive at SG$23. Better still, Muji is currently having
'Back to School'
sales where purchase of 2 items and above entitles you to 15% off your purchase.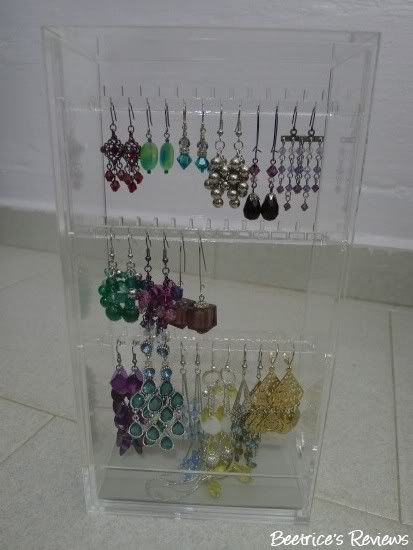 Happy Danglies! :D
PS:
Apologies for the sporadic updates ladies, it's been a rather whirlwind couple of months with a LOT happening…I've actually missed blogging, but am hoping it's just a matter of time before things settle down and I'm able to get back into the groove. Missing all of you heaps!