Paul Frank Lip Smacker® Collection…
I'm back! And on Valentine's Day no less…the year 2011 didn't get off to a very good start for me, and most of January was unfortunately spent trying to wrestle my life back into some semblance of order. Anyway, all that's been more or less settled now, and as of Chinese New Year, I'm most determined that the Year of the Rabbit's gonna bring good luck! :D
Anyhow, that brings me back to this little snippet of news from the little red dot down south – anyone recognise the monkey? LOL…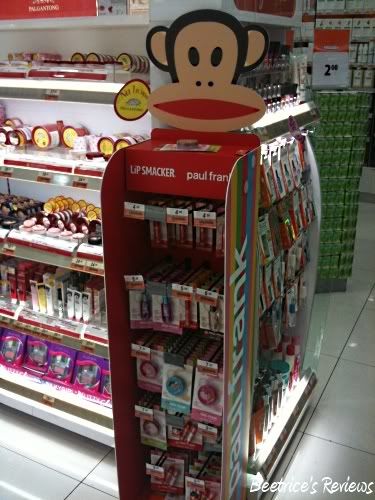 Of course, it's the logo for Paul Frank – and they've tied up with Lip Smacker® to come up with a
Paul Frank Lip Smacker®
range of flavours and designs. Have I mentioned how much I enjoy Lip Smacker®'s collaborations? First they came up with the whole range of soft-drink flavoured balms
(my lips just went tingly with the likes of Coca Cola, Fanta and Sprite!)
and now these most adorable lip products! :D
First up is the
Paul Frank Lip Smacker® Balm
(SG$4.90 each) which comes in 4 flavours – Julius', Strawberry Banana, Clancy's Cotton Candy and Mika's Sweet Cream
(the last one sounds wrong, doesn't it?)
If you're more of a pot kind of gal,
Paul Frank Lip Smacker® Gloss Pot
(SG$7.90 each) is probably more up your alley with 3 flavours – Clancy's Cotton Candy, Chachi's Fried Ice Cream and Julius' Strawberry Banana.

Two types of liquid glosses are also available, the first of which is
Paul Frank Lip Smacker® Liquid Gloss
(SG$5.90) that's available in 4 flavours – Julius', Strawberry Banana, Clancy's Cotton Candy, Chachi's Fried Ice Cream and Worry Bear's Honey Sweet. Good for those who want a slick, sweet pout!

If you prefer the liquidy gloss feel, go for the P
aul Frank Lip Smacker® Flip Juicees
(SG$6.90) which come in 2 flavours – Julius' Coconut Cream and Sheree's Sweet Sugar Berry. I've been told the coconut one is rather strong, so unless you REALLY like coconut, I'd have my reservations about this one.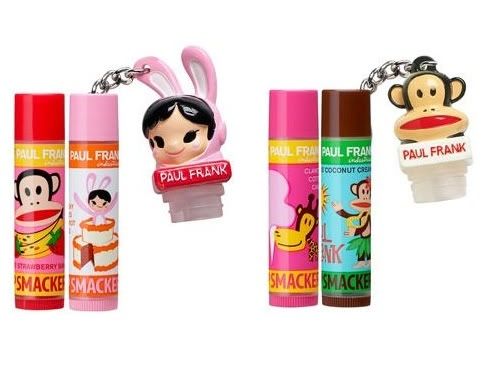 I did find this one adorable though – anyone want a
Paul Frank Lip Smacker® Key Chain Set
(SG$9.90 each)? I'd seriously just buy this to get the Paul Frank keychain…and give the lip balms away! :D There's an option of either a Paul Frank or Bunny Girl keychain set, which comes with two lip balms each.
There's only two variants from the US range that we haven't got, which are the
Paul Frank Lip Smacker® Trios Balms
(above)
and the
Paul Frank Lip Smacker® Biggy Balms
(not pictured)
which are stamped with Paul Frank characters.
At any rate, the prices for the range in Singapore are surprisingly competitive, and perhaps in some cases even
slightly cheaper
than the US prices so this particular collection bears a closer look. There's nothing over SG$9.90 so at the very least, your pocket can heave a sigh of relief – and it's Paul Frank after all… :)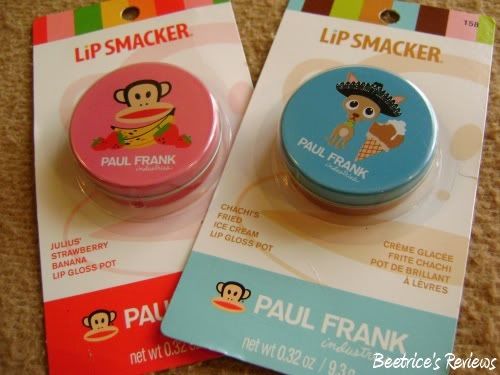 As for me, I decided to pick out a couple of the potted lip glosses to try out – Julius' Strawberry Banana on the left just because the combination sounded delish to me, and Chachi's Fried Ice Cream because, well, how can you resist a Chihuahua in a sombrero…and aren't you the least bit curious what fried ice cream lipgloss tastes like? LOL…
The

Paul Frank Lip Smacker®

collection is currently available at selected Watsons and Guardian outlets throughout Singapore
(they will usually be housed in a standee similar to the first picture in this post)
.
Labels: lip smackers, lipbalm, lipgloss, paul frank