Day 9: 12 Days of Christmas with I Nuovi Giveaway…
Gosh...it's only just over 3 days left to Christmas morning! Just curious, have all of you finished your shopping yet? (err...I definitely haven't - going to be pulling some rather late nights the next couple of days for sure! -_-) But despite everything, this season is still one of my favourites...I wonder why... :p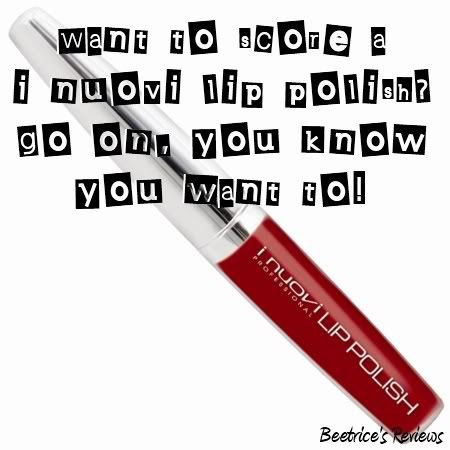 Day 9 of the 12 Days of Christmas with I Nuovi, and today's question is:
Q. What will you be doing when the clock strikes midnight on Christmas day?
(

I'm on a roll with these weird questions eh? LOL...don't ask me why - probably because I need to feed off all your Christmas spirit

!)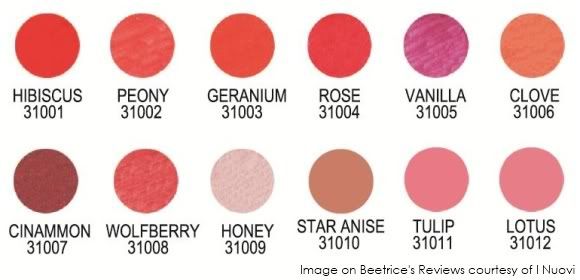 Pick your favourite shade from the ones above! If you'd like to check it out beforehand, they can be found
(along with the rest of I Nuovi's range)
at selected SASA, Parkson, Jusco and Metrojaya outlets.
As usual, the entry details are below:
HOW TO ENTER:
1. Become a
I Nuovi Professional Facebook fan
.
2. Pick the Lip Polish shade that you like from the 12 available above.
3. Leave me a comment on the day's blog post – you'll need to include (a)your Facebook ID, (b)your email address, (c)the lip polish shade you'd like to receive and, (d) the answer to the day's question.
Example:

Hi, my FB ID is Beetrice, I'd like the Wolfberry shade and today's answer is Rudolph! My email address is beetricesreviews[at]gmail[dot]com.
TERMS & CONDITIONS:
1. This giveaway is only open to readers with a
Malaysian mailing address
. Sorry international readers, you'll get a chance next time, kay?
2. One entry/comment per person please. However, you're entitled to
one entry per day
for the 12 days if you're not the winner. Be nice and let everyone have a fair chance, okay?
3. Keep it clean and spam-free. Comments with SEO terms, advertising links, derogatory terms and such will be deleted and disqualified.
4. Anyone can enter regardless of whether you've won anything here previously.
5. Please make sure the email in your comment is valid, otherwise I won't be able to contact you even if you win. Incomplete entries will also be disqualified.
6. Winners will be notified via email. If I do not get a response within two days, I will select another winner. Prizes will be sent out by I Nuovi directly.
CLOSING DATE(S):
Closing dates for this giveaway is at
11.59pm on the given day, Malaysian time
(GMT +8.00)
, after which all comments will be tabulated. Winners will be announced shortly thereafter.