12 Days of Christmas with I Nuovi – 12 Lip Polishes to give away!
On the twelfth day leading up to Christmas, I Nuovi gave to me……
*hums*
……
Hehe…something a bit more fun for a Monday morning, no? Well, since it's the Christmas season and it IS all about giving, I will be giving away
12
I Nuovi lip polishes
– one for each day leading up to Christmas Eve! :)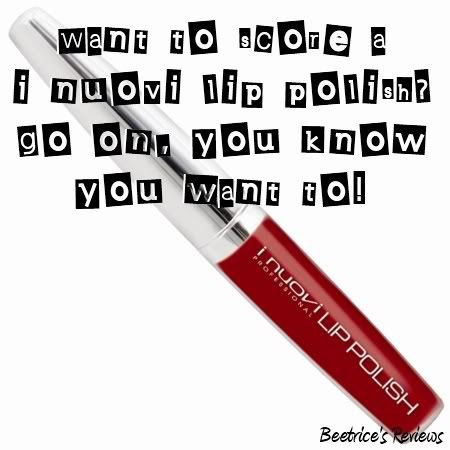 The Lip Polish combines lipstick and gloss into one, which will have your lips nice and luscious for those festive smooches (shh...I won't tell!).
Every day from now until Christmas Eve, I'll be asking an easy Christmas-related question , and a daily winner will be selected from the entries.
Example:




Q. What is the name of the famous red-nosed reindeer pulling Santa's sleigh?




A. Rudolph
See? Easy peasy!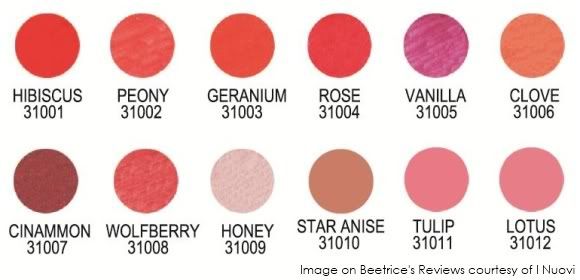 Also, the other reason this giveaway is 12 days is because there are 12 shades of the I Nuovi lip polish to pick from
(and yes, winners can pick the shade of their choice)
. If you'd like to check it out beforehand, they can be found
(along with the rest of I Nuovi's range)
at selected SASA, Parkson, Jusco and Metrojaya outlets.
And the first question for today to kick off the giveaway:
Q. On the first day of Christmas, what did my true love give to me?




(Hint: It's a bird in a fruit tree.)
So, got your Christmas groove on yet? Read on for the entry details…
HOW TO ENTER:
1. Become a
I Nuovi Professional Facebook fan
.
2. Pick the Lip Polish shade that you like from the 12 available above.
3. Leave me a comment on the day's blog post – you'll need to include (a)your Facebook ID, (b)your email address, (c)the lip polish shade you'd like to receive and, (d) the answer to the day's question.
Example:

Hi, my FB ID is Beetrice, I'd like the Wolfberry shade and today's answer is Rudolph! My email address is beetricesreviews[at]gmail[dot]com.
TERMS & CONDITIONS:
1. This giveaway is only open to readers with a
Malaysian mailing address
. Sorry international readers, you'll get a chance next time, kay?
2. One entry/comment per person please. However, you're entitled to
one entry per day
for the 12 days if you're not the winner. Be nice and let everyone have a fair chance, okay?
3. Keep it clean and spam-free. Comments with SEO terms, advertising links, derogatory terms and such will be deleted and disqualified.
4. Anyone can enter regardless of whether you've won anything here previously.
5. Please make sure the email in your comment is valid, otherwise I won't be able to contact you even if you win. Incomplete entries will also be disqualified.
6. Winners will be notified via email. If I do not get a response within two days, I will select another winner. Prizes will be sent out by I Nuovi directly.
CLOSING DATE(S):
Closing dates for this giveaway is at
11.59pm on the given day, Malaysian time
(GMT +8.00)
, after which all comments will be tabulated. Winners will be announced shortly thereafter.
Of course, even if you're not participating
(although you're most nicely encouraged to!)
do feel free to spread the word. Let's spread the happiness around this festive season, shall we? Thanks a lot, and good luck to all!