Clinique Christmas 2010 Sets…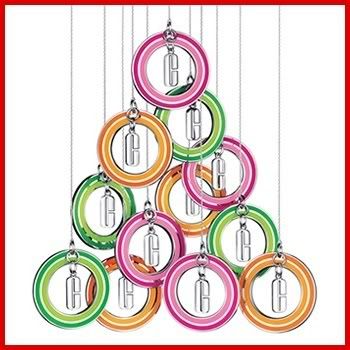 45 days to Christmas and counting – who's counting along with me? :p I happened to be back in KL last weekend and will be back again in a few days, and safe to say I've been wandering around all the shopping centres. Some of the Christmas sets coming out are simply GORGEOUS, and I couldn't help but share some of my favourite picks from Clinique with you.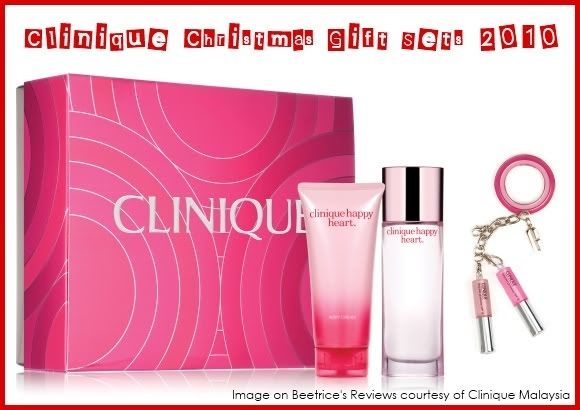 Kisses From The Heart
(RM175)
Clinique Happy Heart Perfume (50ml)
Clinique Happy Heart Body Cream (75ml)
2 Long Last Glosswear SPF15 Mini with Key Chain in Air Kiss and Clearly Pink (1ml each)
Orange Keychain with Clinique "C" Charm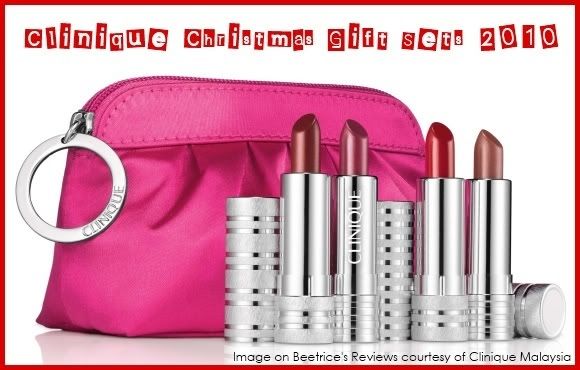 Lips Craving
(price unavailable) – 4 lipsticks in a pink pouch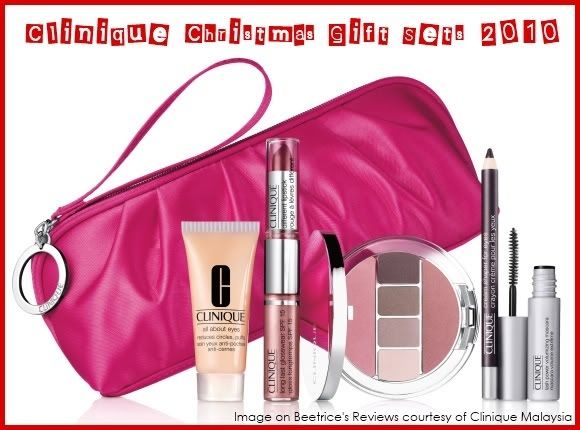 Pretty Day Into Night Looks
(RM195)
All About Eyes (15ml)
Double-Ended Different Lipstick in A Different Grape/ Long Last Glosswear SPF15 in Bamboo Pink
Cheek & Eye Compact featuring 2 shades of Blushing Blush Powder Blush and 4 shades of Colour Surge Eye Shadow (LE)
Cream Shaper for Eyes in Starry Plum
Lash Power Volumizing Mascara in Black
How-to Instruction Booklet
Pink Cosmetics Bag

Lovely, aren't they? No surprise on my choices since I'm a self-confessed sucker for pretty packaging, plus the Clinique lippies are really quite nice. Of course, there are plenty of other sets available for the picking, some of which are listed below.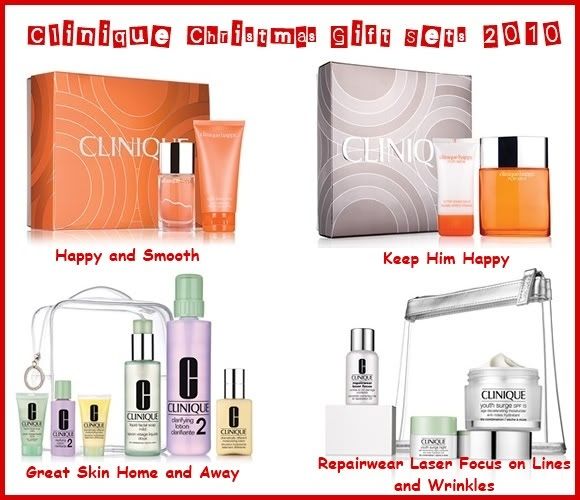 Clockwise from top left:
Happy and Smooth
(RM120) – Clinique Happy perfume spray and body cream;
Keep Him Happy
(RM200) – Clinique Happy for Men cologne spray and aftershave balm;
Repairwear Laser Focus on Lines and Wrinkles
(RM280) – Repairwear Laser Focus Wrinkle & Photo Damage Corrector, Youth Surge Night and Youth Surge SPF 15;
Great Skin Home and Away (
RM370) – Clinique's trademark 3-step skin care system in full and travel sizes.
All of the sets you see (and more) will be available at Clinique counters nationwide from end November onwards. Anything catch your eye yet? ;)
Labels: clinique, collections, xmas