Go support the Pet Epicure this weekend!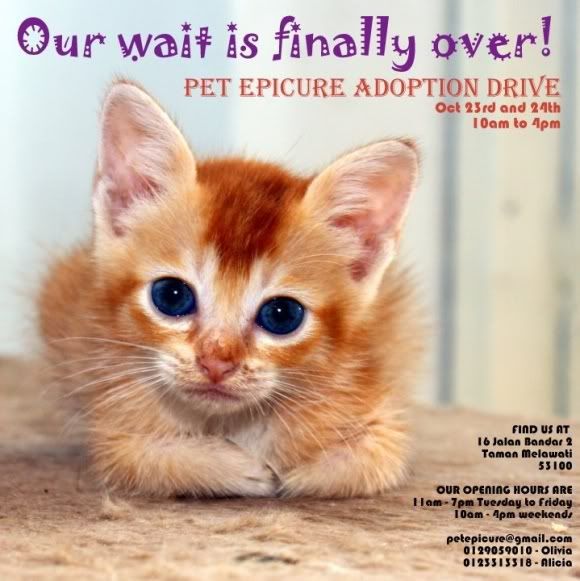 Not a beauty related post, but a worthy one for sure.
Pet Epicure
, a private pet rescue and adoption center
(also a pet boutique and cat hotel)
will be running an adoption drive this coming weekend. There will be heaps of cats up for adoption, each with their own personalities just waiting for a new home to call their own.
And just to make it easier, all the cats that are ready for their new homes have been given the all-clear by a vet, are potty-trained and most importantly, neutered!
Date:
23rd and 24th October, 2010
(Saturday & Sunday)
Time:
10am to 4pm
Venue:
16, Jalan Bandar 2, Taman Melawati 53100 Kuala Lumpur
(click here for map)
** For further details, you can also contact Alicia
(the Pet Epicure owner)
at 012-331 3318.
So, if you're free this weekend and have some space in your heart and home for a feline companion, do head on down to Pet Epicure yeah? :) Happy weekend, folks!