Biore Cleansing Oil Cotton Facial Sheets…
When it comes to taking off your makeup at the end of the day, who admits to feeling rather lazy at times? I'll admit
(rather sheepishly)
that I'm not the most diligent at taking off all my makeup at the end of the day, although I've solved that by taking a shower as soon as I get home so I'm forced to remove my makeup.
For this purpose, the less fuss required the better, so when I was given a box of
Biore Cleansing Oil Cotton Facial Sheets
to try out, I was more than happy to give it a go. Coincidentally, I was also given a few of the travel packs by someone else which I decided to pass on to other friends to try as well. If you'd like a sample to try for yourself, keep on reading!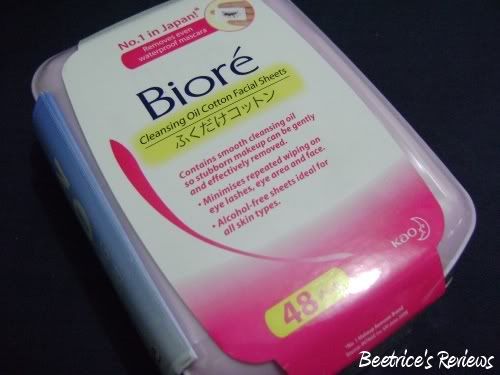 Description:
Biore Cleansing Oil Cotton Facial Sheets
thoroughly removes all traces of makeup including waterproof mascara without irritating or drying your skin. It also minimises the need for repeated wiping on eyelashes, eye are and face. The cleansing oil does not remain on skin so there is no greasy or sticky feeling after use. Contains a moisturising agent that leaves skin soft and smooth, not tight. Sheets are made from 100% natural fibres and formula is alcohol-free, ideal for all skin types.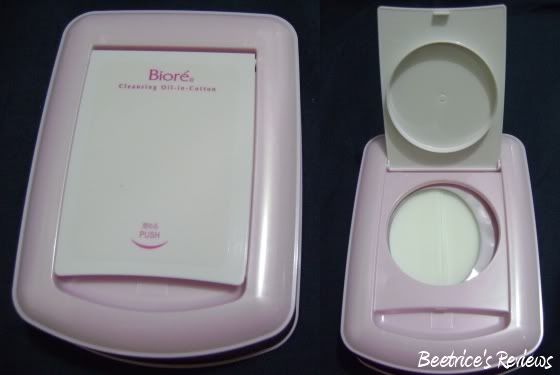 The Verdict:
For those who love convenience, the Biore Cleansing Sheets
(as they shall be referred to for the duration of this post)
are great – the 48 sheet pack comes in a sturdy plastic box with a snap-top that can be manipulated with one hand. Even though I'm not one to typically like pink, the purplish-pink hue of the box appeals to my
*cough*
feminine side. :D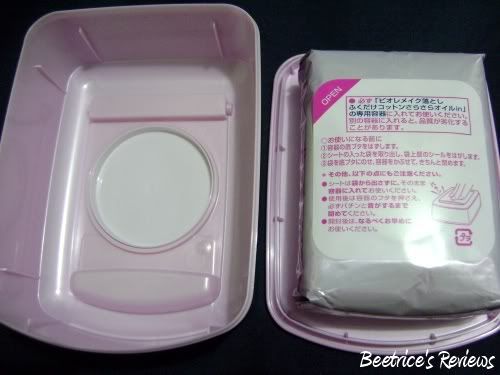 When you first open the box, the sheets come in a foil packet with a resealable cover not unlike travel wet wipes packs, which you peel off before putting the top back on. Although the sheets have an oil cleanser, there is significant water content in the pack which can dry up if left in the open for long periods of time. To make sure the lid is closed after removing the cleansing sheet, simply press the top until you hear a firm
'click'
.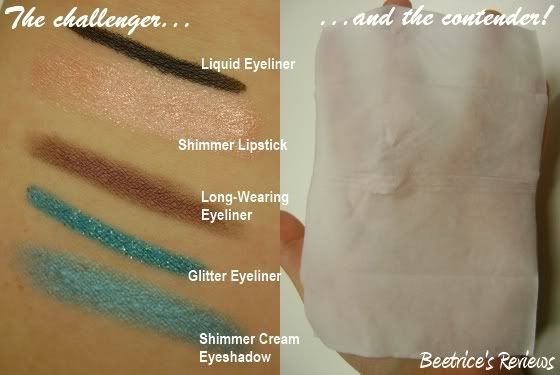 Now, for the challenge – the Biore Cleansing Sheets are more than adequate at removing the usual foundation, powder and blush, so I decided to put them up against some makeup items that are known for their stubbornness to remove…liquid waterproof eyeliner, shimmer lipstick
(I hate it when glitter gets stuck on my lips)
, smudge-proof long-wearing eyeliner, glitter eyeliner and shimmer cream eyeshadow.
First swipe
– the lower halves of the lipstick, long-wearing eyeliner and glitter eyeliner are almost gone, while the liquid eyeliner is faded but still there. The shimmer cream eyeshadow surprisingly held its ground and showed little change.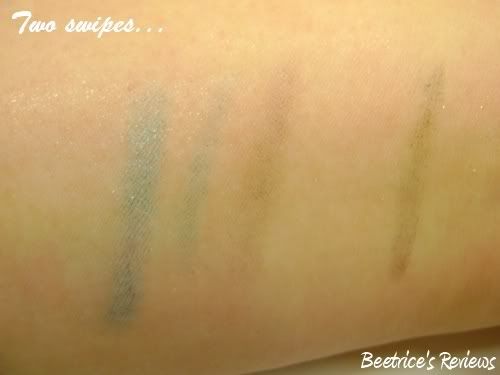 For the
second swipe
, I let the Cleansing Sheet sit on top of the test strips for a couple of seconds before wiping it off. The lipstick is completely gone, while there are still faint shadows of the rest…as well as some glitter and shimmer left in its aftermath. Now this is the part that I was hoping the Cleansing Sheets would fix, since I hate having fine glitter stuck to my face after the makeup's gone.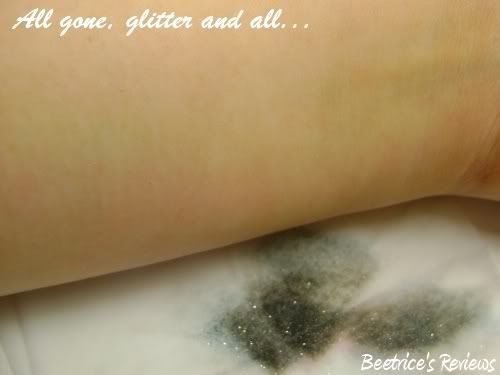 By the third swipe, all the test strips were gone – along with the glitter, which can be clearly seen on the Cleansing Sheet. The tightly woven cotton of the Cleansing Sheets must've had some effect, since normally when using cotton pads I find at least some glitter left behind.
I liked the mild floral scent of the Cleansing Sheets as well as the non-greasy after feel. All I needed was a quick splash of water and that was it. I can get 90% of a full face of makeup off in under 2 minutes, which is a great time-saver and the main reason why I'll keep this around for a while. Score!
Now, if you want to try the Biore Cleansing Oil Cotton Facial Sheets as well as the Biore Makeup Remover for Eye & Lip, you can get a trial set of both by clicking on the image below: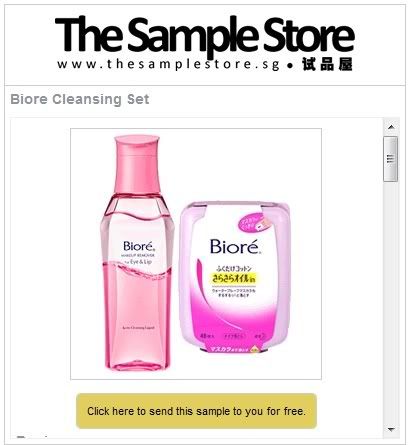 ** Please note these sample sets are subject to availability and are for those with a Singapore mailing address only.
One of the lovely ladies I passed the travel pack to was
Connie, who compared them to the Simple Cleansing Facial Wipes
. You can read her take on it by clicking on the link – I think she's partial to the Biore Cleansing Oil Cotton Facial Sheets as well. :)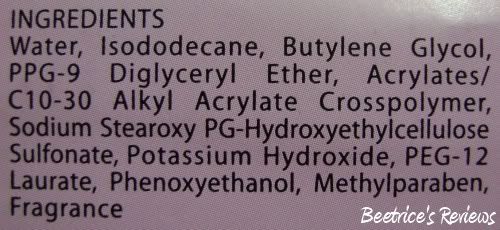 Biore Cleansing Oil Cotton Facial Sheets
are available from most personal care stores and retail in a travel pack of 10 sheets (RM6.90/SG$2.95) or a large box of 48 sheets (RM32.90/ SG$16.20). Refills of 48 sheets are also available for the large box (RM25.90/ SG$11.50).
Rating: 4.5 / 5
Value: $$$
Labels: biore, makeup remover, samples