BCA Month Updates #3

With just a couple of weeks to the end of Breast Cancer Awareness Month, I thought I'd share with you Singapore's 2010 Breast Cancer Awareness campaign which is currently running – I thought they did an awesome job, even if the actual images themselves were debatable. Be warned though that the following images may be sensitive to some.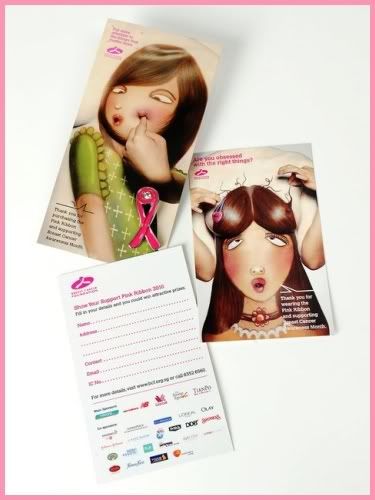 Singapore's 2010 Breast Cancer Awareness involved a series of postcards that were freely distributed throughout the little island. While that in itself isn't particularly unique, the images and the approach to the postcards definitely were. There were 3 postcards in total, all of which are shown below:
I can imagine some of you would be quite taken by these, while others may recoil in horror. Nevertheless, safe to say they did catch your attention, right? It puts the issue
(quite literally)
in your face.
There are also special boxes set up throughout Singapore to collect donations for Breast cancer Awareness, as well as a special pink that has been designed.
If I remember correctly, the pins are available with a donation of SGD$5. If you'd like to see more of the Singapore 2010 Breast Cancer Awareness campaign, they are on Facebook
here
.
This would definitely have been banned in quite a few countries
(including Malaysia)
but I'm curious as to what all you ladies think about it – does this work, or flop?
** Edit:

Apparently, someone at Photobucket thinks this is actually offensive and deleted one of my photos - I've since re-uploaded it, but if it disappears it's because someone at Photobucket is too narrow-minded!
Labels: breast cancer awareness