BCA Month Updates #2
** Note: I'm so sorry guys – I'd been pre-posting all my stuff, only to find out that they haven't been going up as planned! :s Be prepared for a bit of a barrage over the next few days!

In the second instalment of BCA updates, I'm going to be covering a few more pink ribbon beauty items which include updates from Sweet Contemplation Accessories, Essie, OPI, Clinique and Apronbay.


Tine has an elegant limited edition necklace
"Pretty in Pink"
going at AUD$30 on
Sweet Contemplation Accessories
this October – a nickel-free silver-plated snake chain with a Swarovski De-Art pendant in ruby. All proceeds from this necklace go to the National Breast Cancer Foundation towards research, early detection and finding a cure for breast cancer.
And while I'm on a nail-polish kick after having some awesome nail art done, Essie and OPI have both come out with a nail polish for Breast Cancer Awareness month.
Essie
's
'We Can Do It Pink!'
is a soft sheer pink, while
OPI
has created
'Pink of Hearts'
which is a pale pink with shimmer. As a Silver Partner of the National Breast Cancer Foundation, OPI will also donate 100% of the profits from this sold through salons and David Jones outlets to the National Breast Cancer Foundation in the US.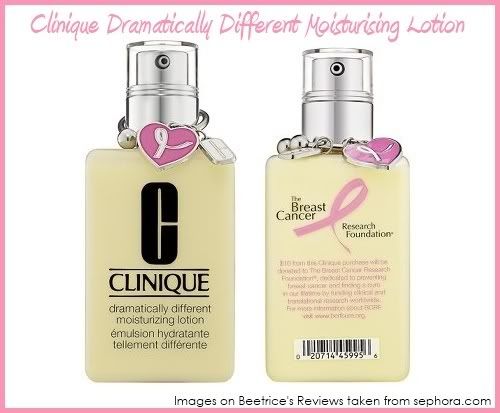 Clinique
is also no stranger to Breast Cancer Awareness Clinique, having come out with a Limited Edition Mini Long Last Glosswear trio last year.
(For those in Singapore, you can pick one up at the local Clinique counters for SGD$39, which is 3 mini tubes of Clinique Glosswear (Bamboo Pink, Air Kiss and Kissyfit), a pink ribbon heart and Clinique 'C' charm on a collectible key ring.)
Clinique also has a special pink version of the
Dramatically Different Moisturising Lotion
(above)
for purchase at Clinique counters. I've been told this is available in Malaysia, so that's good news to the local ladies.
On more local news, you may have noticed a recent addition to the shops along Jalan Telawi 4 in Bangsar –
Apronbay
, which is a travel-concept beauty boutique, is running their campaign 'Wax for a Cause', where 5% of sales from brow and waxing services done will be donated to the Breast Cancer Welfare Association of Malaysia. The place is absolutely gorgeous and you'll be in the good hands of the owner Ashley. I haven't had a chance to write about my recent visit there yet, but do check out
Connie
and
Xin
's experiences there – you'll definitely be convinced! :) For further details on 'Wax for a Cause', check out their Facebook page
here
.
And that's it for this round! In the next installment, I have some updates on a rather interesting Breast Cancer Awareness campaign in Singapore that will have everyone thinking twice about early detection. Stay tuned!
Labels: apronbay, breast cancer awareness, clinique, essie, limited edition, nail products, OPI, scaccessories