BCA Month - Estee Lauder...

October already? Where has the time gone?? Seems like only recently we'd seen the last round of pink ribbon beauty products in support of Breast Cancer Awareness Month. And in line with this, Beetrice's Reviews will be periodically featuring special collections as well as informative bits throughout October to support the cause towards BCA. Definitely not going all pink, but all BCA posts will be marked in pink with the banner above.
First to kick off this year's BCA campaign is Estee Lauder, who will be holding road shows with Limited Edition Pink Ribbon Merchandise on sale for charity – all proceeds from the sales of these products will go to the BCA fund.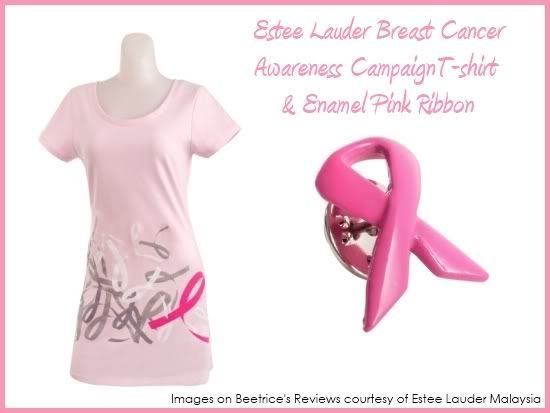 On the left is the
Estee Lauder Companies Malaysia BCA Campaign T-Shirts
which will be given with a donation of RM50 and are available in various sizes for both men and women, while on the right is the
Estee Lauder enamel pink ribbon
which you can get with a RM10 donation.
The mall road shows will be taking place from
5 – 7 October at Mid Valley Megamall
and
15 – 17 October at 1 Utama
(New Wing).
They will also be having free health checks and talks, as well as a Sony photo wall and body painting activities.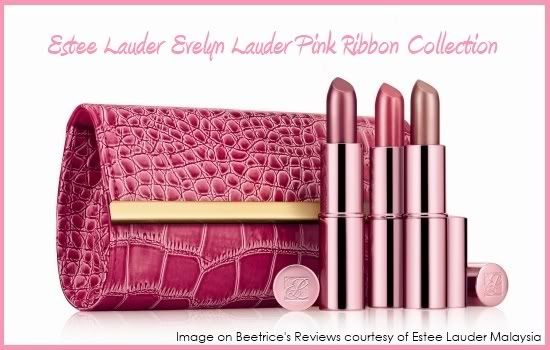 If that wasn't enough, Estee Lauder will also be carrying the E
velyn Lauder Pink Ribbon Collection
(RM90)
which contains 3 lipsticks – Pure Color Crystal Tiramisu, Pure Color Candy and Pure Color Rubellite – housed in a pink clutch-case which can double as an evening bag.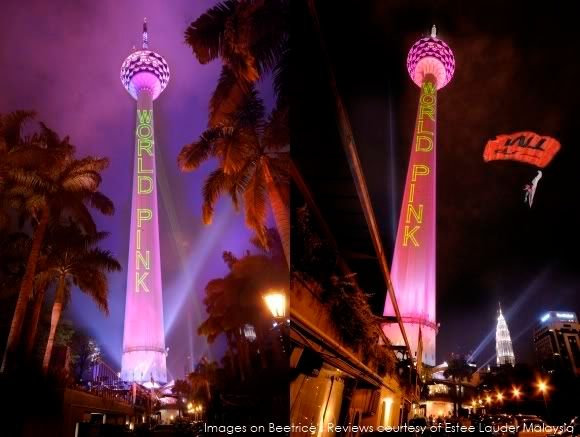 Who remembers the illumination of the KL Tower last year during the BCA walk? Well, this year on 5th October
(that's next Tuesday),
Bangunan Sultan Abdul Samad will be illuminated in pink to raise awareness for BCA. It's just one of the many landmarks that have been illuminated since the
Estee Lauder Companies' Global Landmarks Illumination Initiative
was started in 2000. Did you know that over 200 landmarks were 'pinked up' worldwide in 2008? I didn't… :) Just have a look at some of those that have been done around the world…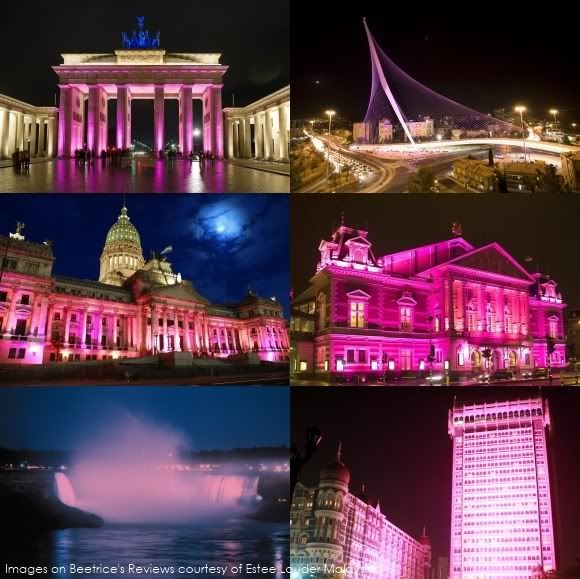 Clockwise from top left:

Brandenburg Gate in Berlin, Germany; The Chords Bridge in Jerusalem, Israel; The Concert Hall in Amsterdam, The Netherlands; Taj Mahal Palace and Tower Hotel in Mumbai, India; Niagara Falls in Ontario, Canada; Congreso de la Nación in Argentina
Impressive, isn't it? It's the 10th anniversary of the illumination initiative, so do let me know if you'll be checking out the lighting up of the Abdul Samad Building next Tuesday – I won't be around to catch it, but let me know how it goes! :D Happy Weekend everyone!
Labels: breast cancer awareness, estee lauder, limited edition