Random weekend ramblings…
Hi hi! Am back after the weekend in hiding – it was F1 weekend in Singapore, and I didn't particularly fancy getting stuck in the horrendous traffic jams
(thanks to road closures)
or getting squashed with stinky sweaty people on the MRT, so spent most of the weekend just chilling out, snoozing or wandering around VivoCity
(which even with less people around, was still pretty crowded!)

Anyway, the downside to this is I've somehow managed to kill my throat – woke up this morning and could barely swallow…
*gulp*
(pun intended quite literally!)
, so I suspect I'll have to go make a visit to the doc's later today. So instead of the regular reviews, I thought I'd share a couple of random bits from the past weekend…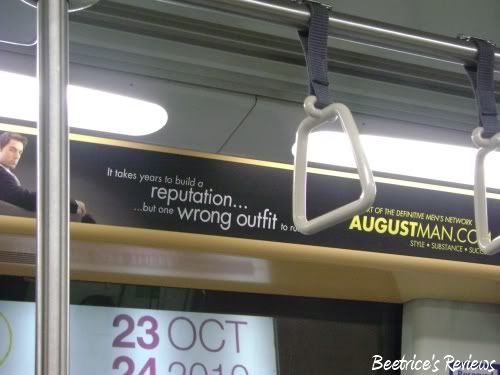 This ad in the MRT just cheesed me off – if you can't read from the picture, the caption says "
It takes years to build a reputation…but one wrong outfit to ruin it."
Seriously?? Are Singaporeans THAT superficial to buy that sort of crap? I can understand losing your reputation due to lack of ethics or integrity, but the wrong suit? Just leaves me thinking that anyone dumb enough to believe this needs a kick in the head. What's more, it's meant to promote a local magazine's website. Whoever did this ad should be shot, and that's getting them off lightly. Really.
Okay, moving on from the ranting to something more light-hearted…my office had the global awards ceremony over lunch
(yes, more food)
last week via video-conferencing
(there's something surreal about having a conference going on simultaneously with almost 40 countries at a go!)
and we decided to make it more interesting by wearing…glasses. Any kind of glasses…and one of my colleagues managed to come with this pair which I just HAD to borrow for a snap: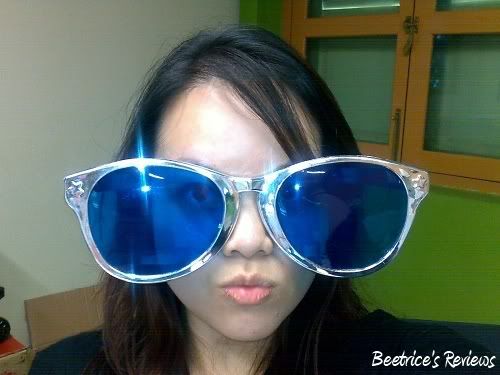 Cute, no? Hahaha…somehow the peeps here tend to have more reasons to dress up
(remember the hot pink wig a couple of months back?)
so there's no shortage of interesting shots to take.
The last one is something amusing my boss brought back from Korea. Before you ask, yes it's food
(yet again)
…but just check out the cute wrappers!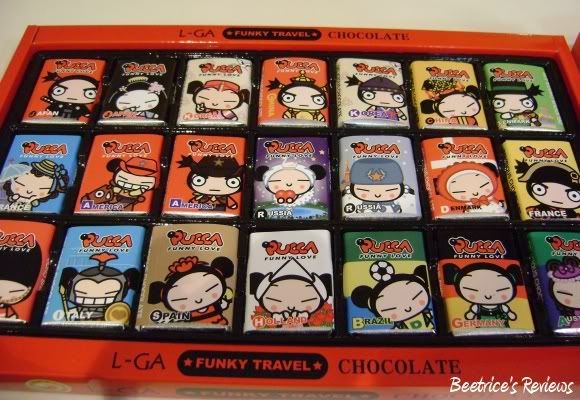 Pucca "Funky Travel" chocolates! LOL…these are absolutely adorable – heck, they can have the chocolate, I want the wrappers!! :D
And we're back to our regular programme. How was your weekend? :)