It's time to share...favourite beauty reads for August! :D
Missed me? To all Malaysians, hope you enjoyed the two public holidays almost back to back, and yay on celebrating our 53rd year of independence. :)
But before I go into what I've been up to the past week, let me share my favourites from my beauty blogging pals in the past month…
I want a slice of paradise at Pangkor Laut Resort's Spa Village too!
–
My Women Stuff
On the lookout for a cheap and good nail polish remover? Etude House is the answer
–
Prettybeautiful
Revlon Red Hot Tamale Nail Enamel is flaming on her!
–
Lipglosseater
I liked this so much, I went to get my own Daiso Italy Towel Scrubby!
–
Soloverly
Badger Balm…don't knock it till you've tried it, they're great!
–
Skindeco
I should try her beach inspired nails to prolong thoughts of my holiday
–
Askmewhats
If you want something really unique, how about a lip balm in a real seashell?
–
RedLusciousLips
For those that didn't know, I was back in Malaysia for the past 11 days and hopped over to Sandakan for a short break. Okay, maybe 'break' isn't the right word for it because I barely got any sleep thanks to early morning starts at 4.30am
(FYI, the sun rises unbelievably early there, and sets about 5pm!)
Then again, waking up at 4.30am to sit in a dinky lil boat is worth it to see this sight…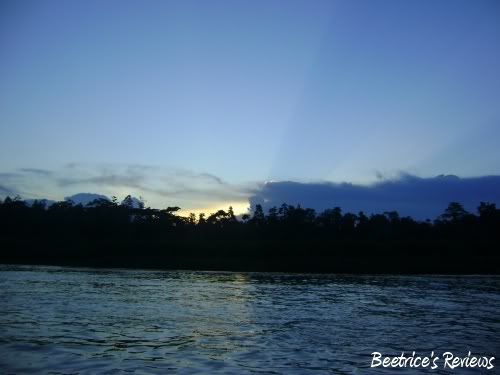 The scenery is unbelievably beautiful in Sandakan, even more so given its remote location. The greenery around is postcard standard, and the air was as fresh as it could possibly be
(other than the occasional passing smell of petrol from other boats, and ermm…leavings from animals!)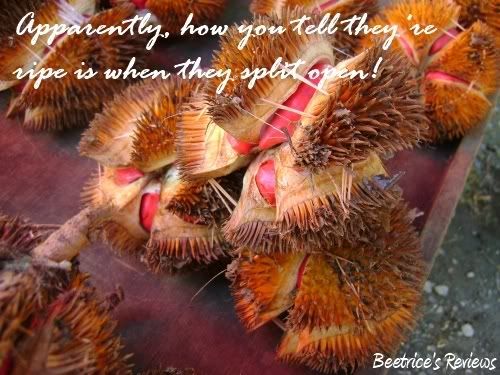 Another first for me in Sandakan would have been seeing this scary-looking variety of durian – known as
"Durian Hutan"
(translated as Jungle Durian),
they actually split at the seams when ripe and need to be held together with string!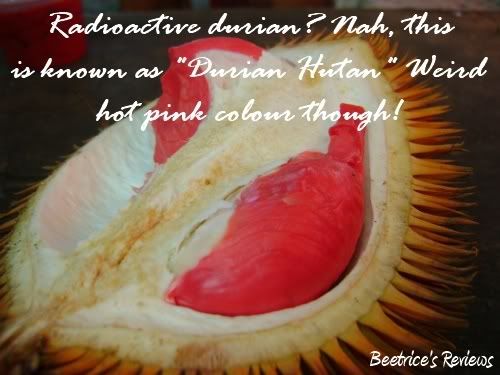 And before you ask, YES, the flesh is that hot pink – looks like some radioactive durian eh? I must say though, I was rather disappointed by the taste…instead of the usual pungent durian texture I'm used to, it tasted rather like…flat avocado.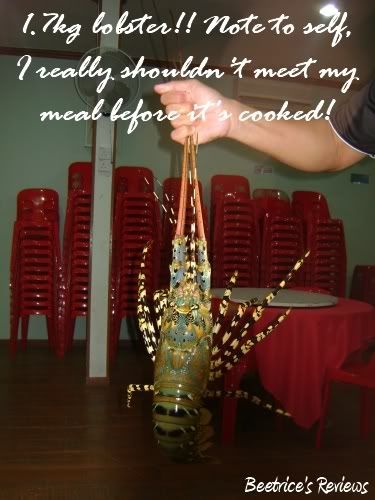 Sandakan is well-known for its fresh seafood, so during our last night there we totally gorged ourselves on various aquatic delicacies – the main highlight was this poor lobster which got turned into sashimi…it was a 1.7kg whopper! And another thing I love about Sandakan is the prices – we had a 10-course dinner for 11 people which included lobster, mud crabs, tiger grouper and escargot…and the bill was just RM600. It would have cost double or more in KL!
*burp*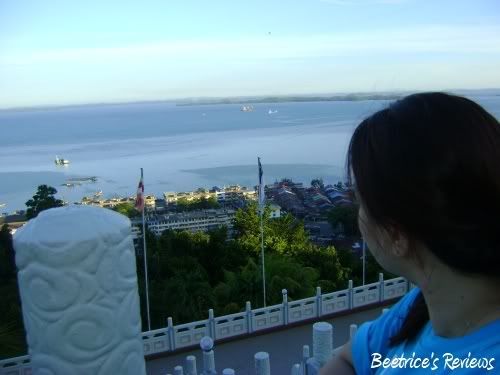 This is definitely going on my list of places to revisit sometime soon… :) Hope y'all are having a great week so far!
Labels: blogger reads, tips n news, travel