Indulgence – Marc Jacobs Daisy Solid Perfume Necklace…
It's been a hectic few weeks, which can be seen in the sore lack of posts – I was sent to Hanoi on work for a few days, and ended up flying on Singapore Airlines
(that experience, I'll save to share another time)
but being a three and a half hour flight, I had the chance to browse through the in-flight shopping catalogue and decided to splurge on something for myself…
Pretty, no? I'd had my eye on this for the longest time since it first came out, but it was just freakishly expensive and came as a
'Purchase with Purchase'
which I didn't want at all. The fragrance itself was quite pleasant and rather whimsical, but I wasn't particularly inclined towards it for the long term.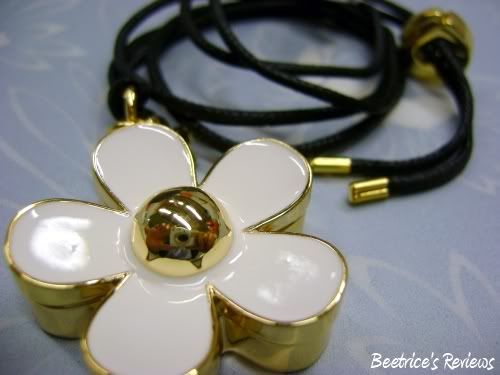 To be honest, it was the whole design of the necklace that suckered me in…a charm dangling from a black chord has that whole 'dominatrix yet sweet' feel about it…
*wink*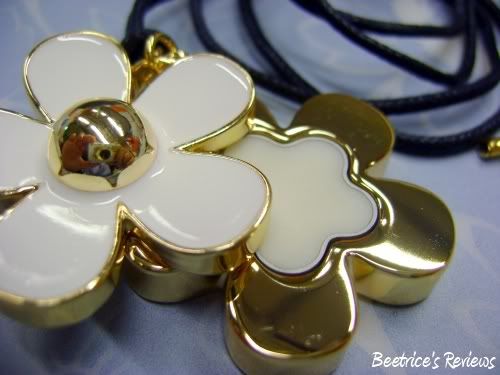 The charm/ pendant twists away to reveal a tiny 0.02oz of solid perfume, which is just nice for touch-ups on the go, plus the black cord is adjustable so it can double up as a choker, necklace or even belt accent in a pinch! :D
At SGD$60 this wasn't too bad, considering it's now pretty difficult to find – the last time I hunted for it in Malaysia, it was going at nearly RM200 so I'm quite happy with my find…plus it made my Hanoi trip just that little bit more fun.
What was your most recent indulgence? Come on, share the guilt a little! :)
Marc Jacobs Daisy Solid Perfume Necklace

is retailing on
Sephora
for USD$35, or can be purchased on Singapore Airlines In-Flight Duty Free at SGD$60.
Labels: fragrance, jewelry, marc jacobs, shopping