Mentholatum Mogitate Kajitsu lipbalms…
Anyone who knows me will know I go batty over lip products – lipglosses, lipsticks, lipbalms, you name it and I'll probably have a few lurking around on my person. So when Mentholatum offered to let me try out their new Mogitate Kajitsu lipbalms, I just had to say yes! :) They sent me the
Mogitate Strawberry, Mogitate Orange & Mango,
and
Mogitate Lemon & Lime
.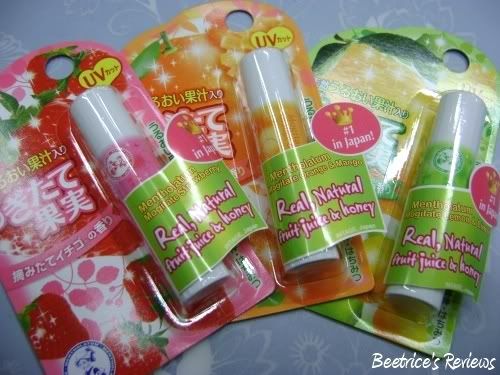 Description:
Mentholatum's Mogitate Kajitsu lipbalm
moisturises and softens lips with natural fruit juice, honey and beeswax. Smoothes lips and prevents wrinkles with Squalane, Grapeseed Oil, Vitamins A and E. Contains UV protection.
The Verdict:
Mentholatum's lipbalms are pretty legendary and need little introduction – I remember using their Softlips and Lip Ice balms since my days as a poor student, so it's no wonder they're the #1 bestselling lipbalm in Japan. The Mogitate Kajitsu lipbalms were originally introduced in Japan back in 2003, but they're only reaching us now!
*sob*
Better late than never I guess. I actually like the new lipbalms better than their Lip Ice, but that's probably a matter of preference.
Here's a bit of interesting info for you – Mogitate means
'fresh',
while Kajitsu means
'fruits'
in Japanese. So by definition, Mogitate Kajitsu means
'fresh fruits'!
And it's not only in the name and the scent, but the lipbalms themselves contain real fruit juice along with honey – sounds like a real sweet deal eh?
I was hoping to have tried out the White Peach or the Grape & Berry one since I'm not particularly into Strawberry, but the lipbalms were pleasant enough. My surprising favourite turned out to be the Lemon & Lime one which I was worried was going to end up smelling like dishwashing liquid. -_- As it turned out, the lipbalms smell absolutely delicious
(albeit a tad on the strong side)
and taste almost as good as they smell. I swear I could taste a hint of honey too somewhere along the way.
All the lipbalms go on clear with a slightly waxy texture, which make them ideal to use under lipsticks and lipglosses. A single application of the Mango & Orange lipbalm under my Clinique lipstick lasted the entire day, and I didn't experience any 'sliding off' that typically happens with oilier lipbalms.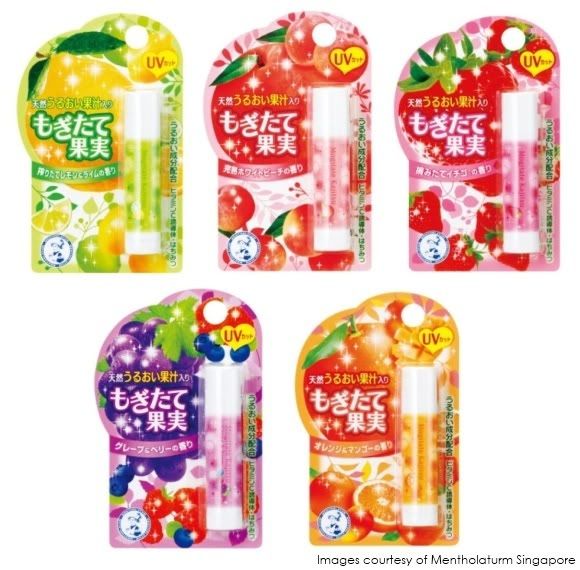 Clockwise from top left:
Mojitate Lemon & Lime, Mojitate White Peach, Mojitate Strawberry, Mojitate Orange & Mango, Mojitate Grape & Berry
On the whole, these balms get a two thumbs up from me – my pout stayed nice and moisturised the entire day
(notwithstanding my temptation to nibble at the balm)
and at SG$5.90 each, they're not likely to break the bank either. Now, who wants to get me the White Peach and Grape & Berry ones for my upcoming birthday? :D At the rate I'm going, these aren't going to last me very long!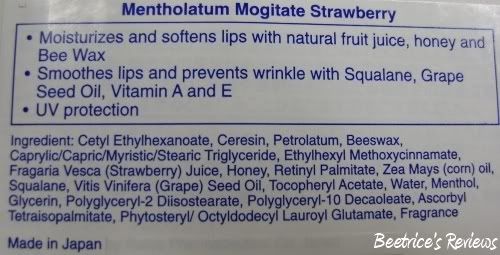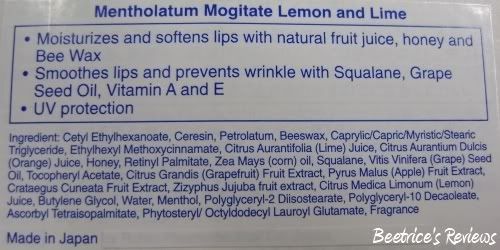 Mentholatum Mogitate Kajitsu lipbalms

come in 5 varieties and retail at SG$5.90 each. Available exclusively at Watsons stores in Singapore.
Rating: 4.5 / 5
Value: $$$
Labels: lipbalm, lipcare, mentholatum