Puffiness be gone! :D
How was the weekend? Singapore had a long weekend thanks to National Day, but OMG if the traffic wasn't completely horrendous coming back
(I took a bus)
. If you had followed my tweets, you'd have read my rantings and ravings on the traffic and
*ahem*
Singapore drivers, but beggars can't be choosers I guess.
With that, I only got back to my place about 9.30pm, effectively killing my sleep time yet again. However, on the upside, I at least remembered this lovely eye massage serum I'd gotten from Clinique a while back which I religiously applied before going to sleep.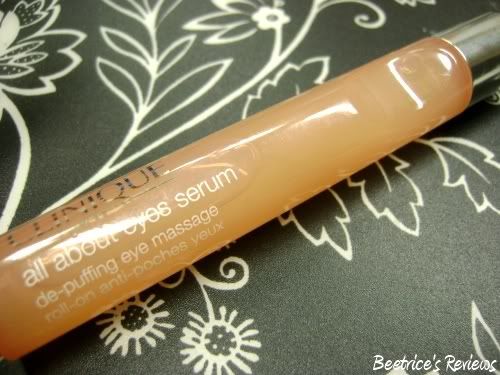 Description:
Clinique All About Eyes Serum De-Puffing Eye Massage is an instantly cooling rollerball that deposits a liquid gel-serum to help massage and refresh puffy eyes on contact, reducing the appearance of dark circles and brightening your eyes. Think of it as a new solution for eye puffs – refreshingly non-irritating. Allergy tested, 100% fragrance free, oil-free, non-clogging, dermatologist and ophthalmologist tested. Safe for contact lens wearers.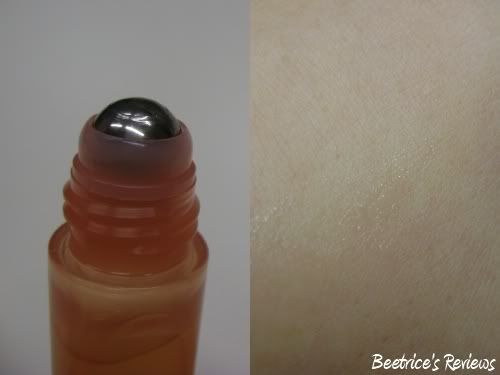 The Verdict:
It would seem that the Clinique people have finally caught the hint with this Eye Serum
(the above name is way too long!)
in terms of design, since now I can see exactly how much is left in the tube. :) Nothing more irritating than using it halfway to find out its finished and you don't have a replacement.
I've tried a few other eye roll-on formulas so far
(including the famed Garnier Brightening Eye Roll-On)
but so far, this has been one of the best. Where the Garnier under eye roll-on took a while to see the results, I saw reduced puffiness in just under 15 minutes. Better yet, the formula is scent-less, is very easy to work with and absorbs quickly, which is great.
The Clinique Eye Serum contains
Amentoflavones
and
Humulus Lupulus Extract
, both of which are ingredients with soothing properties. When added together with
caffeine
to reduce the appearance of irritation and puffiness, the results are pretty good.
You can actually reapply this anytime you need a pick-me-up for your eyes, but I don't like the thought of my eye serum picking up my makeup into the tube when I use it during the day, so I tend to roll it onto my finger and dab under my eyes instead. At night after my shower, I apply it directly using the roller. Oh, and did I mention it's always fun to play
"rolling rolling"
with the little roller ball
(not too hard though!)
It's rather pricey at RM125, but well worth the money for decent results. At least, I think so anyway… :D
Clinique All About Eyes Serum De-Puffing Eye Massage

retails at RM125 and is available at all Clinique counters nationwide.
Rating: 4 / 5
Value: $$