The long awaited announcement - Giveaway Winners! :D
Missed me?
I know, it's been simply ages since the giveaway, and it's been quite a task sorting through the entries as well as cross-referencing them with the subscriber list.
After eliminating incomplete/ error entries, I got four different people to pick random numbers……and here you go – the winners of BOTH the
Clinique Happy
and
Beetrice's Reviews Bonanza
Giveaways!:D
First up, the
Clinique Happy winners
(in no particular order)
…each person here gets a 30ml bottle of Clinique Happy fragrance!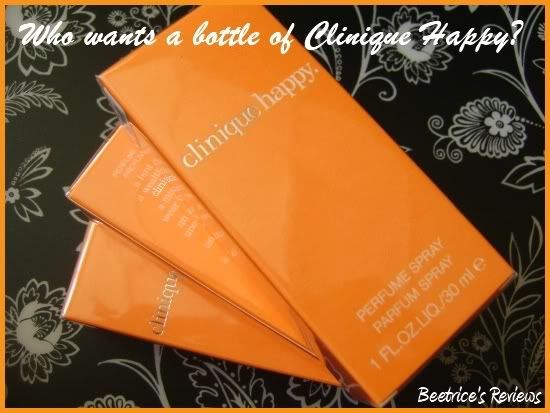 Joan Yee -
joanyee[at]hotmail[dot]com
Shortcake -
shortcaketales[at]gmail[dot]com
Juli1202 -
juli1202[at]hotmail[dot]com
And last, but definitely not least…the winner of the
Beetrice's Reviews Bonanza Giveaway!!
This person gets EVERYTHING in the picture below
(plus a little extra!)
…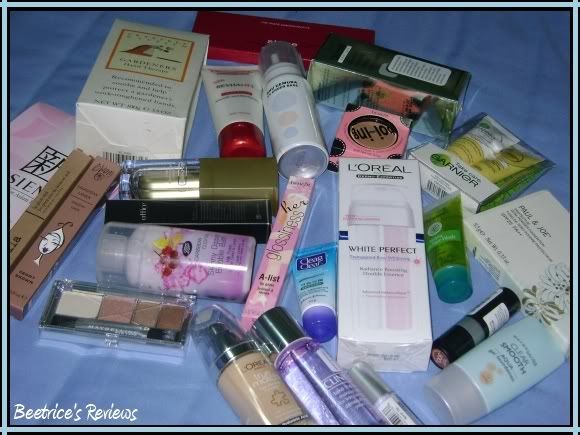 N
(I can only assume her name is Naomi from her email!)
from Melbourne -
forever.naomi [at]gmail[dot]com
Congratulations to all the winners!! :) I will be dropping you all an email shortly – you have 48 hours to respond to that email, failing which I will pick another winner.
Thank you for all your entries, and enjoy the rest of the weekend!