You've heard of Bedazzling, but what about Vajazzling?
WARNING:
Not for the faint of heart!
LOL…I'm going to venture to the 'other' side today with something I came across online that I just couldn't help but share with you all –
Vajazzling
. And yes, I can imagine all the perplexed/ dubious/ amused/ shocked looks on your faces wondering what the heck Vajazzling could be. Well, to put it plainly, Vajazzling = Bedazzling for your nether regions.
Whatever will they come up with next? :p All it took was for Jennifer Love Hewitt to mention that she'd done Vajazzling during her appearance on the George Lopez show, and the news just spread like wildfire
(you can find the video of her interview on YouTube if you really want to see it).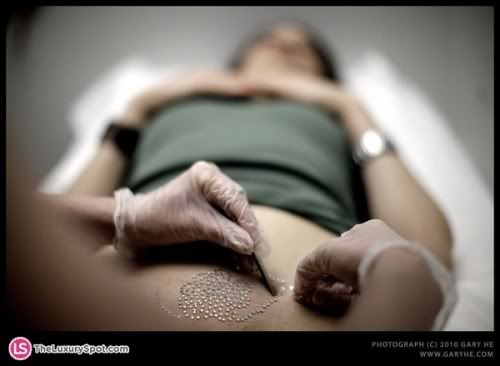 Apparently now if you're in the US, you can get your bikini area adorned with crystals after waxing. And before you think I'm just kidding around, you can check out
this post
by Bryce Gruber on The Luxury Spot who actually recorded her Vajazzling experience photographically
(above)
as well as on VIDEO
(below)
.
I'm quite amused by the whole process – first the entire area's waxed, followed by the application of Swarovski crystal patterns. Jennifer Love Hewitt mentioned she got Vajazzled in hot pink crystals for the show, and I had to laugh when she mentioned 'it looks like a disco ball down there'.
It's a bit ironic though, that one of the reasons listed for getting yourself Vajazzled is to show off to your man…but then, you're advised not to engage in 'rough activity'
(whatever your interpretation of THAT would be!)
to avoid the crystals falling off – kind of defeats its own purpose, no? For those a bit shy to 'bare all' at a salon, there's even DIY Vajazzling kits available. Scary thing is, I even came across some guys who did
"Man-jazzling"
…I'll leave you to figure that one out…
*shudder*
Bizarre or brilliant? I'm bewildered AND amused at the same time…
Labels: bizarre, jewelry, tips n news, vajazzling