Stage Wonderbalm gets me barmy!
Hey ladies, how was your weekend? :D Sorry this post is late, I'd originally wanted to post it up on a Friday night, but my plane back to KL for the weekend got delayed due to heavy rain and floods - instead of taking off at 10.35pm as originally scheduled, it only took off at
12.05am
(the time I was supposed to have already been back home!)
...finally got back about 2.30am, and promptly KOed.
The rest of the weekend was equally as rushed, but good
(explains the happy grin yet feeling like I'm going to collapse),
but now I'm just rambling on...so now's as good a time as any to share with you one of the products I've carried in my bag for quite a while now.
Every time I hop onto a plane or any air-conditioned place, my lips always get rather dry, which is why I always have some lipbalm with me. Of course, it's not very easy trying to negotiate with a pot of lipbalm that you have to apply with your fingertips
(not to mention how do you get rid of the balm on your fingers gracefully and avoid offering a greasy handshake to a client during meetings?)
so I usually slip the
Stage Wonderbalm
into my handbag. Is it really as
"wonder"
-ful as it claims? You betcha!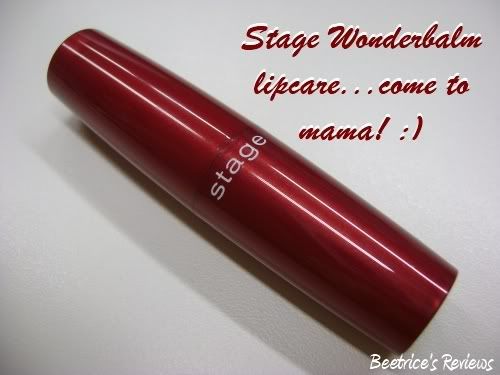 Description:
Stage Wonderbalm lipcare pampers your lips with a comfortable and protective veil that is enriched with natural emollient oils containing Vitamins C and E. Apply a thin layer over lips for that soft, smooth and healthy look, or before lipstick for easy application. Regular application results in a lusciously hydrated pout.
The Verdict:
I'll admit, it was the shiny red colour that caught my eye first – how could you miss that glossy tube? I also liked the fact that it shut and open with a distinctive 'click', thus avoiding any
"OMG-my-lipbalm's-all-smooshed-in-my-bag!!"
moments
(those who've had this happen will know what I'm talking about!)
Texture-wise, the Wonderbalm is smooth, goes on clear and smells divine…
Paris
described it as a light citrus scent which I'd agree with, since I can't find an exact word to describe it – the tiniest hint of lemon, yet refreshing.
Even on very chapped lips, the Wonderbalm will give you a nice lusciously moistened pout almost immediately
(and even better once it's had a chance to sink in with regular use).
What else can I say, there's really not much to dislike about this balm. :) Have you tried it, and did you like it?
Stage Wonderbalm
is available at all Stage counters in Malaysia and Singapore and retails for RM40 and SG$18 respectively.
Rating: 4 / 5
Value: $$
** Have you entered my

3rd Blogoversary

Clinique Happy or Bonanza Giveaway yet? Better hurry - both giveaways close 30 June 2010! :) Click on the links to find out more.
Labels: lipbalm, stage cosmetics