L'Occitane Peony Makeup Collection hits our shores…
Has anyone noticed L'Occitane has brought in its new makeup collection Peony? If you've seen a burst of pink at your local L'Occitane outlets, it's there…side by side with their new Peony fragrance range.
No prizes for guessing what flower this entire range is modelled after – the Peony of course!
(got it wrong? Oh dear…)
I must say though, although I'm not particularly a big fan of pink
(the overuse of it by some people in the past has killed my liking for the shade)
I'm quite taken by the look of the Peony range, particularly the eco-friendly cardboard packaging.
But I digress – back to my two cents thoughts on the makeup collection! :D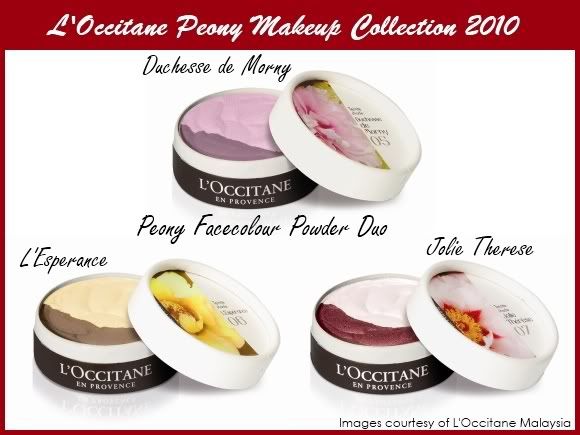 Peony Faceolour Powder Duo (RM60 each) –
available in 3 shades. These remind me somewhat of the Stila eyeshadow duos but with prettier packaging. Personally, I'm really liking the look of that aubergine hue in Jolie Therese…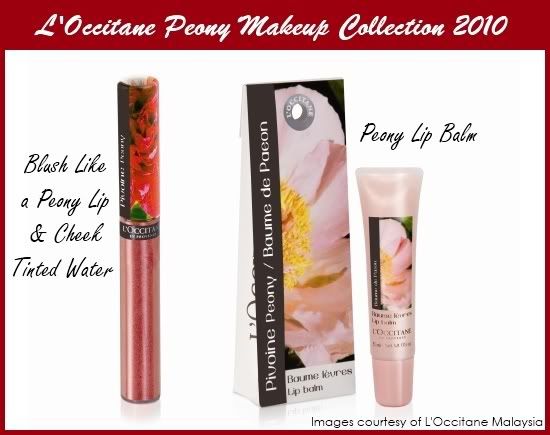 Blush Like a Peony Lip & Cheek Tinted Water (RM60)
and
Peony Lip Balm (RM53).
Why am I reminded of Benefit's Benetint when I see the Tinted Water…does anyone else share my sentiment? The lip balm on the other hand would be great for using to layer under/ over any existing shade of lipstick, seeing as it has tiny pink & gold shimmer in it.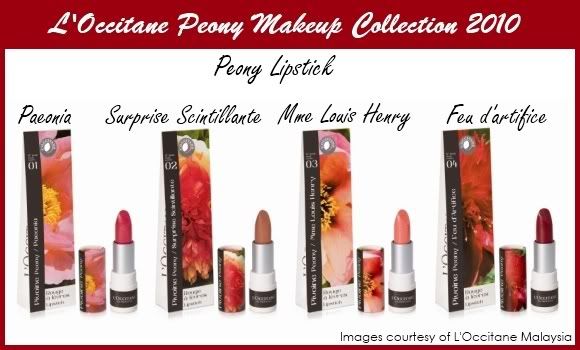 Peony Lipstick (RM56 each) –
available in 4 shades. These lipsticks are meant to be semi-sheer, which I like in my lipsticks. Colour-wise I would probably be more inclined towards Paeonia. I'm surprised there are no corals or peach shades in this range though.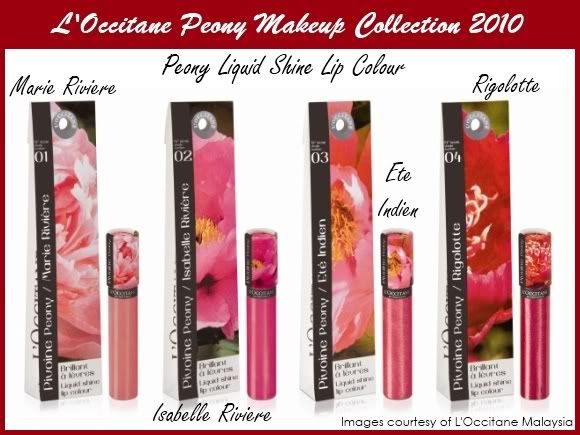 Peony Liquid Shine Lip Colour (RM56)
– available in 4 shades. Good news for sticky gloss haters, this is a non-sticky gloss. I likened the texture to that of Revlon's Superlustrous lipgloss, although with a fair bit more glitter. I love this particular selection of shades…can I has all of them, pretty please? :)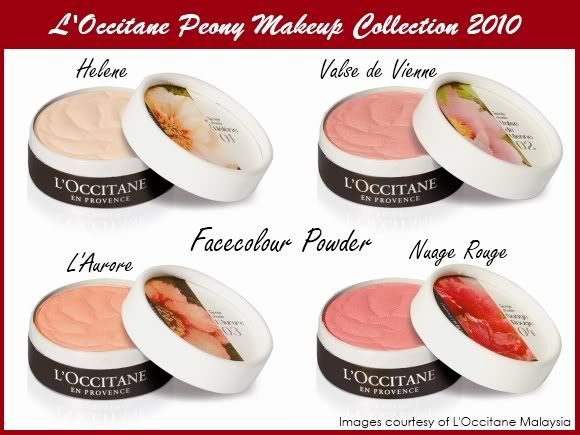 Peony Facecolour Powder (RM60 each)
– available in 4 shades. Besides its obvious use as a blush, the Facecolour Powder can also be used as eyeshadow as well an all-over powder to brighten complexion. I felt the colours were a bit light in general, particularly Helene which to me looks like more of a eyeshadow base or all-over colour rather than a blush. The rest are okay, but dark-skinned girls may have a problem finding a colour that suits them.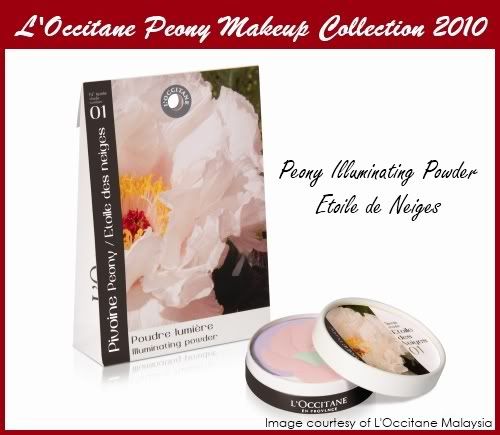 Peony Illuminating Powder (RM111).
This is the "fix-it" powder for the collection – green to correct redness, mauve to correct dullness as well as pink and white to brighten the complexion. Again, this reminded me of a product from another brand…NYX's mosaic powder (although much prettier with its flower motif). I find this a little pricey…I might be biased, but I'd splash out a bit more to get Guerlain's Meteorites (roughly RM185).
For some reason, many of the products in this collection reminded me of products from other brands, but to be fair it happens quite often. Overall I'd say it's a very pretty collection with bonus points for the packaging. L'Occitane has also come up with a little quiz on its Malaysia website to help people find their perfect Peony look – you can try it out for yourself
here
.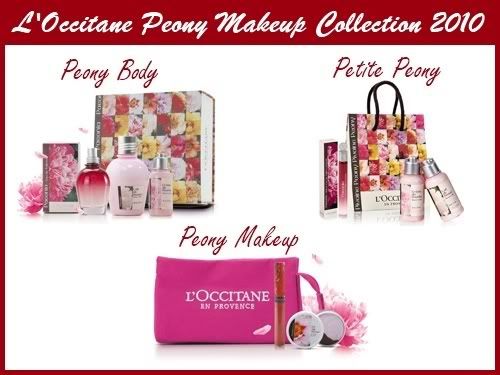 L'Occitane's Peony Makeup collection is available from 1 June 2010 at all L'Occitane boutiques. Plus if you're in Malaysia, there will be a Peony Roadshow at Midvalley Megamall from 21st – 27th June at South Void 2 in front of Zara where you can pick up some special buys like P
eony Body (RM250)
and
Petite Peony (RM138)
.
Every purchase of a Peony Face Colour Powder and Lip Colour (excluding lipbalm) will get a free Peony makeup pouch, and if you purchase above RM350 inclusive of a Peony product, you'll receive a 4-pc gift (plus an additional Peony Tote Bad and 75ml Beauty Milk if you purchase above RM450).
*phew*
…that was a long list. Have you tried out the new Peony makeup yet, and what are your thoughts on the collection? :D Come on, share your thoughts!
** Have you entered my

3rd Blogoversary

Clinique Happy or Bonanza Giveaway yet? Better hurry - both giveaways close 30 June 2010! :) Click on the links to find out more.
Labels: collections, loccitane, makeup, promos, tips n news