Getting back in the groove...of shopping, that is!
I've been pretty tied up with work the past few months, but the past weekend was just too good not to post about – trust
Paris
and
Pinkelle
to bring out the shopping demon in me! :D
The
Great Singapore Sale
, or GSS is something that I used to look forward to every year, particularly the trip down which saw me lamenting about the ringgit's lack of buying power (
I still lament!)
but also meeting up with relatives down south. Come to think about it, I've missed the last two years
*oh the horror*
simply because I was either overseas or just too skint broke to go.
Anyway, the GSS has just only started
(we're currently going into week 3)
and weekends along Orchard are just bliss for any freebieholic around. Just to give you a taste of the things we picked up along the way...
Skin Food
bribed us with chocolate and a voucher in a small pouch to be redeemed in the store for a sample – clever ploy to get us into the outlet, and we each walked away with a sachet of Black Sesame Hot Mask.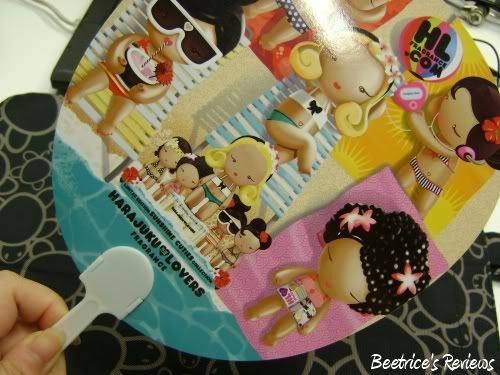 Sephora
gave out these adorable
Harajuku Lovers
fragrance fans
(I know Xin's going to drool over this)
when you sampled their fragrances – the Lil' Angel one smells pretty good, and the test strip is now making my handbag smell yummers.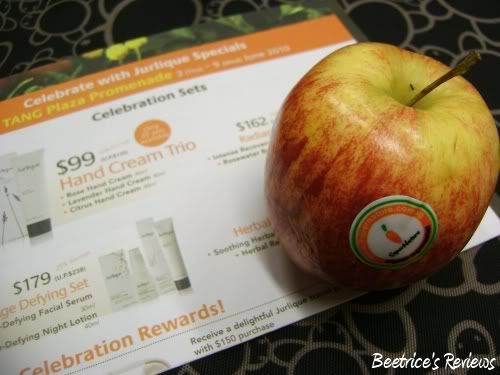 This was probably the most amusing one –
Jurlique
had sent up a makeshift store outside Tangs along Orchard, and was giving out organic apples with their flyers...creative or what?
I've noticed that Singaporeans are very big on tissue, so it's no wonder that many brands have resorted to making their own branded tissue packs – I picked up four over the course of two days
(one used up already)
This is for Connie – S$5 Coronas, anyone?
LOL, now before you think that I didn't do any actual shopping, I'll just share a couple of purchases with you – ninny me forgot to take pictures of the three dresses I bought
(you'll see them soon enough since I'll be wearing them for a friend's wedding this weekend)
but here's just a taste of what's to come...
Picked up a couple of
OPI
polishes at Millenium Walk for just S$14 each – they had a flea market in conjunction with 8 Days' anniversary, so there were a lot of knickknacks...I even managed to pick up a brand new copy of Dan Brown's Digital Fortress at just S$7. Brilliant stuff!
Of course, having Paris around as the 'tourist' also meant that we managed to get the GST waiver...I picked up a pair of
Fitflops
I'd been hearing about for ages, plus a definite splurge to mark my time here in Singapore...
Yes, it's from Tod's...anyone wanna guess what I bought? :)
The Great Singapore Sale is still going strong until end July and the deals are pretty good this time around, so if you want to drop by Singapore and channel your inner shopaholic, gimme a holler yeah?
Labels: bags, clothing, fitflops, harajuku lovers, jurlique, nail products, OPI, sales, sephora, skin food, tod's