Beetrice's Reviews turns 3 – Clinique Happy giveaway!
As I was saying in my previous post, some nice brand people have pitched in with some lovely stuff for the site's 3rd blogoversary, and the first giveaway is sponsored by none other than Clinique!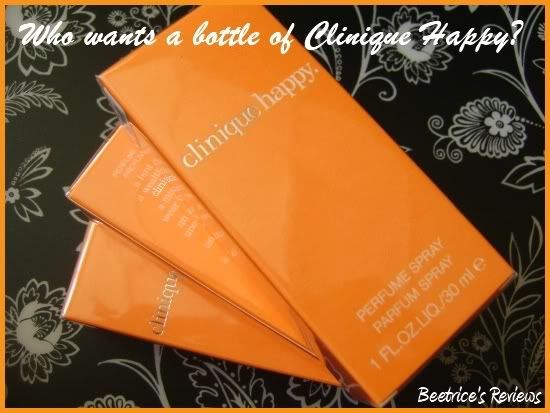 Since it's a happy occasion and the site turned 3, Clinique has generously sponsored not one, not two...but
THREE
bottles of Clinique Happy for this giveaway. :D
*I think I hear cheering in the background*
Clinique Happy was one of my first purchases back during my student days. I still remember the little GWP I got with that purchase – my 50ml bottle of Clinique Happy came with a small box that contained a miniature Clinique Happy together with some 'Happy' cards and envelopes. Yes, pretty stationery makes me happy like that.
*grins*
Which brings me to my question...
I'm generally a pretty happy person by nature, but I'm usually at my happiest when I'm spending time with my dog – I've had her since she was born
(she's 10 already!)
and there's never been a dull moment with her antics.
So that's the question I pose to you today for a
30ml bottle of Clinique Happy fragrance
– read on for the entry details!
HOW TO ENTER:
1. Subscribe to my feed
via email
or in a feed reader. You can do this by entering your email in the box on the right side of the page and clicking "Subscribe".
(Please note that you have to verify your subscription, or it won't be activated)
AND...
2. Leave me a comment on this blog post – tell me where you're from, your email address and what makes you happy! :)
Example: Hi, I'm from Malaysia, and spending time with my dog makes me happy. My email address is beetricesreviews[at]gmail[dot]com.
BONUS ENTRY:
You can get an additional entry by linking to this blog post on your site. No need for a full post, just a link and passing mention is fine. Please email me the link to the relevant post
(together with the name you made your original comment with so I know who gets the extra entry!)
to
beetricesreviews[at]gmail[dot]com.
See? Easy peasy! :)
TERMS & CONDITIONS:
This giveaway is open to ALL readers. :D
One entry/comment per person please. Be nice and let everyone have a fair chance, okay?
Keep it clean and spam-free. Comments with SEO terms, advertising links and such will be deleted and disqualified.
Anyone can enter regardless of whether you've won anything here previously.
Please make sure the email in your comment is the same as the email you used to subscribe, otherwise I won't be able to track it. Incomplete entries will also be disqualified.
Winners will be notified via email. If I do not get a response within two days, I will select another winner.
CLOSING DATE:
Closing date for this giveaway is
11.59pm on 30 June 2010 Malaysian time
(GMT +8.00), after which all comments will be tabulated. Winners will be announced shortly thereafter.
Of course, even if you're not participating
(although you're most nicely encouraged to!)
do feel free to spread the word. Let's spread the happiness around, shall we? Thanks a lot, and good luck to all!