Beetrice's Reviews turns 3 – bonanza giveaway!
Having fun with the
Clinique Happy
giveaway? Well, keep the comments coming because I'm not done yet. :)
I said previously I had another giveaway, this time it's from me to one lucky reader. Remember this photo a week back?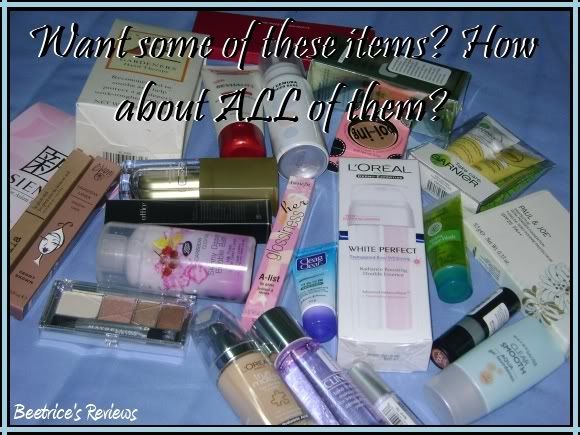 That's right, I'll be giving a big goodie bag (worth over RM1,000!) to one lucky person which will contain ALL of the items in the photo above:
Full-Sized Items:
- L'Oreal True Match Foundation (+ Hyaluronic Acid) in G1 Vanilla Ivory
- L'Oreal White Perfect Transparent Rosy Whitening Radiance Boosting Double Essence
- Paul & Joe Protective Dual Powder Foundation in #01
- Benefit Boi-ing Industrial Strength Concealer in #02
- Maybelline Clear Smooth Aqua Gel Foundation in #14 Sand
- Shu Uemura UV Under Base Mousse
- Benefit Her Glossiness A-List Lipgloss in 'Talk to my Agent'
- Stila Lip glaze stick in Brown Sugar
- Office Silk Luster & Moistening lipgloss in #K03
- Stage 5-shade Shadow Palette in Scandal
- Maybelline Eyestudio e/s quad in #GD-1 Autumn Spirit
- Revlon Matte Lipstick in #008 Cocoa Craving
- Kleancolor Roll-on Shimmery Eye Powder in #736
- L'Oreal Dermo Expertise Revitalift Milky Foam
- Bioxil Advanced Wrinkle Lifting Eye Cream
- Crabtree & Evelyn Gardeners Hand Therapy 100g
- Bio-Essence Bio-Energy Eye Bag Vanishing Serum
- Boots Carribean Cocktail Skinny Dipper Bubble Bath
Miniatures/Samples:
- Clinique Take the Day Off Makeup remover for Lids, Lashes & Lips
- Garnier Light Gentle Clarifying Foam & Moisturising Cream set
- Fimalaya Purifying Neem Face Wash
- Clean & Clear Deep Action Refreshing Cleanser
- Ginvera Green Tea Day & Night Cream
- Ascience Shine Therapy Shampoo & Conditioner
** As a bonus, I'll even throw in a couple of extra items when I send out the package

(haven't quite decided what else to put in yet)
So there you have it – stoked yet? Read on for the entry details!
HOW TO ENTER:
1. Subscribe to my feed via email or in a feed reader. You can do this by entering your email in the box on the right side of the page and clicking "Subscribe".
(Please note that you have to verify your subscription, or it won't be activated)
AND...
2. Leave me a comment on this blog post – tell me where you're from, your email address and
what you have to say about the site
. Making this really random - it can be what you like about the site, what you'd like to see more/less of, any suggestions for the layout, anything! Just keep it constructive, can?
Example: Hi, I'm from Malaysia, and I'd like to see more makeup reviews of local brands. My email address is beetricesreviews[at]gmail[dot]com.
BONUS ENTRY:
You can get an additional entry by linking to this blog post on your site. No need for a full post, just a link and passing mention is fine. Please email me the link to the relevant post
(together with the name you made your original comment with so I know who gets the extra entry!)
to
beetricesreviews[at]gmail[dot]com
.
See? Easy peasy! :)
TERMS & CONDITIONS:
1. This giveaway is open to ALL readers. :D
2. One entry/comment per person please. Be nice and let everyone have a fair chance, okay?
3. Keep it clean and spam-free. Comments with SEO terms, advertising links, derogatory terms and such will be deleted and disqualified.
4. Anyone can enter regardless of whether you've won anything here previously.
5. Please make sure the email in your comment is the same as the email you used to subscribe, otherwise I won't be able to track it. Incomplete entries will also be disqualified.
6. Winners will be notified via email. If I do not get a response within two days, I will select another winner.
CLOSING DATE:
Closing date for this giveaway is
11.59pm on 30 June 2010 Malaysian time
(GMT +8.00), after which all comments will be tabulated. Winners will be announced shortly thereafter.
Of course, even if you're not participating
(although you're most nicely encouraged to!)
do feel free to spread the word. Let's spread the happiness around, shall we? Thanks a lot, and good luck to all!
Labels: giveaway