Steam Cream – Heavenly or Hype?
There's been a lot said about Steam Cream in the blogosphere, particularly in the past couple of months. But is it really as good as most are claiming, or just a lot of hype?
Well, curiosity got the better of me
(plus those tins with the pretty designs were just too much to resist!)
and I ordered one for myself just to see what the fuss was all about. Since
Paris
and
Xin
had gotten theirs from Soap n Sorbet and the site had quite a lot of choice in patterns, I decided to hop on there as well – and the Flower Garden tin just called my name!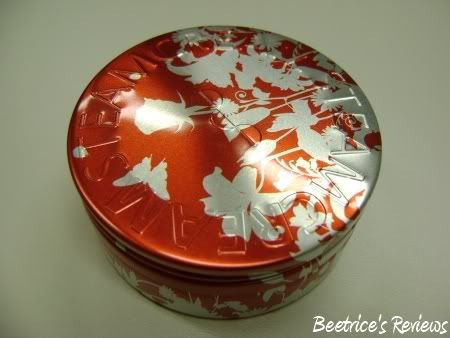 Description:
Steam Cream
uses only the highest quality fresh, natural, traceable and vegan ingredients it can find. Freshly made by hand, it boasts soothing ingredients such as Oatmeal Infusion, Lavender Oil, Orange Flower Water, Blue Chamomile & Rose Absolute, Steam Cream is suitable for all including sensitive skin types. Moisture retaining ingredients
(Almond Oil, Cocoa Butter, Jojoba Oil)
coupled with its pioneering steam technique creates an easily absorbed, hydrating, and light-textured cream that can be used on the face, body, hands and feet.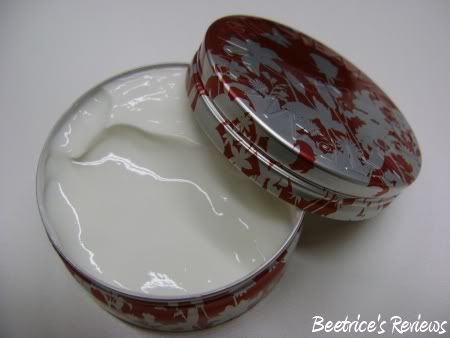 The Verdict:
Steam Cream
comes in a sturdy aluminum screw-top tin
(which I'm thankful for by the way – I'll explain later!)
and come with various designs printed on the tin. The Flower Garden was just so pretty I HAD to get that one.
The first few times I opened the tin, I had to be pretty careful so as not to have the cream dripping out from the sides or the inside of the cover
(especially if kept in a bag where it keeps rolling around).
As I've taken it on a couple of trips since then, I'm also thankful for the screw top since I've had the misfortune of having the cover of flip-top bottles open up in my bag – just imagine the mess
(and believe me, you don't want to have that happen in an expensive bag...or any other bag for that matter!)
No problems with this one though, as long as you're careful when opening it, and remember to screw it back tightly.
However, as far as its application goes, I kinda like it! The cream itself is pretty thick, but thankfully absorbs quite rapidly without greasy residue. The smell is supposed to be a mixture of Lavender, Chamomile and other essential oils, but its Lavender component stands out.
Personally, I found that I couldn't deal with the mess on the inside of the tin every time I took it out from my bag (plus the design on the tin cannot take a rough beating or the pattern will wear off) so I decided to keep it on my work table instead to use during the day.
All things considered, I can see why it's such a popular product. Although rather pricey at $26 for just 75g, it's on par with the likes of Crabtree & Evelyn or high end hand creams so in the end you're getting what you pay for. I guess it's a little piece of heaven after all!
Ingredients:

Oatmeal infusion (avena sativa), orange flower water (citrus aurantium amara, aqua), almond oil (prunus dulcis), cocoa butter (theobroma cacao), glycerine, stearic acid, triethanolamine, organic jojoba oil (simmondsia chinensis), lavender oil (lavandula augustifolia), chamomile blue oil (chamomilla recutita), orange blossom absolute (citrus aurantium dulcis), rose absolute (rosa damascena), neroli oil (citrus aurantium amara), cetyl stearyl alcohol, *coumarin, *geraniol, *citronellol, *limonene, *linaloal, perfume, methylparaben, propylparaben.
*Occurs naturally in essential oils.
Steam Cream
is available online at
SoapnSorbet
and retails at SGD$26 for a 75g tin.
Rating: 4 / 5
Value: $$
Labels: soapnsorbet, steam cream