Singapore: Charles & Keith Warehouse Sales...
I finally attended my first Singapore warehouse sale! LOL...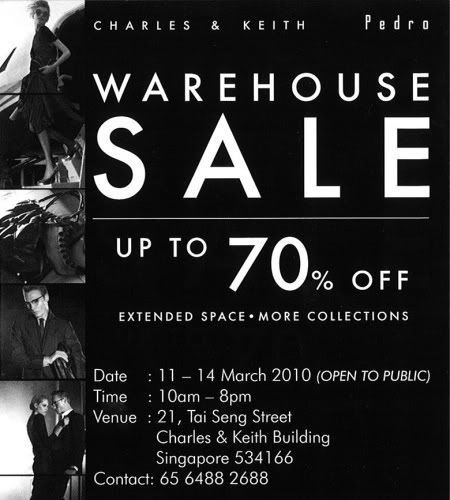 Yup, I actually went to check out the
Charles & Keith warehouse sale
in Paya Lebar yesterday after work to see if I could pick up a few bargains. No pictures though, since there were a lot of signs prohibiting pictures, plus it was just too crowded to fiddle with my camera.
I must say, they were quite well organised – people were let into the sale area in groups, given a shopping bag to use and although massively crowded, moved along pretty fast. Nothing can be done about the pushing and shoving amongst the people there though, but at least the experience was quite pleasant overall.
As for the stock on sale, prices start from SGD$5 upwards with a selection of shoes, belts, sunglasses, boots and belts from Charles & Keith, as well as a selection of men's shoes from Pedro.
HOWEVER...sizes are a big thing to note. The majority of stocks are in single sizes, and I noticed a LOT of size 41 and size 36 so if your feet are that size you'll be able to buy a lot!
As for me, my feet can range anywhere from 38 to 40 depending on the cut, so I didn't have that many choices. I did pick up a pair of off-white crocskin mules with a 2" heel for just SGD$9...
*grins*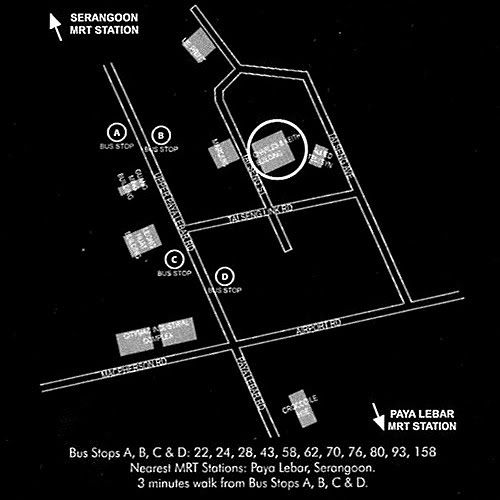 The sale ends this Sunday and the map above is pretty accurate, so if you're in the area or looking for something to do this weekend, do check it out yeah? :)
PS: I'll be flying back to KL for the weekend tonight...can't wait!
Labels: charles n keith, sales, shoes