Oh the perks of the job... :D
It's Friday!! And apart from the day getting off to a really nice start, my office also got the coming month's magazines...and guess who scored all the freebies! :D
(see, I knew I loved working here for a reason...

*grins*

)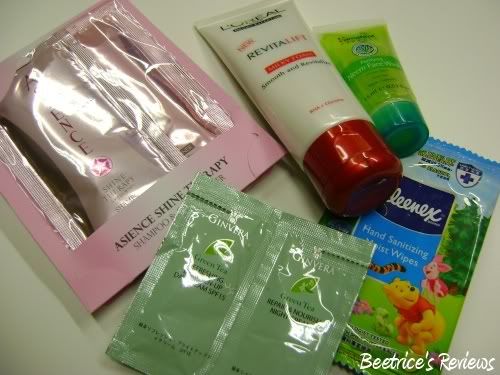 Best part is, there was no
'cut out and redeem at XYZ'
needed, all of them were pasted in or on the magazine...heehee...
So let's see – I got samples of
Asience
Shine Therapy shampoo and conditioner,
Kleenex
hand sanitizing moist wipes
(with the oh-so-cute Winnie the Pooh),
Ginvera
Green Tea cream samples,
Himalaya
purifying Neem face wash and
L'Oreal
Revitalift Milky Foam. Love!
Have a good weekend peeps...I'll be trying to head down to the Kate Spade sale
(thanks for catching that PB!),
so let's see if I manage to pick up anything good! :D