Nivea Fruity Shine Lipbalm in Pomegranate...
Hi hi..how was your weekend ladies? I went back home for the weekend, and oh, my stomach – mum outdid herself by making roast pork and prawn mee for dinner. Maybe I should move out of the house more often if this is the treatment I get...hmm...just kidding! :D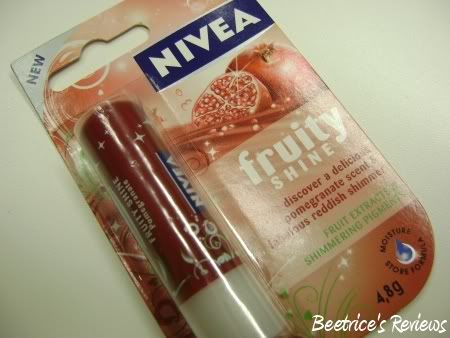 Anyway, while I was looking around Guardian yesterday, I spotted a new variant of Nivea Lipbalm –
Fruity Shine!
It looked pretty interesting, plus I happen to love pomegranate, so I ended up picking one to try.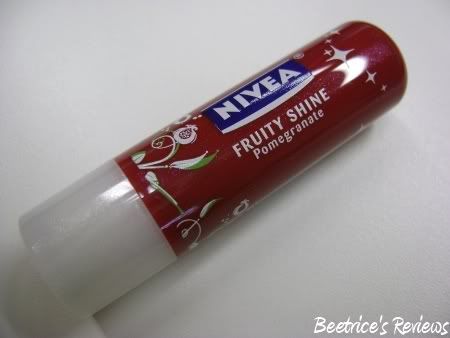 Description:
Nivea Fruity Shine in Pomegranate
with Fruit Extracts and Shimmering Pigments combines long lasting moisturisation and an exciting fruity pomegranate scent to replenish moisture, leaving a touch of delicate colour on soft and smooth lips. This new formula combines rich almond oil, jojoba oil and shea butter to keep your lips as soft and fresh as they can be. Contains SPF10 protection against UVA and UVB rays.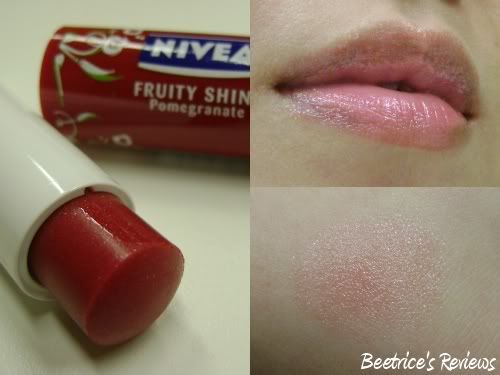 The Verdict:
OMG...the pomegranate scent reminds me of The Body Shop's pomegranate shower gel
(although tastes much yummier of course!).
I'm also loving the hint of colour – it's somewhat similar to the colour of
Nivea's Star Fruits Pink Grapefruit balm
(which I adore)
but just a tiny bit more intense.
The Fruity Shine claims to have a moisture store formula which is supposed to leave your lips nicely moisturised for much longer. I found I had to reapply it frequently, but I'd attribute that partly to the fact I couldn't stop sniffing at it. :D
From experience, Nivea's lipbalms are generally pretty decent – I've yet to find a real dud
(although I hate the Star Fruits Cherry one simply because I think it smells like cough syrup...it's a personal thing though)
so this was technically a 'safe' purchase.
There's also Strawberry, Cherry and...Dragonfruit flavours in the 'Fruity Shine' range, although I've yet to spot the rest of the flavours on the shelves – guess we'll just have to wait and see eh? I must say I'm rather curious at what the Dragonfruit one is like!

Nivea Fruity Shine in Pomegranate
is available at major care pharmacies in Singapore (haven't seen this back in Malaysia yet) and retails for approximately SGD4.00.
Rating: 4 / 5
Value: $$$