L'Oreal Dermo-Expertise UV Perfect Long Lasting UVA/UVB Protector...
In the past month or so walking around, I've found that I'm in the sun a lot more often than I'd actually like. Nothing bad about getting my daily dose of sunshine for that all-important bit of Vitamin D, but skin damage is another matter altogether.
Although I've been relatively lucky to get my sun mostly in the morning
(walking to work)
and perhaps a bit in the afternoon when I go out for lunch, suffice to say I had to bump up my SPF
(I was using SPF30 previously),
and the tube of UV Perfect I got a couple of months back fit perfectly
(for lack of a better word)
into my new skincare regime.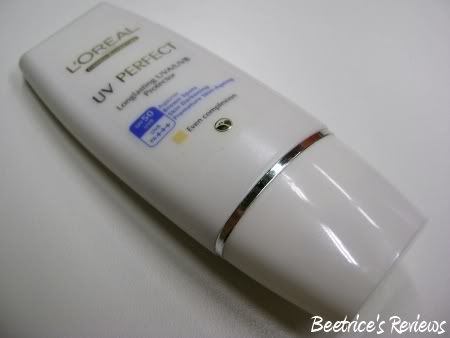 Description:
L'Oreal Skincare Laboratories have created the new
L'Oreal UV Perfect Long Lasting UVA/UVB Protector
– enriched with a powerful anti-oxidant complex – for an inside/ out protection against brown spots, skin darkening and premature aging. Tailor made for Asian skin, the XL Block provides optimal UVB (SPF50) and reinforced UVA (PA+++) protection. Can be used at the end of your skincare routine, or as a daily moisturising makeup base.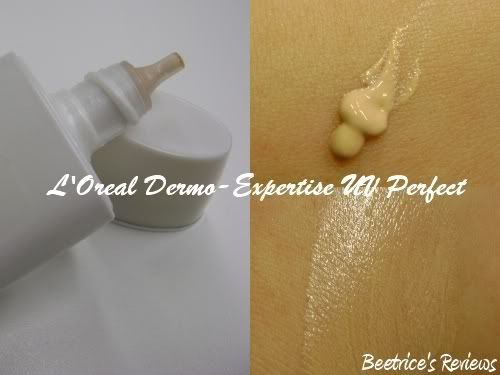 The Verdict:
The UV Perfect is available in three shades – Transparent (white), Anti-Dullness (purple) and Even Complexion (tinted) which is the one I got. I've been using this in my morning routine
(since by the time I get back home it's dark!)
for the past three weeks or so, and must say I'm pretty happy with the results.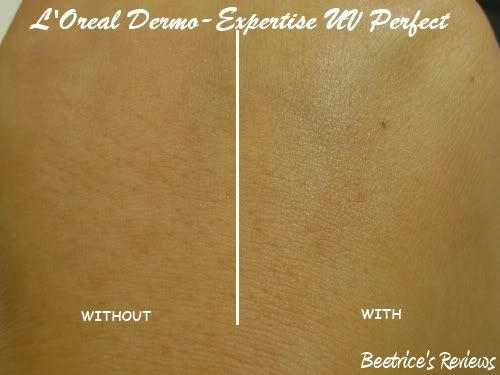 When I first saw the apricot shade of the sunscreen, I had my doubts as to whether it would leave streaks...but after working it into my skin all I was left with was just a slight sheen
(which you can see on the right side)
and very lightly evened-out skin ready for my makeup.
A point to note though, is that I have oily skin at the best of times
(oil slick at others!)
and although the formula doesn't help with the oil, it doesn't contribute much to it either so I guess I can forgive it for the effects and reducing the amount of makeup I put on. :)
I also found that while my skin takes to it brilliantly during the day, having it on any more than 13 hours for two consecutive days will have my skin protesting in the form of tiny oil seeds – horrors! That is not to say that I can't use it
(because keeping it within 10-12 hours a day my skin still handles with grace),
just that I have to revert to my other skincare routine when I know I'm going to be working late or staying out, which are usually planned anyway.
Love it or hate it? Probably swinging more in the 'love' direction, since it does do the job rather well...I just have to keep an eye on how long I have it on!
You can also check out Connie's take on the Anti-Dullness formula
here
, or Paris' thoughts on the Even Complexion formula
here
.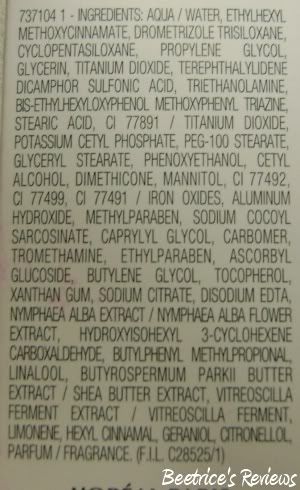 L'Oreal UV Perfect Long Lasting UVA/UVB Protector

retails at RM33.90 for a 30ml tube and is available at all L'Oreal counters.
Rating: 4 / 5
Value: $$$